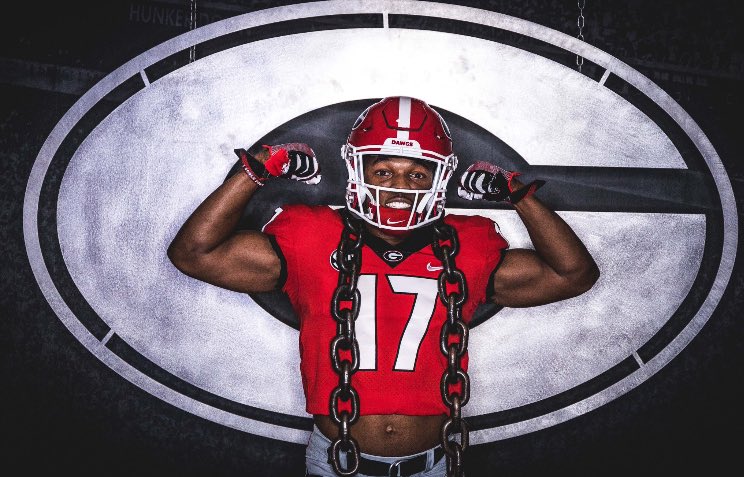 Daily Dawg Thread
TODAY'S FEATURED PROSPECTS
*All rankings are according to the latest 247Sports Composite Rankings*
The 2019 recruiting cycle is in full force as we're in the new dead period that lasts till the final week of July. About a month ago I published a top 10 most wanted. Well, some of those top 10 committed elsewhere, so its time for another top 10. Again this list is fluid and doesn't mean that Georgia will get these prospects. The list is just who I think is at the top of the list for the Bulldogs now for the 2019 class.
Note: There are more than 10 important targets Georgia has its sights set on.
Top 10 Most Wanted
1: Nakobe Dean: ILB, 6-0 216lbs, Horn Lake High School, Horn Lake, MS
After Owen Pappoe committed to the Auburn Tigers on May 1, Dean became the top priority. Dean is the No. 20 overall player and the No. 1 ILB in the 2019 class and is so instinctive. I expect Georgia to turn the dial to 100 on his recruitment. He's a heck of a player and could be the next great at Georgia. Dean has a great opportunity to come in and compete for a spot as a freshman. He already said he likes to compete and should fit in just right for Georgia's scheme.
2: Savion Williams: DT 6-4 315lbs, Lackawanna C.C. (JUCO), Scranton, PA
The biggest area of emphasis for Georgia is the defensive line. Well, Williams is the No. 1 JUCO DT in the country. Georgia offered on June 21 and he plans to take an unofficial visit on July 26 and 27. By getting him on campus this bodes well for Georgia. After all, he called it a "dream offer." He's a big-bodied guy that can plug any hole needed to.
3: Travon Walker: DT, 6-4 255lbs, Upson-Lee High School, Thomaston, GA
Georgia is set to have just seven defensive linemen returning in 2019. So the defensive line is the biggest position of need Georgia has. Walker is a huge defensive tackle with so much promise. It appears to be between Georgia and South Carolina. He was in Athens for G-day and I expect him to pledge to the Bulldogs.
4: DJ Daniel: CB 6-0 180lbs, GA Military College (JUCO), Milledgeville, GA
The Bulldogs need depth in the secondary, and Daniel can add that. Not to mention it would give Georgia another experienced corner. He'll have two years of eligibility which gives Georgia time to prime other corners once JR Reed and Deandre Baker leave. Georgia's taking just 3-4 secondary players and Daniel is one the Bulldogs cannot miss on. He visited about a month ago and since visited Alabama. I expect him to make a decision in the next week or so.
5: John Emery Jr.: RB 6-0 194lbs, Destrehan High School, Destrehan, LA
Georgia still needs to fill its RB slot for the 2019 class and this four-star RB might be it. Emery Jr. ranks as the No. 42 overall player, the No. 2 RB and the No. 4 prospect in LA.  Coach Dell McGee and Cortez Hankton both visited him during the spring evaluation period and appear to have made him a top priority.  Emery Jr. also came with his mother for an unofficial visit. Mississippi State appears the favorite and he was supposed to make his decision on July 7, however, he postponed until August. I expect him to be back on campus at the end of the month.
6: Jermaine Johnson: WDE 6-6 250lbs, Independence C.C.(JUCO), Independence, KS
Johnson is a four-star WDE from Independence, KS. He's a hot commodity as he currently holds 21 offers. Georgia hosted him last month for an unofficial visit and immediately took the lead. Then he took unofficial visits to Minnesota, Arizona, Texas and Texas A&M. Johnson also took an official visit to Colorado and Oregon. After all of that, Georgia still holds the lead. Oregon probably holds the No. 2 spot for him. However, I expect him to be in Athens on July 28 where Georgia will continue to push and land his pledge before the start of the season.
7: Warren McClendon: OT 6-5 290lbs, Brunswick High School, Brunswick, GA
Georgia needs 3-4 offensive linemen for the 2019 class and McClendon is a must get. He's a hometown kid and has ties to Georgia with his family. However, with that said it's between Georgia and South Carolina because of coach McClendon being there.  Despite McClendon being at South Carolina, I expect him to stick to his roots and stay home.
8: Rian Davis: OLB 6-2.5 233lbs, Wekiva High School, Apopka, FL
Davis is the No. 5 OLB and the No. 75 overall player. He's 6-2.5 and 240 pounds and can play both at the inside and outside linebacker position. Texas hosted Davis for an official visit last month and remain Georgia's main competition. Davis is expected to return to Athens at the end of the month. I expect him to be one of the next players to pledge to Georgia and continue the momentum.
9: Tyrique Stevenson: CB 6-0.5 188lbs, Miami Southridge High School, Homestead, FL
Stevenson ranks as the No. 10 CB in the country and the No. 78 overall player. The secondary is another place that Georgia could use to add depth and Stevenson can do that and then some. Some consider him a safety but Georgia wants him because of his ability to play cornerback. He appears to have a great relationship with Mel Tucker and James Coley. Stevenson also has a strong bond with Divaad Wilson. The Bulldogs are battling Miami, Florida, and Auburn for him, but I think if Georgia can get him on campus again it could turn out well. Look for him to return to Georgia multiple times before making his commitment, which will likely come early in the season instead of December.
10: Clay Webb: OC 6-3 295lbs, Oxford High School, Oxford, AL
According to the rankings, he ranks as the No. 15 overall player and the No. 1 OC. Webb is probably the best offensive line prospect in the class of 2019. Shoot probably the last couple of years, and yet he only holds 12 offers. Alabama is the one to beat here, but if he could go anywhere else I would expect it to be Georgia. Shoot, even Trent Smallwood told me my prediction was bold. Well, he's staying in my predicted class and top-10 until he makes his decision. Webb has the opportunity to come into Georgia and fight for the starting spot with Lamont Gaillard graduating. However, it'll be tough to steer him away from Alabama. He has family in both areas, and both want him to come to their school. I expect him to be a national signing day decision.
***HIGH ON THE RADAR***
Makiya Tongue, ATH, Baton Rouge (LA) *Would be No. 11 on this list* **Big Potential to be there next month*
Trey Sanders, RB, Bradenton (FL)
Noah Cain, RB, Bradenton (FL)
Tyrion Davis, RB, Baton Rouge (LA)
Quavaris Crouch, ATH, Charlotte (NC)
Nathan Pickering, SDE, Seminary (MS)
Dylan Wright, WR, Mesquite (TX)
Derick "Rambo" Hunter, DT, Fort Myers (FL)
Quashon Fuller, DL, Lehigh Acres (FL)
Andrew Booth, CB, Lawrenceville (GA) Archer
Lloyd Summerall, OLB, Auburndale (FL)
Warren Burrell, CB, Swanee (GA) North Gwinnett
Derek Green, DT, Jacksonville, (NC)
Zach Harrison, WDE, Lewis Center (OH)
Kaiir Elam, CB, North Palm Beach (FL)
Cameron Smith, Blythewood (SC)
Chris Hinton, SDE, Norcross (GA)
Darnell Wright, OT, Huntington (WV)
Jammie Robinson, S, Cordele (GA)
Tyler Johnson, OT, Conroe (TX)
Stacey Wilkins, OT, Camden, (ARK)
Christian Harris, ATH, Baton Rouge (LA)
Jalani Williams, S, Saint Louis (MO)
Tymon Mitchell, DT, Nashville (TN)
Jalen Wydermyer, TE, Dickinson (TX)
Lewis Cine, S, Cedar Hill (TX)
*** This list stays fluid as well***  
---