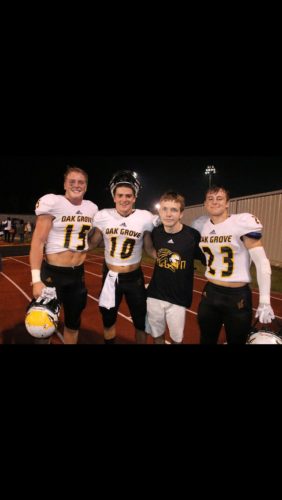 UGA Recruiting Daily Thread
TODAY'S PROSPECT: John Rhys Plumlee
John Rhys Plumlee is the one of the latest 2019 prospects that committed to Georgia. He's 6-1 185 pounds and runs a 4.61 forty-yard dash. According to the latest 247Sports Composite rankings, he ranks as the No. 20 ATH and the No. 12 prospect from Mississippi. The four-star is from Hattiesburg, Mississippi and committed to the Bulldogs on June 16. Plumleee currently holds 12 offers with the latest coming from Virginia on May 17. Georgia offered on February 14. He visited campus a few times, once for the scavenger hunt and returned two weeks ago to throw for the coaches. As a junior passed for 1,888 yards and rushed for 795. Plumlee totaled 31 touchdowns during his junior season too.
I caught up with him after his commitment and see how things are.
John Rhys Plumlee Interview
Q: How was
 

the overall recruiting process for you?

 

A: "The overall recruiting process for me was good. It made me realize how blessed I am for sure."
Q: What do you think of Georgia? What drew you to them?
A: "I like Georgia a lot and I think what drew me to Georgia was the people."
Q: How hard
 

did they recruit you? And what are some things they told you to get that pledge to them?

 

A: "They recruited me I would say pretty hard, but at the same time not making any promises which I liked."
Q: What were some of
 

the key factors that went into your decision?

 

A: " Some of the factors were things like level of play, people and opportunity."
Q: What does it mean to you to commit to Georgia and get to play both football and baseball?
A: "It's a dream come true for me to be able to play both baseball and fotoball at such a great school."
Q: What do you think of Coach Coley?
A: "I like coach Coley a lot! He seems like a really good guy as well as Coach Johnson."
Q: What was your favorite part about visiting UGA?
A: "I think my favorite part about visiting UGA was getting to see all the great things they had to offer."
Q: Anything you would like to tell Bulldog Nation after committing?
A: "I'm excited to be a part of the Dawg family and I am ready to come and compete!"
John Rhys Plumlee Film
---