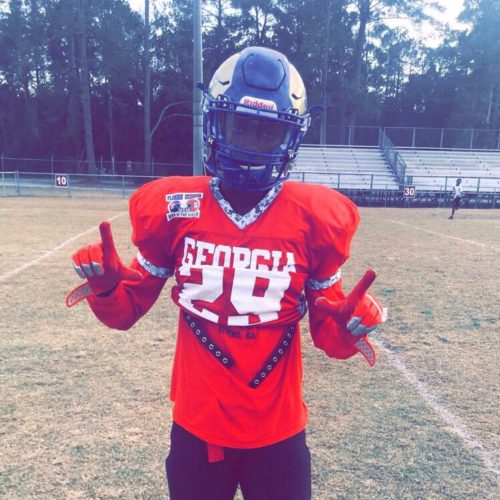 UGA Recruiting Daily Thread
TODAY'S FEATURED PROSPECTS
Amari Daniels
CLASS: 2021
POSITION: RB
HT, WT: 5-8 186
SCHOOL: Miami Jackson
CITY, STATE: Miami, Florida
STATUS: Undeclared
# OF OFFERS: 7 offers
UGA OFFER: Yes
NEWS:
Amari Daniels is a 5-8 186 pound 2021 running back. 247Sports doesn't rank rising sophomores, so he isn't ranked. However, Daniels does hold seven offers with the latest coming from Auburn on June 15. FSU, Georgia, Lousiville, Miami, Nebraska and Texas A&M are the the other six schools on his offer list. He received the offer while on an unoffical visit to Auburn. Daniels attended the Miami camp on June 10 and FSU's on June 8. According to his 247Sports profile, FSU holds a warm advantage, but he's visited Miami more than any other school out there. I expect him to visit Georgia this summer at some point and to make a game in the fall. It's very early for Daniels as he's a rising sophomore, but he's got a lot of potential and room to develop.
Highlights –
Evan Pryor
CLASS: 2021
POSITION: RB
HT, WT: 5-11 175
SCHOOL: William Amos Hough
CITY, STATE: Cornelius, North Carolina
STATUS: Undeclared
# OF OFFERS: 11 offers
UGA OFFER: Yes, May 9, 2018
NEWS:
Evan Pryor is a 5-11 175 pounds 2021 running back from Cornelius, North Carolina. He currently holds 11 offers with the latest coming from Wake Forest on June 7. The other offers include Virginia Tech, West Virginia, Tennessee, South Carolina, Georgia, North Carolina, Mississippi State, Penn State, Texas A&M and Duke. He visited Penn State on April 21. The Bulldogs offered on May 9 and it wouldn't surprise me if he doesn't come and visit campus. There's still a long way to go for him, but he's going to be one of the highest sought after running backs in the 2021 class.
Highlights –