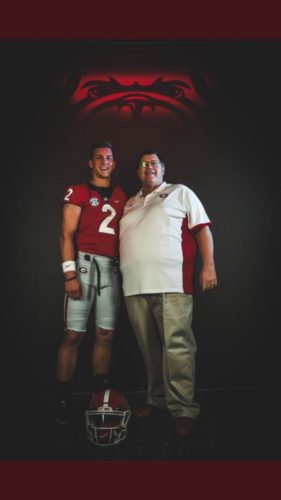 Daily Dawg Thread
TODAY'S FEATURED PROSPECTS
Sheldon Layman
CLASS: 2019 
POSITION: PRO QB
HT, WT: 5-11.5 184
SCHOOL: McGill Toolen
CITY, STATE: Mobile, AL 
STATUS: Undeclared 
# OF OFFERS: 8 
UGA OFFER:  No
NEWS:
Sheldon Layman is a three-star Pro-style QB from Moblie, Alabama that's 5-11.5 and 184 pounds. He ranks as the No. 42 PRO QB and the No. 50 prospect in Alabama. Layman currently holds 8 offers with the latest coming from Arkansas State on May 11. He visited Memphis on March 17 and Georgia on February 24. The Bulldogs haven't offered yet, but maybe there is a PWO situation brewing here. However, I'm not sure the likelihood of that will happen either. Layman's on the shorter end of the Pro-style spectrum and Georgia needs someone who can see over an enormous line.
Highlights – 
Jacob Knight
CLASS: 2019 
POSITION: PRO QB 
HT, WT: 6-4 215
SCHOOL: Cave Spring 
CITY, STATE: Roanoke, VA 
STATUS: Undeclared 
# OF OFFERS: 0 
UGA OFFER:  No
NEWS:
Jacob Knight is a 6-4 215 pound pro-style quarterback from Roanoke, Virginia. He isn't ranked in the 247Sports Composite rankings but does rank in the regular 247Sports rankings. Knight ranks as the No. 34 PRO and the No. 24 prospect in Virginia. He doesn't hold any offers but shows interests in Duke and Georgia. It appears the walk-on route is the way for Knight, but he still has his senior season to earn some offers.
Highlights –
---