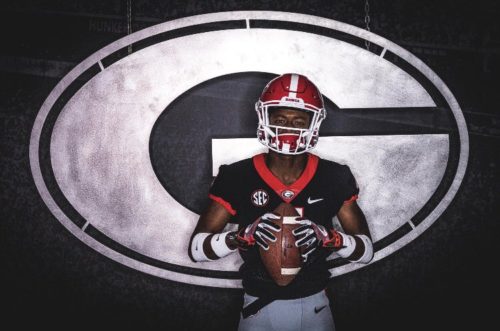 Dawg Daily Thread
TODAY'S FEATURED PROSPECTS
Warren Burrell
CLASS: 2019 
POSITION: CB 
HT, WT: 6-0 166 
SCHOOL: North Gwinnett 
CITY, STATE: Suwanee, GA 
STATUS: Undeclared 
# OF OFFERS: 26 
UGA OFFER: Yes,
NEWS:
Warren Burrell is a three-star cornerback from Swanee, Georgia. He's 6-0 166 pounds and runs a 4.72 40-yard dash. According to the latest 247Sports Composite rankings, he ranks as the No. 38 CB and the No. 42 prospect in GA. Burrell currently holds 26 offers with the latest coming from Wisconsin on April 25.  He visited Florida on May 9th, Tennessee on April 21, and Georgia on April 7.  A cool thing to remember is he and Kyle Hamilton are cousins and could end up together. However, Hamilton committed to Notre Dame back in April, so Georgia would have to flip him. Burrell released a top 7 on May 9. His top-7 are Georgia, Florida, Tennessee, Ohio State, Notre Dame, Penn State and Sanford. Georgia appears to have all the advantage for Burrell as 247 gives the Bulldogs 100 percent of the advantage.
Highlights – 
Tyrique Stevenson
CLASS: 2019 
POSITION: CB
HT, WT: 6-0 190
SCHOOL: Miami Southridge
CITY, STATE: Homestead, FL 
STATUS: Undeclared 
# OF OFFERS: 28 Offers 
UGA OFFER: Yes 
NEWS:
Tyrique Stevenson is a four-star cornerback from Homestead, Florida. He stands at 6-0 190 pounds. According to 247Sports latest Composite Rankings, he ranks as the No. 68 overall player, No.8 CB and the No. 9 prospect in FL. Stevenson currently holds 28 offers with the latest coming from Utah on April 5.  His most recent visit was to Georgia for the second time this spring. Stevenson came to Athens the weekend of May 20. He appeared to have a great time and it seems Georgia's making moves on this south Florida prospect. According to his 247Sports profile, Miami holds 100 percent of the edge, but it wouldn't surprise me if Georgia isn't in his top schools now.
Highlights – 
---