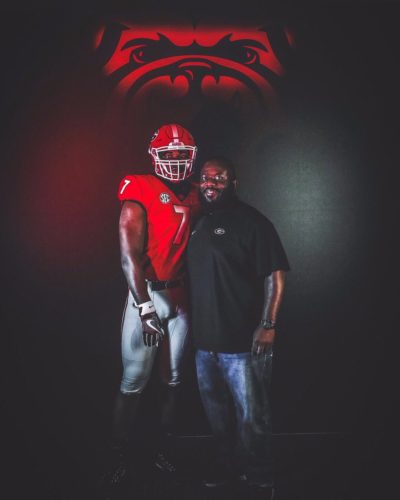 UGA Recruiting Daily Thread
TODAY'S FEATURED PROSPECTS
Byron Young
CLASS: 2019 
POSITION: SDE
HT, WT: 6-4, 270
SCHOOL: West Jones High School
CITY, STATE: Laurel, Mississippi
# OF OFFERS: 11 offers
UGA OFFER: Yes, December 3, 2017
STATUS: Undeclared
NEWS:
Byron Young is a 6-4 270-pound  four-star defensive end from Laurel, Mississippi. He ranks as the No.14 defensive end and the No. 10 prospect out of Mississippi. Young recorded 50 tackles, 14 sacks, and four forced fumbles last season. He's patient at his position, and knows how to anticipate a play. Young sees the field well, and has good technique when it comes to making the offensive line miss him. He's a headhunter and isn't afraid to strip the ball. His natural instinct stands out to me and with a little more development, he could be a monster at the next level.
Young currently holds 11 offers with the latest coming from Arkansas on February 27. He recently visited Georgia on March 3rd. However Young announced that Alabama is his leader right now. 247Sports acknowledged this, but according to their system its a 50/50 race between Ole Miss and Mississippi State. Georgia needs another stout defensive lineman, and Young with the right development could be outstanding.
Highlights- 
Justin Eboigbe
CLASS: 2019
POSITION: SDE
HT, WT: 6-5, 261
SCHOOL: Forest Park High School
CITY, STATE: Forest Park, Georgia 
# OF OFFERS: 25 offers
UGA OFFER: Yes, January 27, 2018
STATUS: Undeclared 
NEWS:
Justin Eboigbe is a four-star strong defensive end from Forest Park High School in Forest Park, Georgia. He ranks as the No. nine strong defensive end and shows it. Eboigbe is a monster on the edge. He's a headhunter and can explode through an offensive line. Eboigbe has that 'it' factor and is so smart on the football field. He clearly has a high football IQ and sees the field so well. He's got long arms that can reach quick backs, and it's clear he isn't afraid to cover some ground, and he can cover it. Eboigbe is one of the biggest guys on the field and is just a step above in talent.
His recruitment appears to be wide open, and it seems this guy gets an offer every other day. Eboigbe currently has 25 offers, with the latest coming from Alabama after he attended its Junior Day. This will be a guy to wait until National Signing Day in February and as of today, the Bulldogs appear to have the slight upper hand.
Highlights –