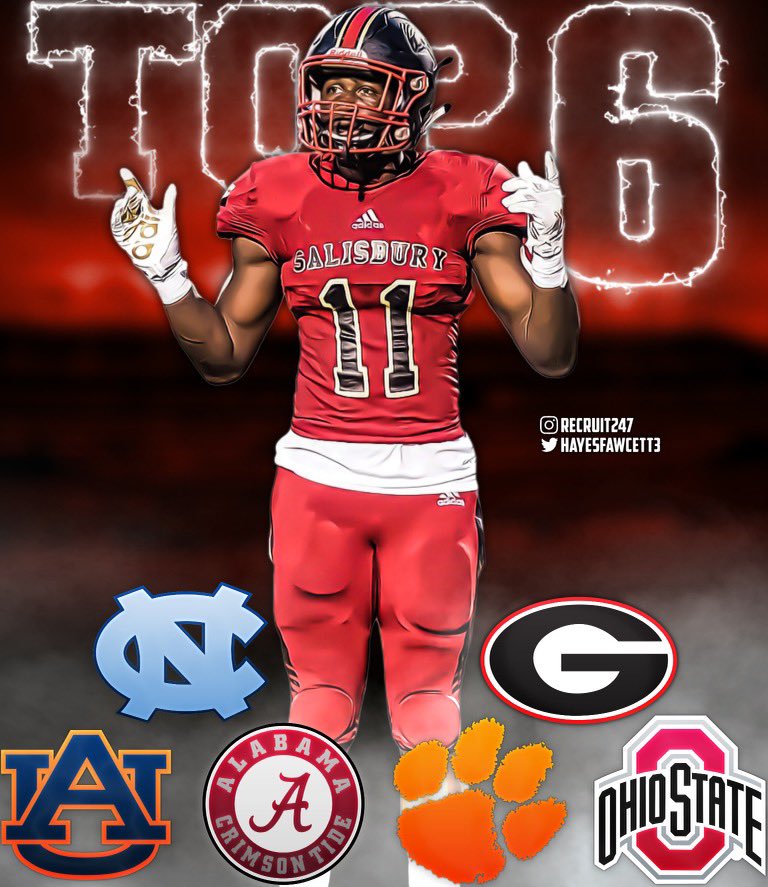 Under Kirby Smart, Georgia has been known for defense. Obviously the injury riddled effort against Florida was not indicative of that cornerstone aspect of the Georgia program, but nonetheless, the defense has been the calling card. Largely that is due to the tremendous recruiting that Smart and his staff have done, particularly when it comes to players on the edge. The 2022 prospect class is full extremely talented edge players and Georgia is making headway with one of the best in Jalon Walker.
Walker is 6'2″ 220 pounds and he is the 2nd ranked outside linebacker in the entire 2022 class. A native of Salisbury, North Carolina, Walker lives in Tar Heel country and Mack Brown's program finds themselves in the running for Walker along with Alabama, Auburn, Clemson, Ohio State, and Georgia. Walker announced that Top 6 this past Friday, November 6th. It's even more impressive that Georgia is in this mix when you consider the Dawgs did not actually offer Walker until September 1st of this year. The significance of that date is that it is the first time in which college coaches and, or support staff are allowed to initiate contact with a player. UGA not only wanted to initiate contact, they wanted to make it known to Walker that he's wanted in Athens.
Jalon Walker has the ability to play out in space. That it proving to be the biggest criteria in today's outside linebacker world. As Georgia fans have seen with Florida and Alabama, spreading people out, using running backs out of the backfield on wheel routes and other parts of the passing tree is something that is more prevalent that ever in the SEC. Players like Walker are necessary to be able to combat the aerial onslaught going forward.
However, don't confuse the ability to play out on the perimeter and defense the pass as code for not being physical. Quite the opposite. Not only is Walker athletic enough to play in coverage and defend the pass, but he is also very adept at striking a would be blocker, shucking said would be blocker promptly, subsequently chasing down ball carriers and pass catchers with ease, and arriving with bad intentions. Walker likes to hit, is an effective tackler, and can take on pulling lineman, and maintain contain versus edge blockers on sweeps. Walker truly is a tremendous athlete as a whole, and undoubtedly is one that Kirby Smart, Dan Lanning, and Glenn Schumann would love to have!
Jalon Walker Sophomore Season