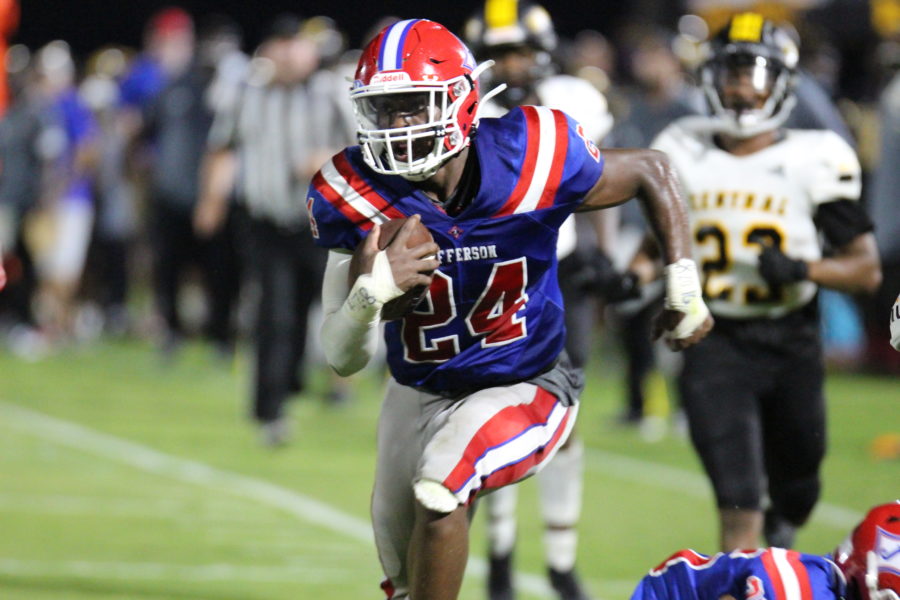 Malaki Starks entered the 2020 football season with a lot of hype surrounding him. The 2022 Athlete for the Jefferson Dragons is one of the more highly coveted players in the country in his class. Ranked by 247 Sports as a 5-Star prospect, Starks put all of his talents on display Friday night in Jefferson's season-opening win over Central Gwinnett.
On the first play from scrimmage, Starks, who started at quarterback for Jefferson, took the snap and kept the ball on a design lead run to the right. Once Starks got to the edge, he planted his left foot in the ground and executed an explosive cut to the outside and took the ball 65 yards for a touchdown. Check it out for yourself below.
.@MalakiStarks showed last night one the FIRST PLAY OF THE SEASON that all the hype surrounding him is well warranted! pic.twitter.com/GcPzTZotdu

— Blayne Gilmer (@BGilmer18) September 12, 2020
This was not the last Starks scamper to the endzone. The 5-Star prospect finished the night 177 yards rushing on just 7 carries and 3 touchdowns. The Dragons were able to rest Starks for a large portion of the evening with the game never in doubt. The final score ended up being Jefferson 61 – Central Gwinnett 7.
The schools courting the Peach State product make up a whose who of college football programs. Alabama, Auburn, Clemson, Georgia and LSU are all contenders, among others such as Florida State, USC, and Nebraska. Georgia is definitely going to push hard to keep such a talented prospect, only located 20 miles from campus, at home. While Starks is electrifying with the ball in his hands, his size and athleticism could make him an excellent fit at one of the safeties and, or the star position in Kirby Smart's defense. Starks is pushing 6'2″ 200 pounds and he's just beginning his junior year.
Bulldawg Illustrated will keep you up to date on the performances of Starks and other top Dawg targets during the 2020 high school season. Also, we look to bring insight on his high profile recruitment very soon. In the meanwhile, enjoy the gallery of the below that captured parts of the dominant display by Starks to start the season.