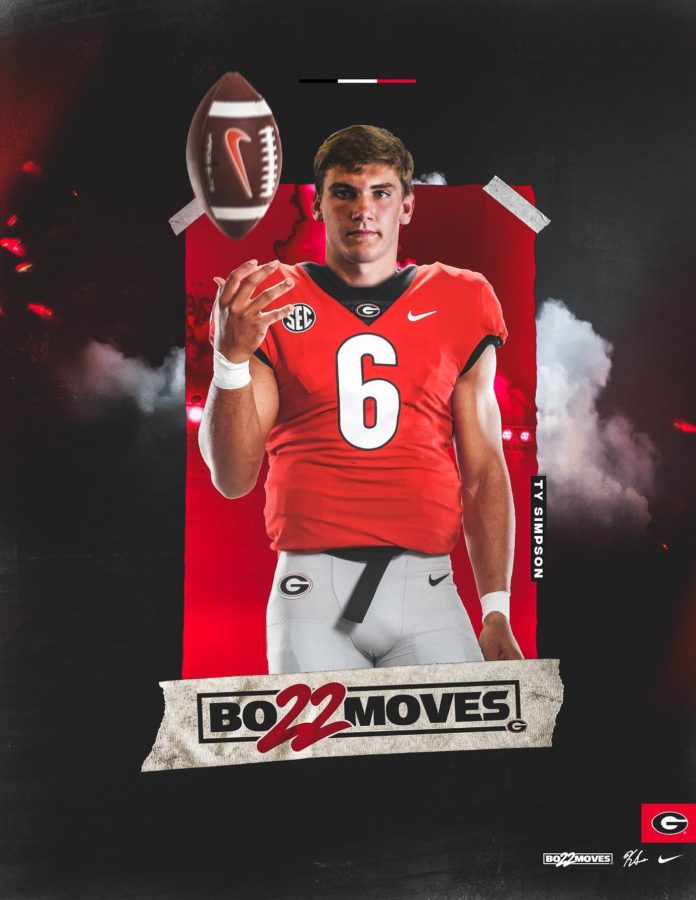 Ty Simpson is a tremendously talented quarterback out of Martin, Tennessee. If that town in Tennessee sounds familiar, you're probably right. It's the home of the UT-Martin Skyhawks. The Skyhawks of the Ohio Valley Conference in the FCS have played many SEC opponents over the past decade plus and were recently added to Georgia's schedule in 2023. The Head Football Coach of the Skyhawks is Jason Simpson, Ty's father.
As the son of a coach, Ty displays poise and a knowledge of the game that comes with the territory. Combine that with the dual-threat abilities that have him rated as a 4-Star prospect by 247 Sports, and ranked in the top 100 prospects overall in the class of 2022, and it's easy to see why Georgia and a plethora Power 5 schools are after Simpson.
Georgia's interest is quite evident as the Dawgs offered Simpson back on February 2nd of this year. Also, UGA was one of the first schools to reach out and make contact on September 1st, the first direct contact date from schools to 2022 prospect allowed by the NCAA. In fact, they sent him multiple edits from their graphics department and reached out with members of the staff.
Blessed to receive an offer from Georgia! #CommitToTheG @KirbySmartUGA @CoachToddMonken pic.twitter.com/Y3znV6GGmd

— Ty Simpson (@tysimpson510151) February 2, 2020
Simpson's performance so far in his junior season has been nothing short of dominant. The Westview High School Charger's quarterback has lead his team to a 4 – 1 record and has complied over 900 passing yards on 54 completions, 11 of which have connected for touchdowns and only 2 interceptions. On top of a strong arm and the capability make plays down the field, Simpson is dangerous with his legs as well. The 6'2″ 185 pounder does not have blazing straight line speed but he knows when to run, is plenty fast enough to rip off long gains that will move the chains, and is quite elusive.
Todd Monken and company are still looking for a 2022 quarterback. Taking a quarterback that is more of a dual-threat seems like a point of emphasis in this class. MJ Morris, Jacurri Brown, and Braden Davis are also being intently pursued by UGA, all dual-threat guys. Also, Gunner Stockton had Georgia in his final two before he committed to South Carolina. Truly the only "pro-style" 2022 QB that Georgia has serious interest in at the moment appears to be Tanner Bailey out of Alabama.
Simpson holds an offer from every single SEC school. It's safe to say that he's highly coveted, and for good reason. Expect Georgia to be in the thick of this one for the long haul.