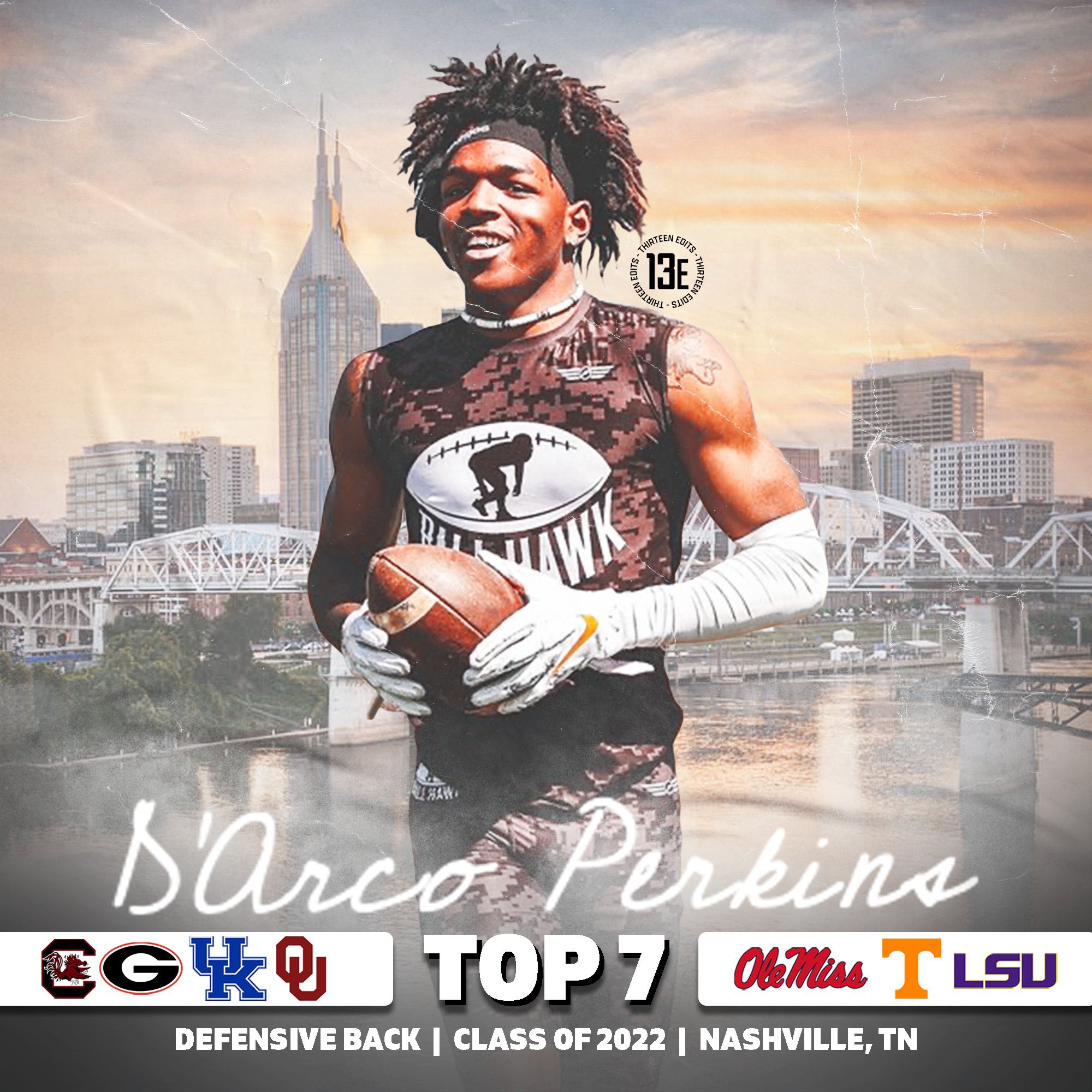 D'Arco Perkins-McAllister announced his Top 7 schools remaining in his recruitment on Thursday. Perkins-McAllister is a safety from Stratford Comprehensive High School in Nashville, Tennessee. The Volunteer State's young man included his home state Vols in his final 7, along with South Carolina, Kentucky, LSU, Ole Miss, Oklahoma, and the Georgia Bulldogs. Perkins received his offer from Georgia from new Defensive Back Coach Jahmile Addae not long after Addae came on board for the Dawgs. With UGA not officially having thrown their hat into the ring for D'Arco until late February, it's obvious that Addae has made up for lost time and that Georgia has made enough of an impression to warrant Perkins-McAllister giving them serious consideration as his recruitment begins to draw to a close.
Quite honestly, when watching the film of Perkins-McAllister, I'm reminded of an early Georgia version of Richard LeCounte III. Like LeCounte III, Perkins-McAllister wears the number 3, and the defensive back prospect out of Nashville also has a similar frame to what LeCounte III's is now. Perkins-McAllister stands 6'1″ and 180 pounds. The current 3-Star on 247 Sports plays above that rating, in my opinion. Don't be surprised if this hard-hitting safety with listed 4.3 speed starts to climb the charts over the summer and into the fall.
Perkins-McAllister takes good angles to ball carries and tackles well in space. The Stratford standout shows good ball skills and can make game-changing plays once he has picked off the opposing quarterback. Jahmile Addae is definitely looking to add 2 to 3 more prospects to the class of 2022 in the secondary. Marquis Groves-Killebrew, Deyon Bouie, and Malaki Starks are already committed to the 'G,' and Perkins-McAllister joins Kamari Wilson, Trequon Fegans, Jake Pope, Toriano Pride, Jordan Allen, and Emory Floyd that UGA has on its radar. A lot will begin to shake loose in this log jam of DBs once the dead period restrictions are loosened, and official visits are green-lighted. Emory Floyd was set to commit on May 7th but appears to be having 2nd thoughts and might postpone. At his point, not only does this become about the best fit for Georgia and the player, but it also becomes a numbers game. Things will be moving at a breakneck pace when traveling and visiting occurs. Georgia's strength historically in recruiting under Kirby Smart has been its on-campus team and the environment that the coaching staff, support staff, current players, and the University and town of Athens make when coveted recruits are in for official visits.
Those who are serious about Georgia and have committable offers may want to go ahead and make that move. Slowing playing things in what is about to be the 2022 class equivalent of the Wild Wild West could be a dangerous game to play. This is why recruiting is great! D'Arco Perkins-McAllister has played his way onto the radar of Coach Addae and the Georgia staff, and now we wait to see how and when schedules his officials to gauge how mutual the interest is. Perkins-McAllister certainly looks the part of a big-time Power 5 safety, and his impressive 2020 season film indicates that the talent is there to match that look.