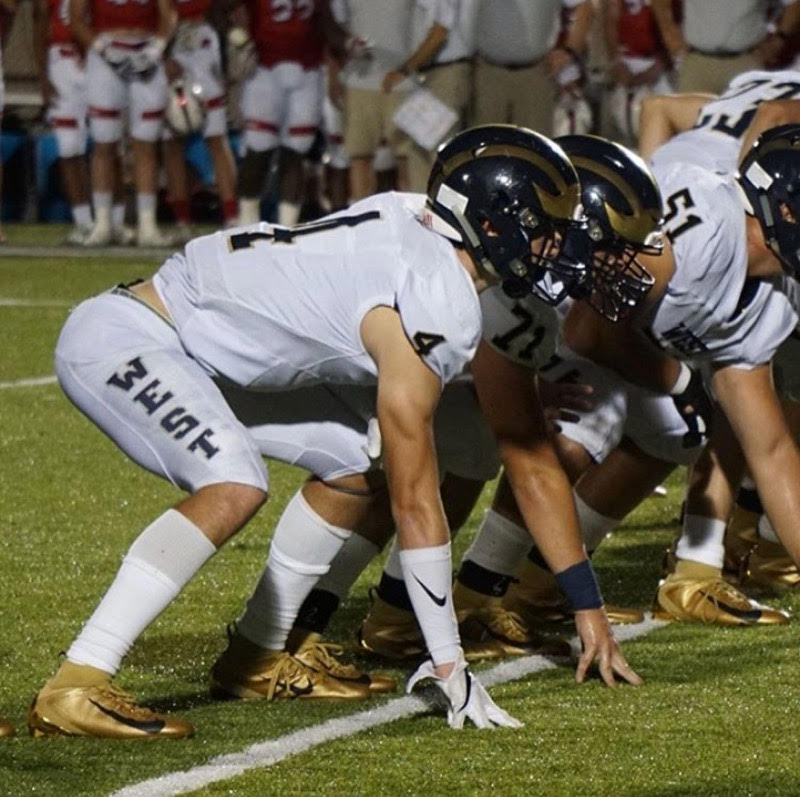 There are not many, if any, prospects in the country with more momentum than Oscar Delp. Since September 3rd the 2022 tight end from West Forsyth High School in Cumming, Georgia has received offers from 11 Power 5 schools. Simply put, Oscar is a skilled receiver in a body that is growing and developing into that of a tight end. Route running, dexterity, speed, and the ability to create after the catch are all there in a frame that is capable of continuing to add weight and become even more dangerous.
The University of Georgia is the most recent major program to become enamored with Delp's game and offer him a scholarship. The 6'5″ 220 pounder received his offer from UGA and Todd Hartley on this past Saturday. I was able to speak with the Peach State product since that time. The athletic tight end detailed the current state of his recruitment and much more in the interview, including what programs are standing out so far and why.
Delp's background and history with sports and his passion for the game..
I was born and raised in Forsyth and have lived here my whole life . I have played lacrosse and football my whole life but have always made football a priority. I've always been a big kid growing up which has helped me dominate every year I have played which really made me fall in love with the sport at a young age .
On playing through the challenges of COVID and West Forsyth's tough schedule to start things off. (Currently 1 – 1 with a game at home vs. Walton this Friday)
Me and my family have been doing great . I was exposed to someone in one of my classes so I had no choice to quarantine. I tested negative and am healthy. (Delp should be able to return vs. Milton this Friday after re-acclimating.)

We (West Forsyth) really have started coming together and everyone is starting to buy in . We have a lot of great leaders on our team that push us more everyday . I really think that we can win out the rest of our season and will be a very hard team to beat .
Delp's reaction to the onslaught of recruiting attention and how meaningful the offer from Georgia was to him…
It's been crazy . I have worked for this my whole life and to finally see it start paying off is a great feeling . After I received the offer from Georgia me and my family were beyond happy and excited . Georgia offers great academics as well as having one of the best football teams in the country and it's all within an hour drive from my home .
Where things currently stand in Delp's recruitment, what factors are important to him going forward, and the realtionship with Todd Hartley and the UGA staff at this time…
Right now I'm taking everything pretty slow. Some schools like Georgia, Michigan, Michigan state and Duke have really stood out so far but I'm going to wait until the dead period ends to really cut my list down. Academics and the way I will fit in the offense will be very important factors on where I want to go. Coach Hartley has been the main coach I have been talking with and building a strong relationship with but I have also talked to some of the recruiters here and there
On how closely Delp will be analyzing Todd Monken's use of tight ends this fall, his academic interests in college, and what the conversations have been like with Coach Hartley so far…
I'll definitely be watching close to see all the ways he will utilize the TE position this year. I don't have any particular academic interest yet, but I know I won't have football forever and I want to have a strong degree from a good school as a bounce back for whatever happens after college.

The conversations me and coach Hartley have been having have been great. They have been very natural conversations and they aren't just about football. Coach Hartley has expressed how he loves how athletic I am and how I move around and run.
It's worth noting that Delp is a teammate of 2021 Georgia offensive line commit Dylan Fairchild and Fairchild has wasted no time making a very public pitch for his younger teammate to commit to the 'G'.
https://twitter.com/DylanFairchild6/status/1307768983102332931?s=20
Stay tuned here on Bulldawg Illustrated for the latest on Delp and other Georgia football recruiting targets. Also, to keep track of Oscar Delp, give him a follow on Twitter and Instagram via @DelpOscar.
Oscar Delp 2022 Sophomore Season