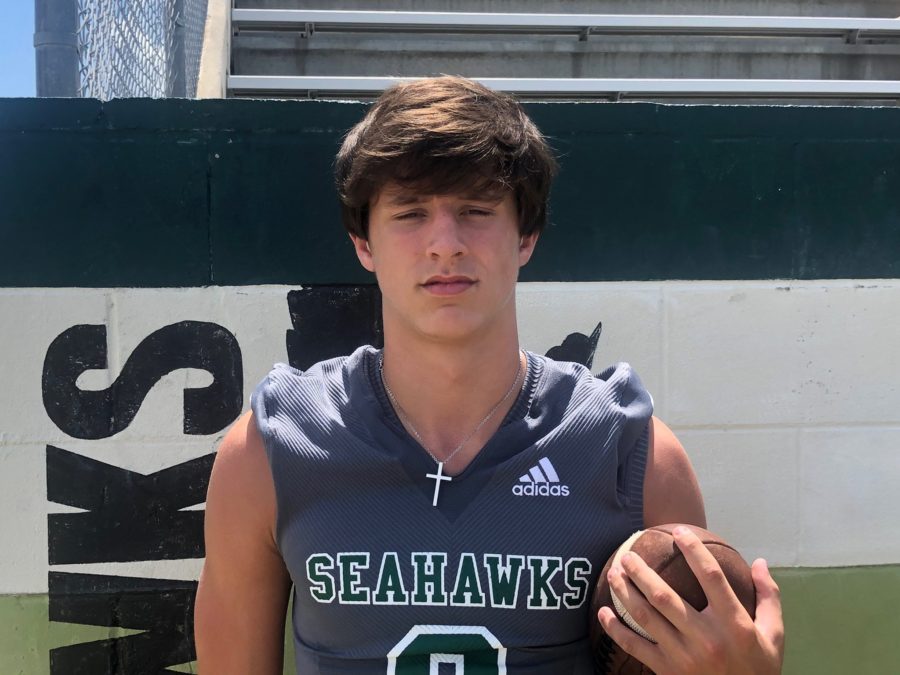 Pearce Spurlin is a 6'6″ 220 pound tight end in the class of 2023. Spurlin is now a member of the South Walton Seahawks football program in Florida, after playing his freshman season at Walton High School in Marietta, Georgia. As a freshman, Spurlin caught people's attention with his stature and flashes of ability. However, in this past offseason, under the tutelage of former Georgia Bulldog receiving great Terrence Edwards, Spurlin's recruitment took off.
During prospect camps and combines, Spurlin impressed with his speed, suddenness, and dexterity. When a physically imposing prospect such as Spurlin can run fluidly and possesses such a tremendous catch radius, it's not long before FBS programs coming calling. In fact, Tennessee, Nebraska, Charlotte, Georgia, Louisville, Penn State, and South Carolina all offered Spurlin in less than 72 hour window of time.
So far Spurlin's play in the 2020 season has done nothing but validate these offers and create even more interest in him nationwide. In his first three games of the season, Spurlin has recorded 21 catches for 324 yards, 3 of those catches resulting in touchdowns.
In short, Spurlin is big and he can run. Both qualities prerequisites for the tight ends that Todd Hartley recruits to UGA. One needs to look no further than the evidence. Hartley helped bring Eli Wolfe (6'4″ 235, 4.5 40 yard dash) to Athens via transfer from Tennessee, which paid dividends against Florida last year. Darnell Washington (6'7″ 260, 4.7 40 yard dash) showed off his athleticism on a catch over the middle from Stetson Bennett on Saturday. Finally, in the 2021 class, 4-Star Brock Bowers (6'4″ 225, 4.5 40 yard dash) is already committed to the 'G'.
Chad Simmons of Rivals recently put in a forecast predicting Georgia as Pearce Spurlin's destination. One would think the relationship that Todd Hartley has as a recruiter, Pearce's ties to the Peach State, and his mentor and trainer being Terrence Edwards wouldn't hurt the Dawgs chances at all. Keep an eye on the versatile tight end that resides in the Florida panhandle.