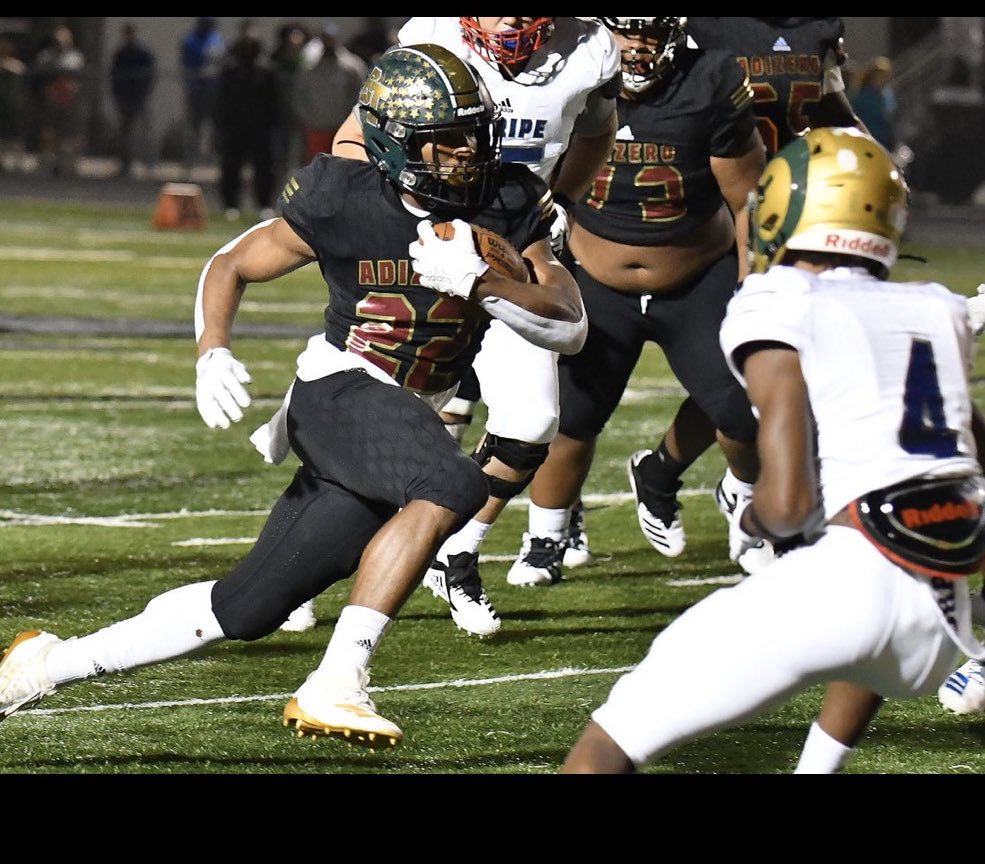 That is not a typo. 2023! Current sophomores in high school are being recruited hot and heavy already. The state of Georgia has some of the most talented class of 2023 players in the entire country and of course the University of Georgia has long been cultivating relationships with many of these young, talented prospects. Recruiting never stops! It's an aspect of the college football coaching profession that many in the fan base and the media take for granted, especially at UGA, and don't realize how tedious and time consuming managing a college football roster can be, let alone an elite one.
Today we look at the top three players in the Peach State, of which there could be major developments occurring in their respective recruitments very soon!
JUSTIN BENTON – 6'3″ 255 – DEFENSIVE END/OLB – NEWTON HS
Benton is an absolute handful on the edge of the Newton Rams defense. Having just completed his 2nd season as a starter for one of the more talent laden programs in the entire state of Georgia, particularly on the defensive side of the ball, this Georgia Bulldog legacy and major target for the Dawgs is packaged like a mini Aaron Donald. Benton is certainly disruptive like the All-Pro Donald! As mentioned, his father Phillip played linebacker at Georgia and was teammates with Kirby Smart. Kirby himself is involved a lot in this recruitment and the Dawgs appear to have a strong inside track here. Every program clamors to have a player like Benton on their defense. He is HAVOC personafied.
DL Justin Benton (Soph)
MICHAEL DAUGHERTY – 6'0″ 185 – DEFENSIVE BACK – GRAYSON HS
From one Ram to another, like Benton, Daugherty is a bona fide star in the class of 2023. Affectionately dubbed 'King' by his mother and family, Michael certainly will get the royal treatment during the remainder of his recruitment. Already with All-American game invites and acclaim, Daugherty is fluid, physical, and versatile. The Grayson standout would be dream fit in the Kirby Smart/Dan Lanning defensive system that depends of defensive backs to be able to handle a lot of roles. It's obvious that Daugherty is athletic when watching him play, but the most impressive things about this young man is talking to him and realizing his maturity and his mindset. The list of suitors is a mile long, but Georgia holds personal significance for his family. If Daugherty were to commit soon, he'd be an incredible recruiter on behalf of the Dawgs.
Michael D. Soph Season
JUSTICE HAYNES – 5'10" 195 – RUNNING BACK – BLESSED TRINITY
Like Benton, Haynes is the son of a former Dawg. Everyone remembers the great Dawg Verron Haynes. P-44 Haynes up in Knoxville and the Hobnail Boot call by Larry Munson will live in Bulldog lure forever. However, Justice Haynes has an opportunity to make his own major college football magic and memories, and in a big way.
Rarely do you see a running back with the combination of power, speed, patience, and toughness that Haynes has. Justice seems to be a throwback type back that can handle the burden for a team of consistently getting 20 to 25 carries per game, and not seeming like he's breaking a sweat. Haynes has tree trunks for legs and can absolutely fly once he's out in the open field, which is quite often. Having a father who is friends with and former teammates of Hines Ward and Jerome Bettis of the Steelers, well Justice Haynes plays with that same type of tenacity and grit and before all is said and done, he might be the top player, definitely top 5, overall in the class of 2023. Haynes is a MUST HAVE for Georgia!