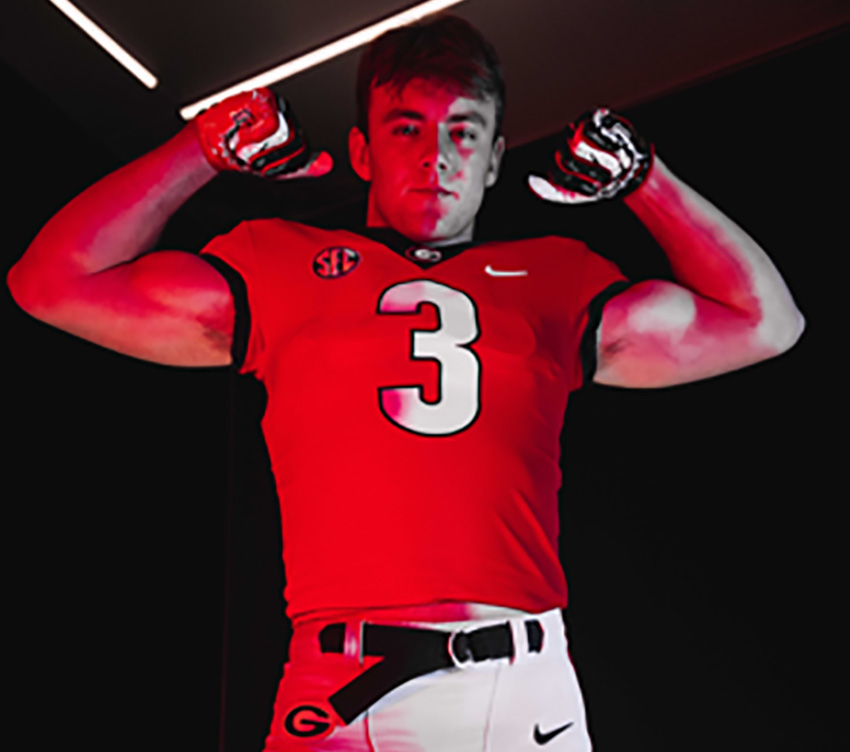 Tight End Brock Bowers was one of, if not the, most ardently recruited commitments of the 2021 class. Don't believe me? Check out Coach Glenn Schumann's tweet describing the mood of Brock's main recruiter and future position coach Todd Hartley once Hartley got the official word that Bowers was a Dawg.
Y'all should see this man @coach_thartley right now!!! #CommitToTheG Go Dawgs!!! pic.twitter.com/8XpLpiziQK

— Glenn Schumann (@CoachSchuUGA) August 10, 2020
Hartley once again came up huge in his recruiting endeavors by securing the verbal pledge from Bowers, just months after signing "Big O" Darnell Washington. While Bowers doesn't have the 6'7″ height that Washington has, make no mistake about it, Bowers is every bit as freakish of an athlete.
Bowers is a complete tight end. He is a very skilled route runner, has great hands, and with true 4.5 speed he is lethal after the catch. At 6'4″ and now northward of 220 pounds, Bowers is also big enough and physical enough to be effective as a run blocker. Bowers is admittedly still getting used to this part of the game, as he played quarterback and running back early on in his high school career for Napa High School, but you couldn't tell it from the film. It's not uncommon to see the 4-Star lock onto a defender and execute was looks like the equivalent of a Lou Thesz press as the whistle echos.
Check out the full Bulldawg Illustrated Inside Slant with Brock Bowers in the YouTube window above. In this episode, Bowers details his recruitment process, his commitment to UGA, Georgia's new offense, some 2021 prospects he's looking to bring with him, his relationship with Todd Hartley, and more! Also, make sure to subscribe to the YouTube channel and turn on notifications for all videos that Bulldawg Illustrated will bring your way.