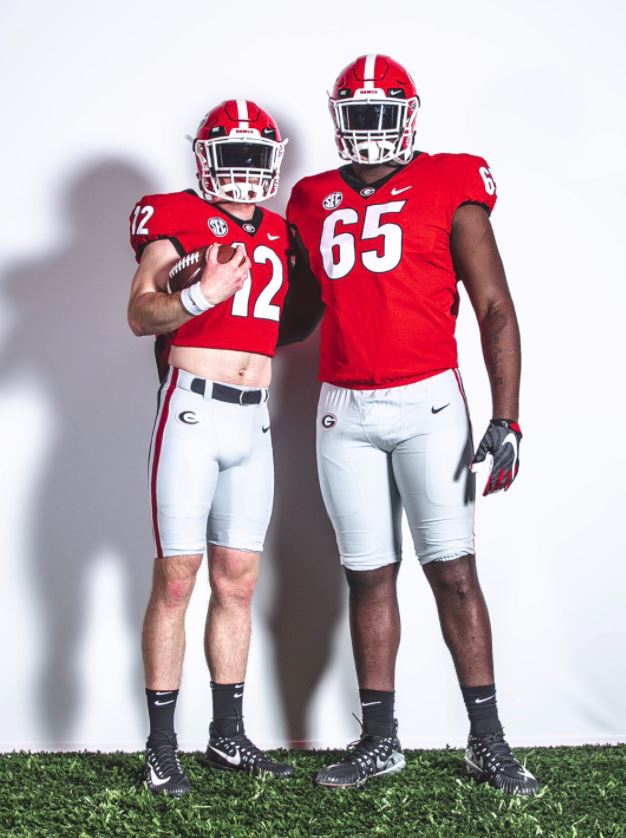 Let's be honest, while the SEC East matchup between Georgia and Tennessee has been, and always will be, viewed as a major rivalry, it's not felt like it recently. Georgia has dominated the series as of late and the disparity in talent has only grown as a result of stellar recruiting by Kirby Smart and his staff. However, momentum is a heck of game changer and Tennessee has it at he moment.
After starting the 2019 season 2 – 5, and getting outscored 189 to 141 in those 7 games, UT got on a roll. Since defeating South Carolina 41 to 21 in Neyland Stadium last year on October 26, 2019, the Volunteers haven't lost a game. The send to their 2019 season helped spark a strong 2021 recruiting class that is currently ranked 6th by 247 Sports. Now, with their victories over South Carolina and Missouri to start the 2020 campaign, Tennessee is looking to add even more talented prospects.
Georgia and Tennessee are in direct competition for 3 supremely talented prospects to help round out their respective 2021 classes. With on-campus recruiting suspended for the remainder of the year due to COVID, both teams coming into Saturday undefeated, and the game being the CBS game at 3:30, the immediate and long-term implications of this game cannot be overstated. Today we highlight the 3 prospects likely to be watching this contest extremely close.
AMARIUS MIMS
The timing of this matchup between Georgia and Tennessee could not be more apropos for the 6'8″ 320 offensive tackle out of Bleckley County (GA). Mims is set to make his much awaited commitment announcement on October 14th. A highly, and I mean highly, connected source, with decades of evaluation and football experience under his belt describes Mims as, "a once in a lifetime guy. The most impressive I've seen workout."
Mims has not let COVID-19 deter him from making visits on his own to college campuses. In fact, he's been making the rounds to SEC contenders every chance he gets. Athens and Knoxville have by far and away been his most frequented destinations and both Georgia and Tennessee have been in contacted with him daily, maybe even multiple times a day. Also, Cody Brown, 4-Star running back that committed to Tennessee over Georgia, and Brock Vandagriff, 2021 UGA 5-Star QB commit, have been playing tug-of-war with big Amarius. Each Brown and Vandagriff genuinely have great friendships with Mims.
The outcome of Saturday's contest could go a long way to helping decide where the behemoth left tackle will call home for his college career. It is worth nothing that Von Lassiter is Mims Head Coach at Bleckley County. If that name sounds familiar, the was also the Head Coach of Jake Fromm and Trey Hill at Houston County.
SMAEL MONDON
Mondon is probably the most unpredictable prospect in the class of 2021. After announcing his commitment would be made in July, it's been radio silence out of Mondon. When the 5-Star linebacker from Paulding County does talk to recruiting services and media outlets about his recruitment, he give largely non-answers. Conversations I've had with him in the past lead me to believe that Georgia, Tennessee, and Auburn have been the three main contenders for a while. However, sources at each school feel good about where they're at with Mondon. Can anyone say Jordan Burch?
There is no doubt that Mondon is a tremendous athlete and that he can run do some naturally freakish things on the gridiron. However, there is a concern with his physicality at times. After seeing him play in person, I'm not sure inside linebacker is where he ends up unless used in passing down situations similar to Quay Walker and Adam Anderson. Nonetheless, the Dawgs and Vols want him badly and Mondon is certain to be tuned in Saturday afternoon.
TYRION INGRAM-DAWKINS
I've felt for a while that the recruitment of Tyrion Ingram-Dawkins, which from now on will be referred to as TID, would come down to Georgia and South Carolina. However, with the horror show that is on rerun each week for the Gamecocks and the fact that Muschamp is very much so on the hot seat, I would not be surprised if Tennessee finds themselves square in contention. Also, a Gaffney, South Carolina native, Mack Brown and the Tar Heels from one state north are recruiting TID hard.
Tray Scott and Georgia would love to bring in TID. At 6'5″ 300 pounds, the 4-Star defensive tackle is very explosive and nimble. TID is a basketball player and that is evident in how he's able to move and redirect. This type of athleticism would be a welcome addition to the 2021 Georgia football depth chart with seniors Malik Herring, Devonte Wyatt, and Julian Rochester moving on at the end of the season and Jordan Davis likely headed to the NFL.
TID has said recently that he could commit at any time. As I said before, momentum is a heck of a game changer. Tray Scott being able to call up the prospect he's built such a strong relationship with after a big win over 'big orange' would definitely count as momentum I would think and that commitment that could come at "any time" might come right then.