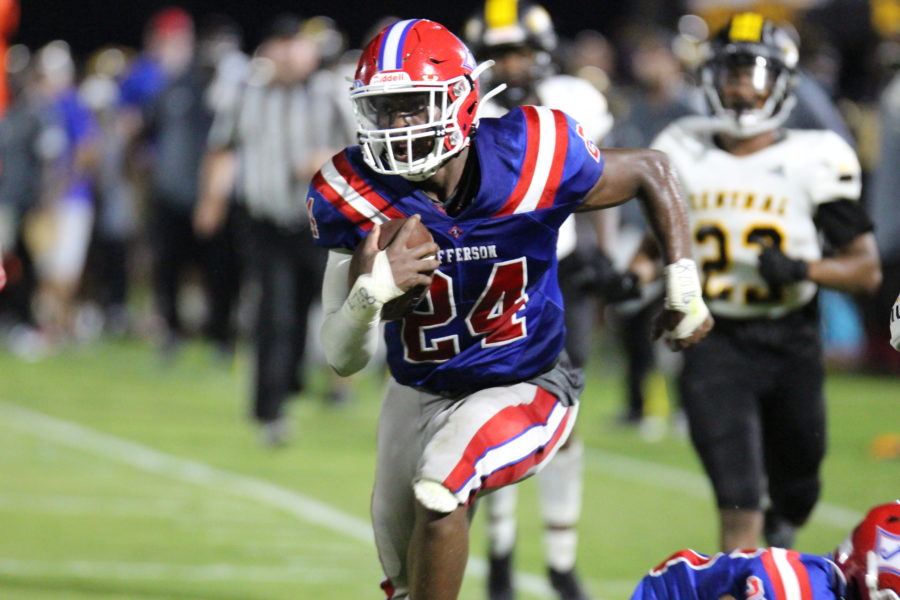 As always, the Peach State is loaded with talent and there are intriguing matchups that contain some of the most coveted prospects in the country. Each week during the GHSA season, we here at Bulldawg Illustrated are going to highlight top games and the players that the University of Georgia football program are targeting.
GAMES OF THE WEEK
JEFFERSON DRAGONS (4 – 0) @ FLOWERY BRANCH FALCONS (3 – 1)
MARIETTA BLUE DEVILS (1 – 3) @ BROOKWOOD BRONCOS (4 – 0)
NORTH GWINNETT BULLDOGS (3 – 2) @ NORTH COBB WARRIORS (4 – 0)
LOWNDES VIKINGS (4 – 0) @ VALDOSTA WILDCATS (2 – 1)
PROSPECTS TO WATCH
MALAKI STARKS leads the undefeated Jefferson Dragons up against the Flowery Branch Falcons in what is certain to be physical contest. Starks is one of the best athletes in the entire country and Georgia wants him badly. Indications are that Georgia is in great position here with Starks and the coaching staff is building a strong rapport with the 5-Star do-everything prospect. Starks plays quarterback in Jefferson's option attack and safety on defense. Look for him to make a ton of plays in this one and you can see it on GPB TV Friday night at 7:30pm.
DANIEL MARTIN is a long, lanky outside linebacker for Marietta. Having lost Arik Gilbert (LSU) and Harrison Bailey (Tennessee), the Blue Devils seem to be in a bit of a rebuilding mode, but Martin's talent is undeniable. It'll be interesting to see Martin face off against the Brookwood offense and if he can bring down UGA-offered 2023 QB Dylan Lonergan.
Speaking of DYLAN LONERGAN, the 2023 signal caller, who also has a 93 mph fastball for the Broncos in baseball, has been nothing short of spectacular this year. After being a wide-eyed freshman game manager the year before, Lonergan is now in full command of Phillip Jones's offense. Also, Lonergan does a great job of distributing the ball to SAM M'BAKE and DENYLON MORRISSETTE, wide out that are both big, physical, and explosive, and both have offers from UGA. M'Bake could be nearing a commitment soon.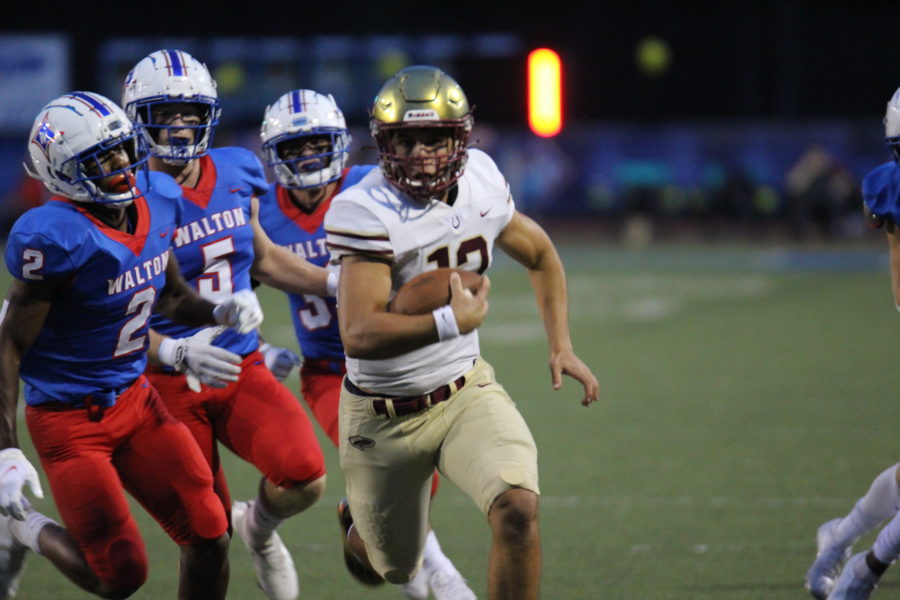 Lowndes and North Cobb both have quarterbacks that Georgia has interest in. JACURRI BROWN is a third year starter for the Vikings of Lowndes and Brown has never looked better. Brown received an offer a month ago today after proving in his an impressive seasoning opening win against Archer that his throwing motion was improved. Georgia was always intrigued by the athleticism that Brown had displayed in his freshman and sophomore years, but wanted to see more in the pocket before offering. In the Archer game before receiving the UGA offer, Brown threw for 164 yards and 2 touchdowns on top of rushing for 148 yards and 2 more touchdowns.
MALACHI SINGLETON is not as established as Brown, but is every bit as exciting. Singleton is 6'2″ 215 pound dual-threat sophomore that has lead North Cobb to a perfect start to their season through 4 games, including an upset win over defending state champion and perennial powerhouse Buford. Singleton current does not have an offer from Georgia but I've confirmed that there has been contact between the Georgia staff and the North Cobb staff about the Warrior's QB. This game against North Gwinnett could be a huge "film resume" game for Singleton as he'll be facing inside linebacker and Clemson commit Barrett Carter.