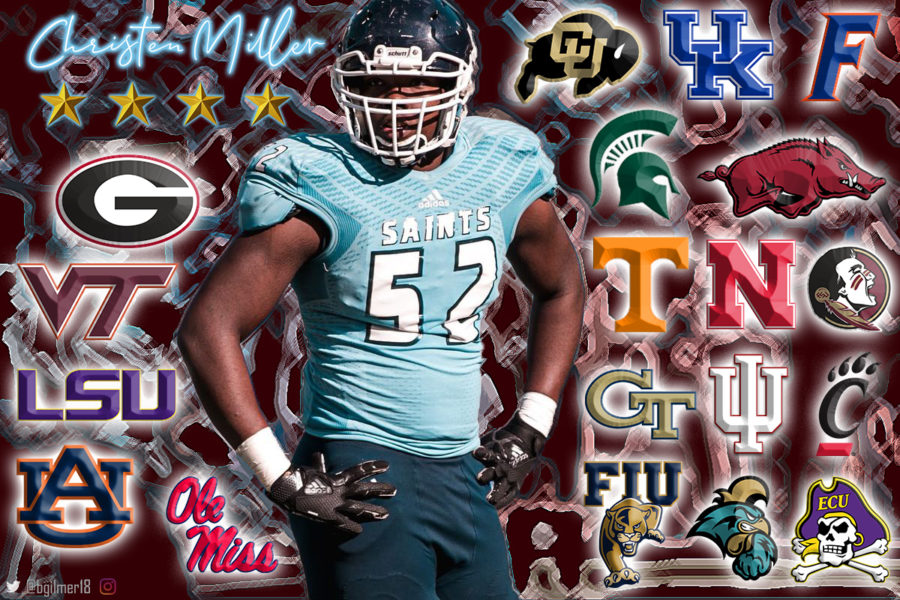 Friday night lights in Georgia! There is a crispness in the air and the bigtime showdown are starting to pop up on gridirons all across the Peach State. Not only are powerhouse programs facing off, but highly coveted recruits are as well. The University of Georgia always attempts to harvest the biggest, best, and brightest that the in-state crop has to offer year in and year out. Many of the marquee games tonight are loaded with high profile targets for the Dawgs.
Noteworthy Games
Cedar Grove @ Milton
West Forsyth @ Mill Creek
Newton @ McEachern
Prince Avenue Christian @ Wesleyan School
PROSPECTS TO WATCH
Cedar Grove is unbelievably loaded with talent. The back-to-back state champions have four UGA offerees on their squad. 3 of these prospects are on the defensive side of the ball in Christen Miller, Joshua White, and Raul Aguirre. Janiran Bonner is listed as an athlete and stars on both sides of the ball for the Saints.
Miller and White are extremely close to one another and in speaking to each of them earlier in the year, I learned that often times they talk on the phone with Tray Scott of UGA at the same time. Miller in particular has a great relationship with Scott and in speaking to those close to the situation, it feels very much so like Georgia is his lead school right now. Also, Bonner and Aguirre are each freakishly athletic at the receiver and inside linebacker positions respectively. Bonner is more established, whereas Aguirre burst onto the recruiting scene this summer with great performances at camps and combines.
Milton has a terrific defensive prospect of their own in defensive end and member of the class of 2023 Lebbeus Overton. Overton is 6'4″ and rapidly approaching 250 pounds. Overton has a tremendous get-off and is physical at the point of attack. The 4-Star prospect is versatile and while he's listed as a defensive end, he can bump down inside on passing downs and create mismatches with his strength and quickness.
West Forsyth and Mill Creek with have three main players for the Georgia staff and faithful to keep an eye on. Dylan Fairchild is a 2021 UGA commit and the 6'5″ 300 pound offensive guard, and state champion wrestler, will line up with his breakout star tight end Oscar Delp on Friday night to take on Mill Creek's Caleb Down. Delp is in the class of 2022 and is a prospect that Todd Hartley and company are very, very high on. Downs is a 2023 prospect and a talented safety that will most likely match up often with Delp during this exciting contest.
Newton is loaded just like Cedar Grove. They boast 3 tremendous defenders in defensive end Justin Benton, cornerback Nyland Green, and linebacker Olan Robinson. Robinson has not been officially offered by Georgia yet, but the 2023 prospect has visited. Nyland Green and Justin Benton do have offers and the two might be the biggest wants on the defensive side of the ball for UGA in the classes of 2021 and 2023 respectively.
Benton is a UGA legacy. His Father, Phillip Benton, played linebacker at UGA in the 90's and was a teammate of Georgia Head Coach Kirby Smart. Oh, and just for an added reference on how talented the Newton Rams are, they also have a 2021 Minnesota Gopher commit on their team in Darius Green.
Finally, a future Dawg signal caller takes the field Friday in a matchup of great importance in GHSA A-Private. 2021 Georgia commit Brock Vandagriff leads his Prince Avenue Christian School Wolverines up against the undefeated Wesleyan Wolves. Vandagriff will need to put up a monster performance for the Wolverines to take care of the Wolves at home, but then again, he's done that all season. Coming into Friday night, Vandagriff has an amazing completion percentage of 71% having completed 61 of his 86 attempts and has racked up 937 yards and 14 touchdowns in the process. Vandagriff has also got it done with his legs, rushing for 255 yards and another 4 touchdowns.
Lots of football to enjoy tonight. It's going to be a great fall afternoon. Greg Poole and I will be on location at the Cedar Grove/Milton and West Forsyth/Mill Creek games respectively and will bring you photos and coverage over the weekend. Follow me on Twitter using @BGilmer18 for updates throughout the season on recruits and games on Friday nights in GHSA.