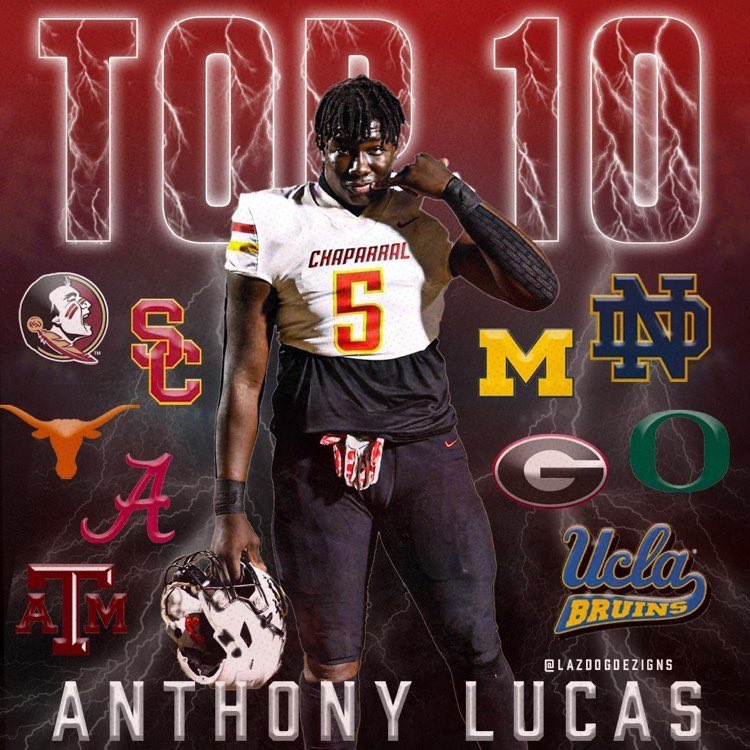 When a high school coach elects to line a defensive lineman up at outside receiver and throw them a fade in the red zone, well you know that defensive lineman is a special athlete. That is certainly the case for 2022 4-Star defensive lineman Anthony Lucas out of Scottsdale, Arizona. Lucas is 6'4″ 280 pounds and aligns in various different positions and techniques for Chaparral High School. Yesterday evening, Lucas announced the 10 schools remaining on his radar and the University of Georgia Bulldogs made the cut.
Fluidity is the first thing that jumps out when watching Lucas's film. Everything that the 4-Star from The Grand Canyon State does on the gridiron looks effortless. To be nearing 3 bills in the weight department, Lucas runs well and has great quickness at the line of scrimmage. Also, with all of that momentum often unevaded to the passer, it's a wonder that more opposing quarterbacks weren't shelved for the season after the licks Lucas put on them. Georgia is certainly looking to add to the interior defensive line in the class of 2022, and Lucas looks the part on the hoof and on the field.
Georgia is also pursuing fellow 4-Star defensive linemen Mykel Williams and Christen Miller. Both are in-state prospects and were each thought to have been trending toward Georgia with commitments scheduled in March and April respectively. Each delayed their commitments however with official visits becoming a reality in June. Miller has even went out to USC in an unofficial capacity on his own dime and Ohio State is making a run as well. With all that being said, it's worth noting that Anthony Lucas was offered by Georgia the same day that Mykel Williams announced his decision to delay his commitment, March 9th.
So, the Dawgs have made the Top 10 for Lucas in a relationship in which he has had an offer from UGA for less than a month. Tray Scott is a very personable coach and no doubt hit it off early with Lucas, but this also goes to show the weight that a Georgia offer carries period. It will be interesting to see if Anthony Lucas makes his way to Athens this summer or fall for an official visit. I've learned in covering the last few recruiting cycles for Georgia, no official visit means very slim chance that prospect ends up a Dawg.