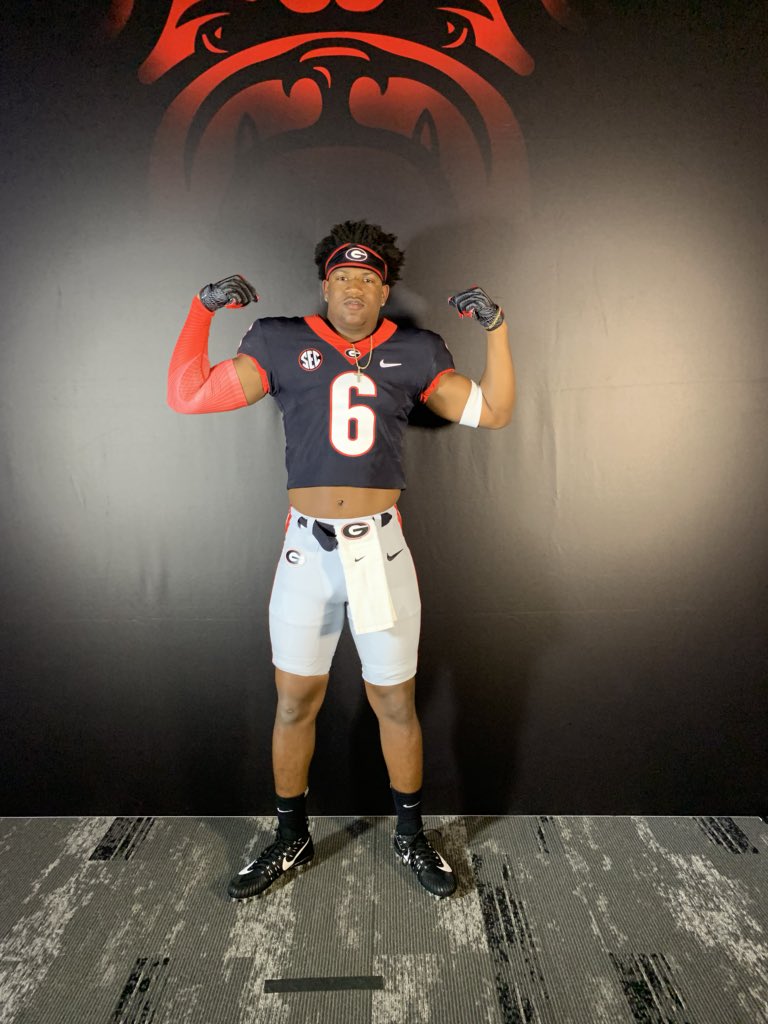 Yesterday, De'Jahn Warren sent those that follow Georgia Football recruiting into a tailspin with his tweets of edits sent to him from Penn State. Did some checking around and gathered that while the JUCO defensive back is certainly looking, there has been no official decommitment. Even though Warren fits right in to what Georgia's needs are in terms of skillset, a decision by him to decommit shouldn't be viewed in the least as "losing" one. Remember, recruiting goes both ways. There is plenty going on right now behind the scenes for Georgia, today I lay out some quick notes and thoughts on what I'm being told and what makes sense for the 2021 class with 5 days left until the early signing period starts.
If Warren were to decommit, I wouldn't expect a replacement DB to sign. It should not be viewed as an indication that Georgia is flipping Nate Wiggins or someone like that. It could very likely indicate that Georgia is seeking an experienced defensive back, or two, in the transfer portal.
The secondary will be a VERY, VERY young group next year for the Dawgs. Richard LeCounte, Mark Webb, DJ Daniel, and Tyson Campbell are all good as gone. Eric Stokes is being incredibly overlooked, and why I'm still of the opinion he'll go pro as well, if one current draft eligible DB were to return, it would be Stokes. Having said that, an infusion of experience will be key and the transfer portal is heavy with defensive backs currently with more to be added. A linebacker is likely to added from the portal as well.
At this point in time, if some happens with Warren, expect Georgia to roll with Jimmy Horn Jr. (which they might anyway) and, or another offensive prospect besides Donovan Edwards. For the longest Edwards was the lone offensive prospect UGA had left to focus on in 2021, but that could be changing now.
The 2 defensive prospects that I feel best about Georgia landing as of now are Xavian Sorey and Byron Young. Korey Foreman and Terrion Arnold are wishful thinking for the Dawgs at this point (based on what I've been told). Maason Smith is the most intriguing big fish out there so to speak. Georgia has been pushing hard and Smith's late visit to Athens for the Mississippi State game is good new for them, but even with the chaos at LSU, I'd still consider the Tigers the favorites. The young man has become a folk hero in the bayou and it'll be awful difficult to pull him out of the boot, but Alabama and Georgia are certainly giving it all they've got.
Got the barbershop. Need a barber. Y'all know anybody? pic.twitter.com/5OkobmUfyD

— Coach Kirby Smart (@KirbySmartUGA) December 11, 2020
Finally, Donovan Edwards has incredibly strong community ties to Michigan, much like Smith with LSU. However, I'd argue that the dire straits at UM are even worse than LSU. The Tigers are only one year removed from the National Championship, John Harbaugh and company are in a sustained decline. Dell McGee is also the lead recruiter, never count out McGee till the ink is dry folks.
Ultimately, I still believe that Georgia ends up at the 23 or 24 mark in terms of signees by February. The transfer portal, in and out, is going to be the wild west. More receivers and offensive linemen are likely to leave for better opportunity to play, and possibly a tight end might head elsewhere. Just understand that ALL decisions are 2-way decisions and not all decommits and transfers are due to them being the first choice of the prospect/current player.