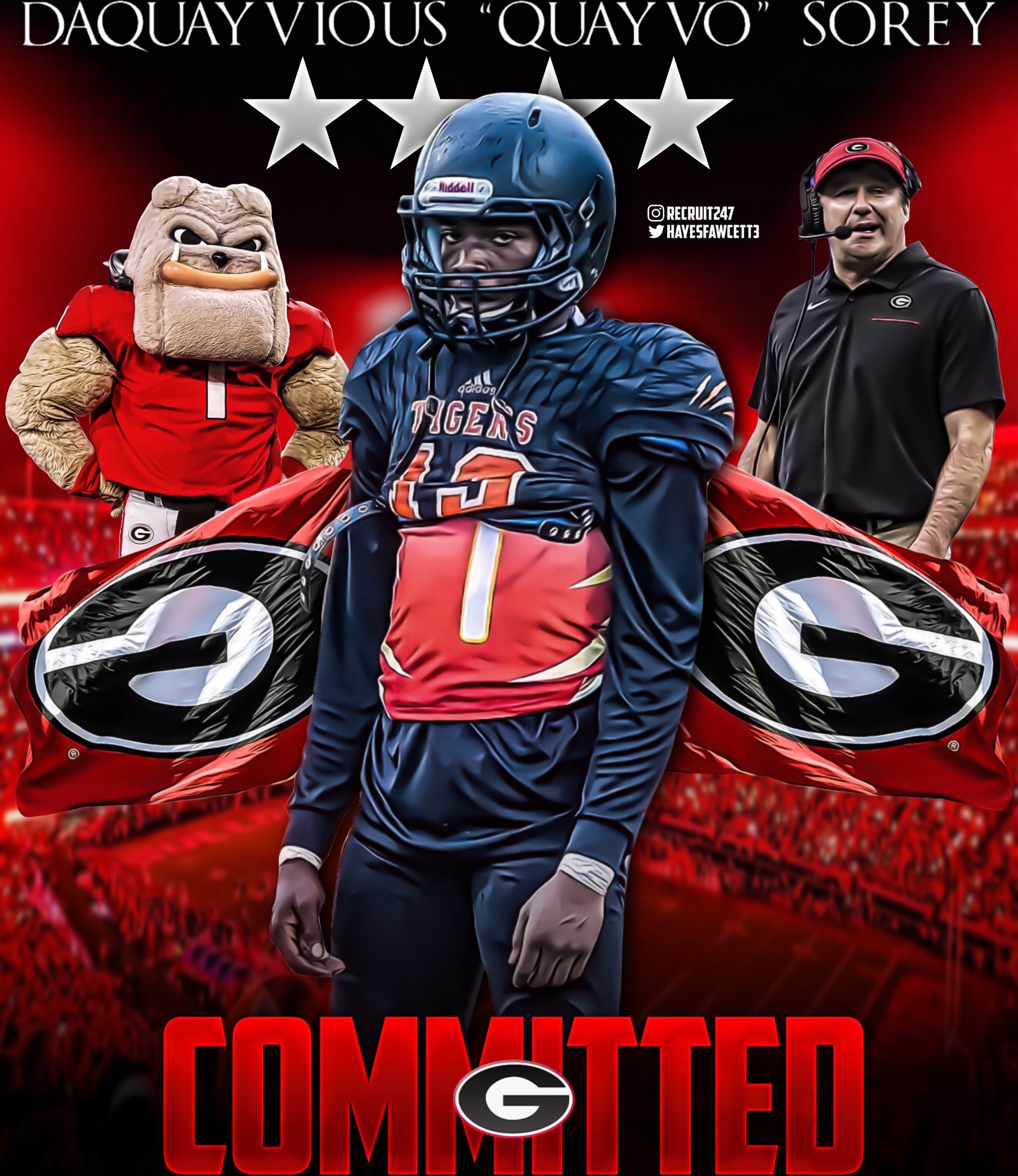 Recruiting is all about relationships. Georgia and the rest of the major college football programs are looking for any and all advantages right now in the recruiting dead period. Word of mouth advertisement helps sometimes and the Dawgs seem to have benefitted from some family familiarity with their latest commitment. Daquavyious Sorey, a 4-Star wide receiver in the class of 2023 has committed to Georgia football.
Yes, that Sorey. "Quay Vo" is the cousin of 2021 Georgia signee Xavian Sorey Jr. Like Xavian started out his high school career, Quay Vo is from Graceville, Florida. With still 2 years of high school left to go, there is a lot that can change going forward in the career and the recruitment of Quay Vo Sorey, but there is no doubt that on the surface and from a pure talent standpoint, this is a big get for the Dawgs. Daquayvious stands 6'2″ and weights north of 185 pounds already. It will be interesting to see if he spends the remainder of his high school career at the small school in Florida or if he, like his cousin before him, will try to gain experience at a more high profile program like an IMG Academy.
Sorey joins Pearce Spurlin and Seven Cloud in the 2023 class of commitments for Georgia. Spurlin is also a playmaking pass catcher out of the Sunshine State and has done a great job marketing the Georgia program since his verbal to the Dawgs. Now that 2 studs from the Florida panhandle are on board for the Georgia Bulldogs, expect their recruitment of other Florida standouts like Richard Young and Brandon Inniss to pick up even more. With on-campus recruited continuing to be delayed, any advantage possible needs to be drawn upon. Todd Hartley, Cortez Hankton, Scott Cochran, and Dan Lanning have certainly shown their ability to close with high profile prospects out of the Sunshine State. Yes, Quay Vo Sorey is just a 2023 prospect and there is no doubt a long way to go before he signs on the dotted line, but definitely a nice shot in the arm for UGA recruiting heading into the weekend.