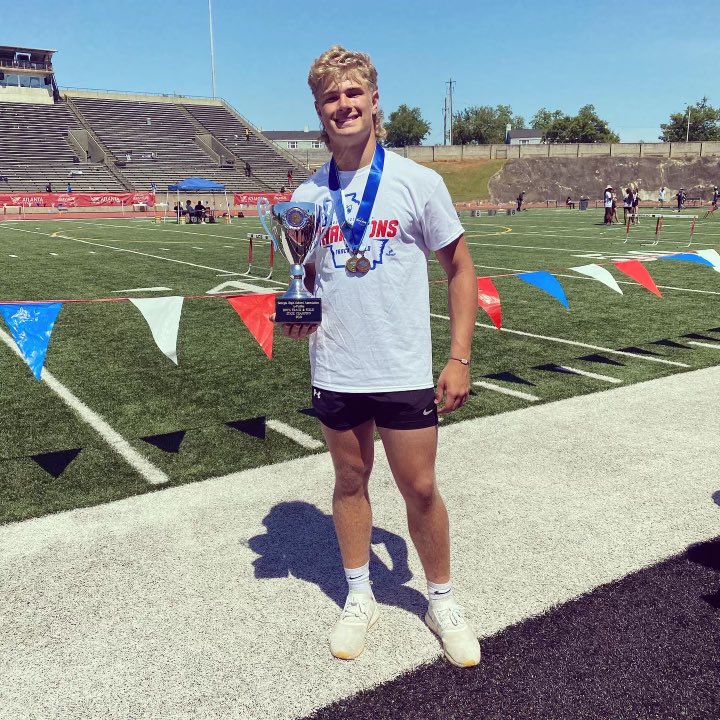 Some human beings are just made differently than the majority of the population. It's just not normal for people who have height above 6'0″ and weight above 200 pounds, in high school, mind you, to run at speeds of anywhere between 18 and 20 miles per hour. However, they exist, and Sammy Brown is one of them.
In the class of 2024, yes 2024, Sammy Brown is a name to know. I recently recorded an interview with Brown that will be released next week but could not wait that long to tell the Dawg Daily Thread community here on BulldawgIllustrated.com about the impressive athlete that is Sammy Brown. The young man is a standout in not only football but also wrestling and track and field. Brown spent his freshman year at Commerce High School in Georgia playing football for his father and former Commerce Head Coach Mike Brown. In his freshman season, Brown rushed for nearly 1,400 yards for Commerce and was excellent on defense. The success carried into the spring in track season. The State Championship Meet was just held, and Brown won the Single-A Private State Championship in the 400-meter dash. Again, just not normal feats for a freshman that is 6'2″ 215 pounds.
I mentioned that Mike Brown is now the former Head Coach of the Commerce Tigers. Mike Brown just recently stepped down as the leader of the Commerce football team and has taken the Defensive Coordinator job at Jefferson High School in Jefferson, Georgia, under Gene Cathcart. Cathcart and the Jefferson Dragons finished as GHSA AAAA State Runners-Up in 2020. The squad is returning a lot of talent, including current Georgia 2022 commit and 5-Star Maliki Starks and Kadin Bailey, son of former Georgia and NFL linebacker Boss Bailey. Of course, Sammy Brown is following his Father to Jefferson, and it's safe to say that the Dragons' chances of getting back to the State Title game just went up with the addition of another freak athlete.
What stands out about Sammy Brown, in my opinion, even more than his speed is his strength. Not many 14 or 15-year-old young men are bench pressing 315+ or squatting nearly 500 pounds. Brown is a special player and currently offers Georgia, South Carolina, Tennessee, and Georgia Tech. After visiting colleges this summer and working out for more coaches, I'm sure a slew of more offers will come in short order. Brown certainly seems like a prospect that Georgia will desperately try to keep in-state. For insight into Brown's recruitment so far, make sure to subscribe to the Recruiting Every SECond podcast on Apple Podcasts, Google Podcasts, or Spotify, and listen or listen to the Bulldawg Illustrated YouTube channel watch the interview with him that will be released on May 28th. Lots of content between now and then as well. Please test it out in the embed player below and enjoy the highlights on the Peach State phenom that Sammy Brown below.
***For more recruiting news and analysis pertaining to Georgia and around the SEC, make sure to listen and subscribe to Recruiting Every SECond my podcast centering around recruiting in the Southeastern Conference and the implications of it. Episodes can be found in the embed player below!***