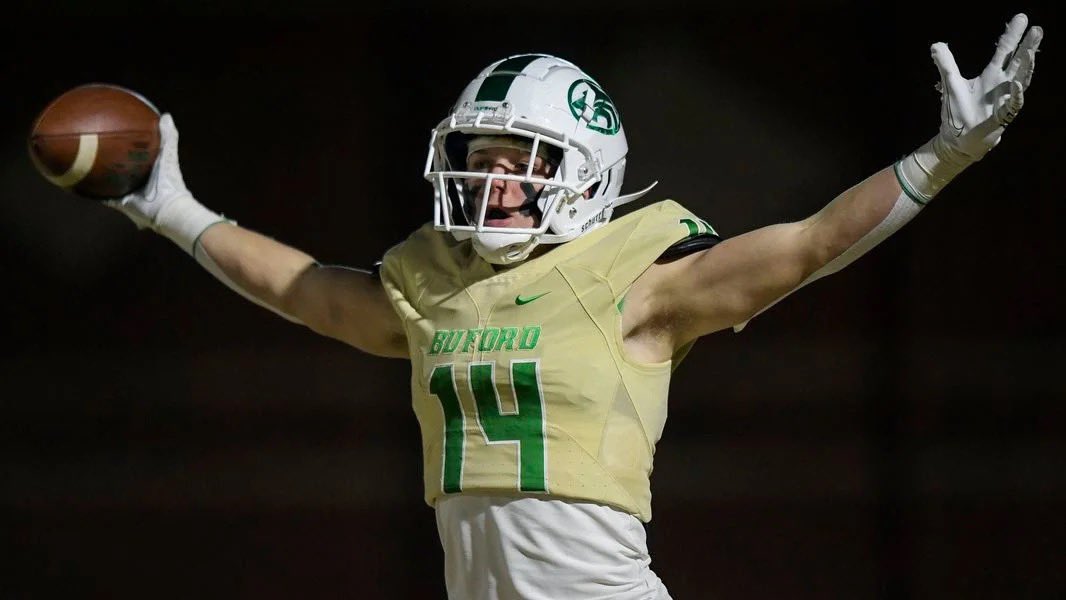 The secondary is a position of emphasis in the 2022 class for the Georgia Bulldogs. The Dawgs already have a talented trio committed to being the next wave of talent in the back end of Kirby Smart and Dan Lanning's defense in Marquis Groves-Killebrew, Deyon Bouie, and Malaki Starks. I could see UGA adding at least 2 more defensive backs in the class and 4-Star Jake Pope out of Buford. Georgia could very well be one of them. The biggest programs in the country are recruiting a 2-way standout for Buford High School, 2-time defending GHSA State Champions and legendary national powerhouse program, Pope, and I recently caught up with Jake to discuss his recruitment process to date and where the University of Georgia is factoring in at the moment.
With Jake Pope being a Buford Wolf, he was no stranger to high-profile recruitments. Pope had seen for years, growing up in the powerful Buford feeder system, players ahead of him go on to play at a plethora of Division 1 and Power 5 programs. Georgia is no exception, as Isaac Nauta and Dallas Lee both hailed from Buford. However, it was a little different when things started to him home for Pope. "Honestly, you never know what's going to happen until you get those first couple of offers. Then you kind of start blowing up a little bit, and you're like, jeez, I've got all these teams wanting me, and it's just like, now I've got to decide. Then you start thinking about long-term goals, and that's probably the biggest adjustment," explained Pope of what the momentum in his recruitment has been like. Also, with Alabama, Ohio State, Notre Dame, Georgia, and a host of other Power 5 programs seriously recruiting Pope on top of playing baseball for Buford's #2 nationally ranked program, the rising senior is a very busy individual!
When asked about the challenges of being a 2-sport athlete compared to players who are playing football year-round with 7-on-7 and things of that nature, Pope expressed a view that playing 2 sports really isn't a challenge his process as much as it is a benefit. "Actually, a bunch of the coaches that are recruiting me usually say they like dual-sport athletes. So, I really try not to think about the 7-on-7s and things like that because you know I've kinda earned my way with Friday nights, and stuff like that," said Pope. Pope also answered a follow question about whether he'd play baseball in college or not, and specifically at Georgia, by insinuating that the decision was still up in the air and that he's not talked directly to Coach Stricklin at Georgia. Still, the UGA Football staff has indicated they'd be more than happy to help facilitate that connection should Pope want to entertain that venture at the college level as well.
When it comes to Pope's recruitment by Georgia, the future Power 5 Safety divulged, "I would say I talk to Coach Schumann the most, for sure. I've also talked to Coach Smart for a while. They're both great coaches, really nice people as well. I like what they have to say every time I call them. I'm excited to get up there when the dead period opens and meet face to face." Specifically, on Coach Smart and his being a former All-SEC Safety himself, Pope continued, "It's definitely a cool thing to hear. If I were to go there, he would be with the DBs with a lot of his time. So to get that kind of coaching from a former All-SEC safety would be great."
The environment of the town that the school Pope ends up picking is vital to him. Jake indicated that he has been to Athens and likes the town, has seen the campus, and has been to some restaurants. The atmosphere on and off the field is important to Pope. "You want to be able to enjoy where you're going to be for the next 3 to 4 years, for sure," said Pope. This factor in Pope's would be a strong point for UGA as Athens is routinely rated one of the top college towns in America. Of course, the game day's atmosphere, both surrounding and inside Sanford, is icing on the cake and speaks for itself.
Pope would like to have his recruitment wrapped up by the time his senior season rolls around. The Buford Wolves will be going for a 3-peat, and there is no doubt that Jake and his teammates would like to relish that opportunity to the fullest. Fitting in with that timeline, Pope hopes to narrow things down relatively soon from 14 schools to 5 or 6. Once the dead period ends and visits are allowed, Georgia is definitely a place that the 4-Star safety wants to get to, and they're also in good shape to land one of his coveted official visits as well. This definitely a development to be watching for because, in my opinion, Jake Pope embodies what Georgia Football is all about under Kirby Smart. Pope exudes toughness, loves the game, and competes on every single play. There is no doubt that the interest here is mutual and it's significant.
For more of the conversation with Pope, including some of his background and some connections he has to UGA, check out the RBU Podcast dropping this Monday on the Bulldawg Illustrated YouTube Channel and Apple Podcasts, Google Podcasts, and Spotify.