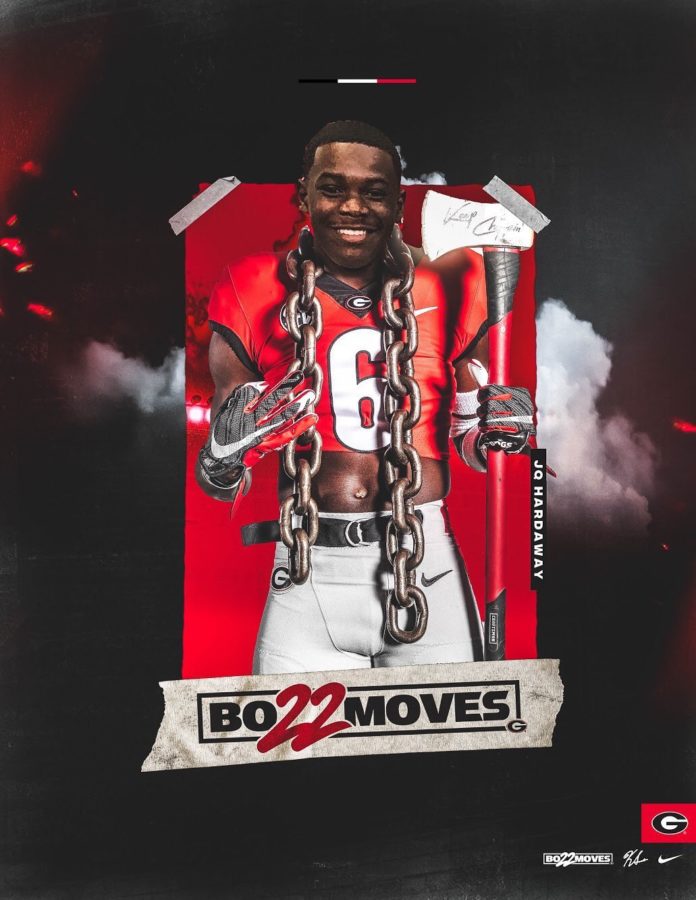 JQ Hardaway is a cornerback in the class of 2022 from Columbus, Georgia, that currently has a height and weight of 6'3″ 180 pounds. Ironically enough, Hardaway attends Hardaway High School which competes in the always competitive GHSA Region 2AAAA. The 3-Star cornerback currently has 16 FBS offers including ones from Florida, Kentucky, Tennessee, Oregon, and USC. At present time Georgia has not extended a verbal offer, but that in no way should be thought of as an indication that the Dawgs are not interested.
No, in fact, in the very first minute of the September 1st direct contact period for coaches and recruiting staff to the class of 2022, Hardaway got a text message from Georgia's Defensive Back Coach Charlton Warren. That's right, in a recent conversation with Hardaway he told us at Bulldawg Illustrated that, "There is definitely interest on both sides. They were the first one to get in touch with me. Coach Warren sent me a text at 12:01 AM."
It's clear that even though the verbal offer from Georgia to Hardaway hasn't been extended yet, it seems inevitable. The foundation has been laid and the Georgia staff is building upon it. Check out some of the Q&A from the recent Bulldawg Illustrated interview with JQ Hardaway below.
Q: What's your background in football?
"I've been playing football since I was five years old. I always wanted the ball in my hands. I really didn't want to play with toys very much my mom said, I was always into ball. When I first started playing, the team I was on was loaded and already had their receivers in place, so they put me at DB. I just stuck with. Now with my height, my dad says all the time that you can find a lot of 6'3″ receivers but finding 6'3″ corners that can move like I can is different. It's special."
Q: How has the relationship with the Georgia staff developed?
"The running back coach Dell McGee is from Columbus. He's been showing love to me for probably about a year now. I would contact him and I've visited Georgia probably three or four times now. Actually, I was able to make the Texas A&M game last year. I got to see the lights in the 4th Quarter and it was a great atmosphere. I was also able to talk to Coach Warren then and he left a great first impression. There is definitely interest on both sides. They were the first one to get in touch with me. Coach Warren sent me a text at 12:01 AM. He told me I'm a priority for them to recruit in the class."
Q: No verbal offer yet from Georgia, but how do you feel about the program?
"We are just taking things day by day right now. Since September 1st they have contacted me a good bit. I definitely feel like that offer is coming, even though everybody knows offers aren't actually official until senior year, but the way we communicate it's like I already have the offer…. I'm from Georgia and there are Bulldog fans everywhere you look. Look left, look right and you see Georgia fans. So the relationship is growing and if the offer comes they're definitely a program I'll consider."
As of now Hardaway plans to take things slow. He's already very comfortable with the Georgia campus having visited Athens multiple times. Hardaway is looking forward to the current COVID restrictions on on-campus recruiting being lifted so that he can visit more places. The Peach State product wants to take his time before he makes any commitment because once he does, there is no intention to decommit or waiver from his decision.
Bulldawg Illustrated will keep you updated on the progress of the long, rangy, athletic, and ball-hawking cornerback's recruitment. Also you can follow JQ Hardaway on Twitter @Jhardaway_24. Below are highlights from his sophomore season.
UPDATE: JQ Hardaway and the Hardaway Hawks defeated Americus-Sumter last night 33 to 3 in their season opener. Hardaway had a touchdown reception at receiver as he is a two-way player for the Hawks.
Sophomore season highlights 💰❗️