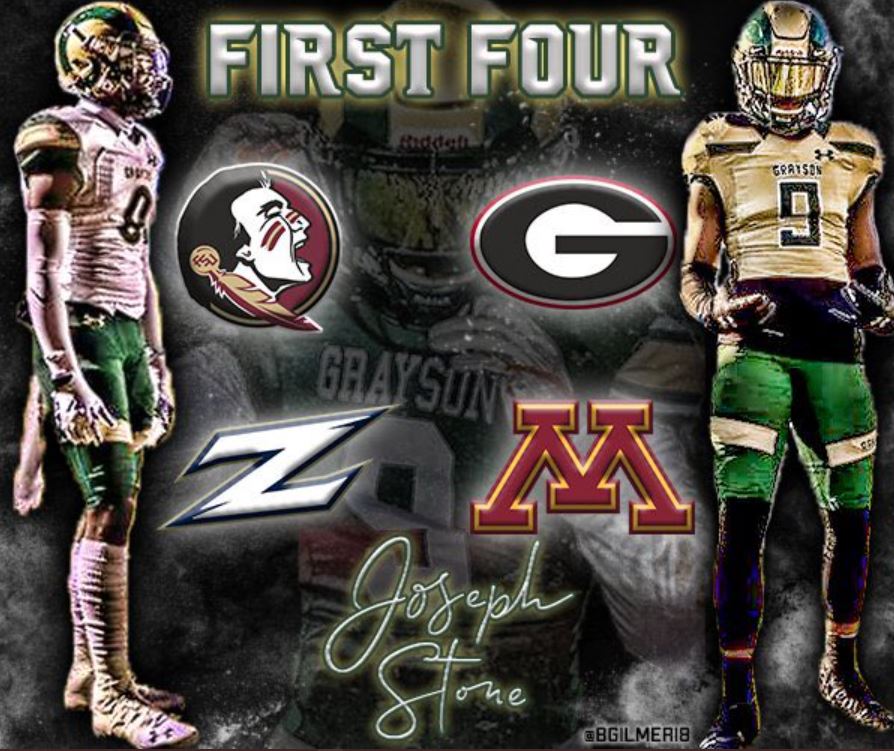 As nice as it would be for college programs to focus on one recruiting class at a time, that simply is not reality. In the Power 5 and in the SEC, recruiting is right up there with death and taxes. It's going to happen, and there is no avoiding it. Not only are programs like Georgia focusing on the next class out, which in the current cycle would be the guys in the class of 2023, but incredible talents from the class of 2024 are beginning to emerge as well. They are garnering attention from the Dawgs and elite programs across the country. Joseph Stone Jr., a multi-position offensive playmaker for the GHSA 7A State Champion Grayson Rams, is one of those emerging talents. In fact, forget emerging, Stone Jr. has full-on arrived on the scene and recently received an offer from the University of Georgia.
https://twitter.com/jojostonejr18/status/1383102504171401219?s=20
I recently caught up with Joseph Stone Jr. to ask him about the offer from Georgia, his recruitment overall, and his immediate future with the Grayson Rams. When discussing Georgia and the offer, the word that came to mind for Stone Jr. was excitement. "I had just left lifting and I got a call from Coach Fred (the Grayson High School Recruiting Coordinator), and he told me Georgia wanted to offer. I was just so excited," said the rising sophomore. "Georgia, Georgia was always one of those big schools (for me), I was never really a Georgia Bulldogs fan, but I've always had players that I used to watch coming up coming out of Georgia. Georgia was always one of those big schools always have my eyes on," continued the 2024 All-American invitee. Stone Jr. would go on to say that Todd Gurley and George Pickens have been some of his favorite Bulldogs to watch, and those are not a bad couple of Dawgs to admire when you're a versatile offensive weapon like Joseph Stone is.
That versatility is set to unfold in a big way this fall for the defending State Champs. Playing at all as a freshman at Grayson is a feat, and Stone Jr. hit the stat sheet this year for the perennial powerhouse program in both the rushing and receiving categories. When asked about his immediate future in the Grayson offensive system, Stone Jr. responded, "I feel like I'm gonna be one of those just get it done type of guys. Because, I know this year, we have talked about putting me at slot, at running back, and at receiver, and I'll also work as a Wildcat quarterback." So it's fair to say that if you attend or tune in to a Grayson Ram contest, you're likely to see Joseph Stone Jr. align in a variety of spots and get touches in several different ways.
In terms of the recruitment of Stone Jr. so far as a whole, Georgia's offer is one of 4 that has been extended so far. Akron, Minnesota, and Florida State round out the list at present time but rest assured that will change soon. Being at Grayson, a recruiting gold mine, Stone Jr. has been exposed to high-profile recruitments and has learned from prospects in classes ahead of him. One of those prospects is priority Georgia defensive back target Michael Daugherty. When asked what he's learned about the process from Daughterty and other teammates, Stone Jr. said, "The main thing I picked up on is how to take all of this, because you know this can come fast, like all of these other these offers and these college coaches. By me being one Mikey all the time, I know Mike is one of those ones I'm close with, but being with him I learned how to take and how to go about it. And to always be humble." A mature approach from such a talented young player, and Joseph appears to be ready to start doing his due diligence as well. Stone Jr. and a group of Grayson teammates and Langston Hughes 2024 quarterback Prentiss Noland are all trying to make arrangements for an unofficial visit to Athens on June 2nd.
Joseph Stone Jr. will be a household name in Power 5 recruiting circles within the next calendar year, and the Dawgs have jumped in on this high-profile playmaker early. Catch information on players like Joseph Stone Jr. and many more in the RBU Podcast episodes below, and remember, recruiting never stops!