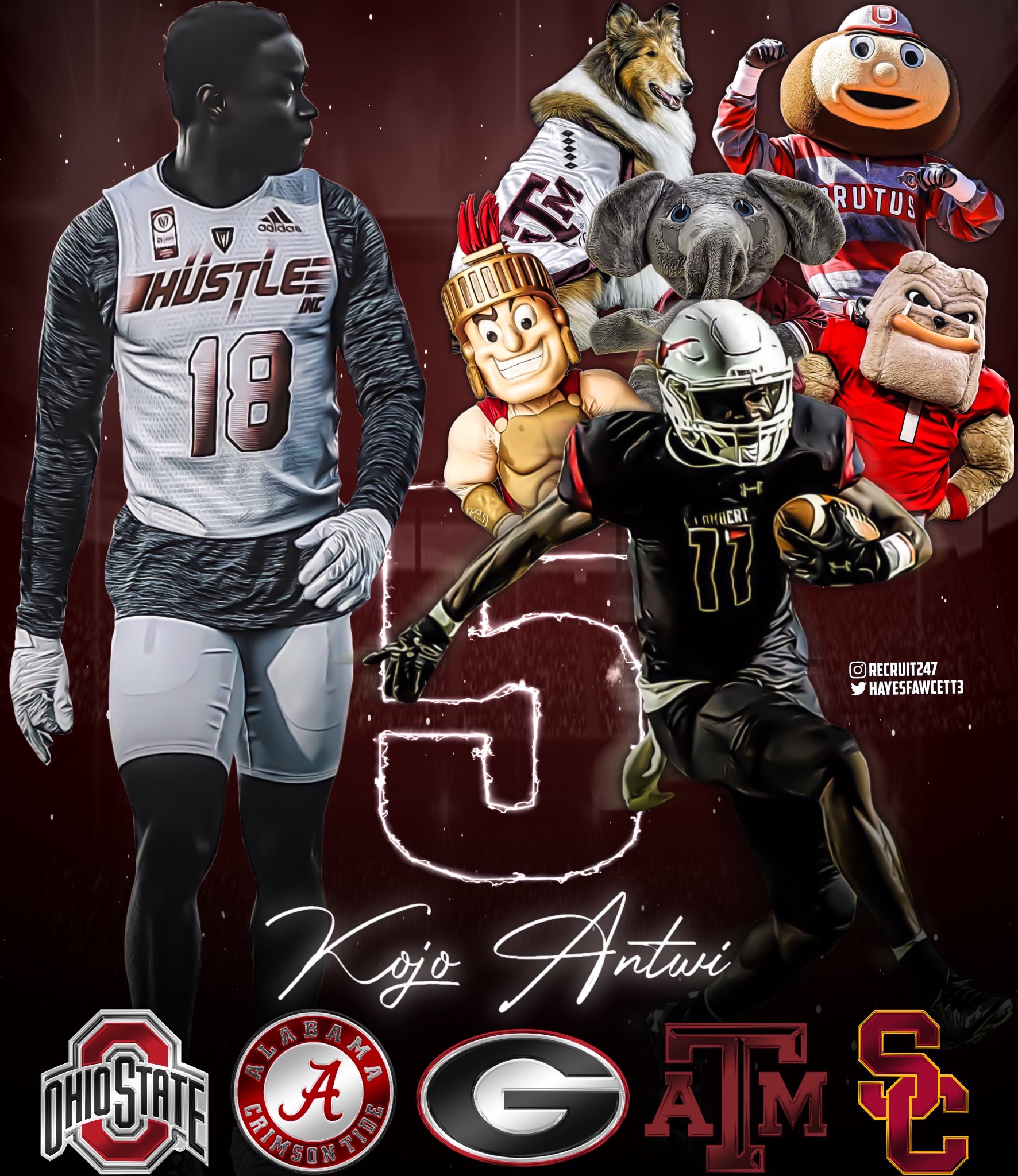 Kojo Antwi, one of the top-ranked receivers in the country in the class of 2022 and a standout at Lambert High School in Cumming, GA, has narrowed his recruitment to 5. In naming his top schools of Ohio State, Alabama, Georgia, Texas A&M, and Southern Cal, the talented receiver set his commitment date as July 5th. Many others believe that Georgia is positioned well to make a strong closing argument with the in-state product. Still, Ohio State and Texas A&M will certainly be heavily involved going forward as well.
I've spoken to Antwi a couple of times since he received his offer from Georgia back in May of 2020. The 4-Star is a very nice, very accommodating young man that truly is thankful for the process he is involved in and has approached his recruitment with a tremendous attitude. When I first spoke to Antwi, he had just been offered by the Dawgs, and he was able to lay out the sequence of events with great detail. Paraphrasing, Antwi made it known that Lambert's newly hired Head Coach at that point, Tommy Watson, had a strong relationship with Coach Kirby Smart. When Watson arrived at Lambert, one of the first things he did was contact Coach Smart on Antwi's behalf. Being that Coach Smart has a solid relationship with Coach Watson, formerly of Lowndes High School, and many high school coaches in South Georgia, Coach Smart, and the recruiting staff passed along Antwi's film to the then newly hired Georgia Offensive Coordinator Todd Monken. Immediately impressed with Antwi, Monken reached out to the Lambert Head Coach to make an official offer to Antwi, and from there, Antwi got in touch with Monken, and the relationship took off.
In the final 5 of Kojo Antwi, no school has been involved in the recruitment of him longer than Georgia, except for Texas A&M. Antwi has family ties back to Texas and, of course, is now one of the top players in the country living in Georgia. The fact that Todd Monken took such vested interest and began building a relationship with Antwi early on in his Georgia tenure, clearly marking Antwi as a priority in the class of 2022, carries a lot of weight with Kojo and I believe will be one of the determining factors in his recruitment. Factoring in Cortez Hankton, Scott Cochran, and Kirby Smart since, and it's obvious that the Dawgs want to keep Antwi inside the Peach State border.
At this point in his career and development, Antwi reminds me of former Georgia wide receiver Malcolm Mitchell. Mitchell, a native of Valdosta, GA, and an in-state high school standout in his own right, went on to have a fine career with the Dawgs and the New England Patriots displaying great route running ability, elusiveness with the ball in his hands, and an overall combination of toughness and intelligence in how he approached the game. Antwi very much so has those same attributes as a player, and he's putting them on display this off-season with his 7-on-7 team Hustle Inc. Yes, that Hustle Inc. The same squad that boats Georgia commitments Gunner Stockton and Marquis Groves-Killebrew, along with top tight end priority for the Dawgs in 2022, Oscar Delp. Many factors are registering for Georgia in the PRO column of Antwi's proverbial Pros vs. Cons list, and while there is no doubt that other schools will make a strong push in the 3 months remaining, I like the Dawgs to land their first receiver in 2022. A class in which they need to land at least 4 wideouts, in my opinion, and Antwi would be a fine start!