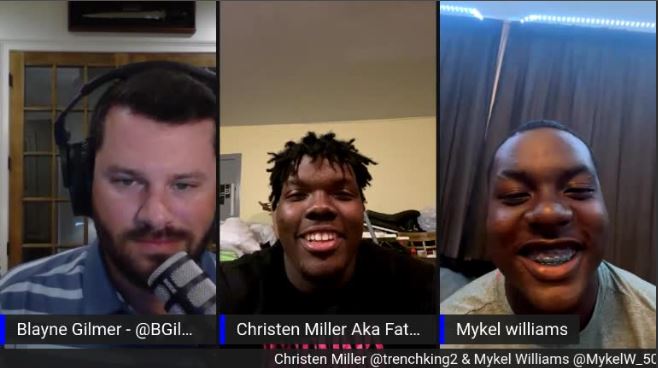 The inaugural episode of Recruiting Every SECond, a new podcast on SEC football recruiting, is now live, and the first 2 guests are names that those who follow along on the Dawg Daily Thread will be quite familiar with. Christen Miller and Mykel Williams joined me to discuss various topics, and this wild interview even leads to one of the outstanding defensive linemen doing a Coach O impersonation. There is certainly a lot of ground covered in the interview, and I did my best to keep these 2 close friends from having too much fun!
Georgia is in the final group of consideration for each of the Peach State prospects. The class of 2022 and the final team rankings could hinge upon the developments among high-profile defensive line targets. Miller and Williams both lit up when discussing Tray Scott, and it's clear that they've each been made to feel like a priority for the Dawgs. Name, Image, and Likeness, and thoughts on the NFL Draft that just passed were also discussed. It's always interesting to get insight from the individuals who are actually living through a major college football recruitment process. In my estimation, both of these young men are handling things in a way that they will not regret later on in life. Christen Miller and Mykel Williams are enjoying the process, and it's great to see.
Follow Recruiting Every SECond on Twitter and Instagram via @recruiting_SEC and @recruiting.SEC on Facebook. Also, make sure you subscribe to the Bulldawg Illustrated YouTube channel to see the content as it comes out.
***DISCLAIMER: Came out of this feeling better about the chances for the Dawgs for each than when I went in to it***