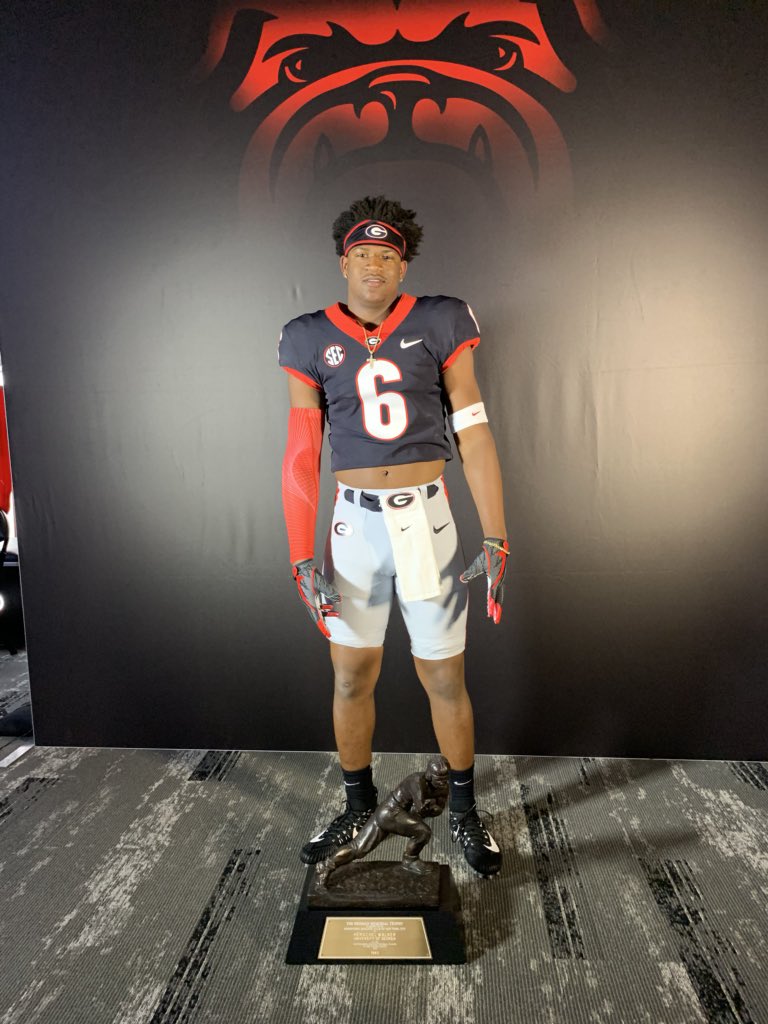 In the COVID riddled recruiting cycle of 2020-2021, head to head battles loom large with no on-campus visits for student athletes, and no in-home visits for college coaches and, or staffers. Georgia has already benefitted this season from a big win over Tennessee in which they added momentum to help secure Amarius Mims and Tyrion Ingram-Dawkins. This Saturday's contest versus Florida will be focused on keenly by a few highly coveted prospects in the class of 2021 that hold both the Gators and Dawgs in high regard. Today, we take a look at those prospects and their recruitment.
XAVIAN SOREY (LINEBACKER, IMG ACADEMY, 4-STAR)
Sorey is one of the prospects that Georgia wants the most in the entire class of 2021. The size and athleticism that he possesses is what UGA's stout defensive units under Kirby Smart have been built on. At 6'3″ 215, Sorey is a versatile player. He is physical and big enough that he could easily align and play at inside linebacker for Georgia. Also, as mentioned before, the athleticism of the IMG Academy standout could lend well to him being a strong force on the edge at outside linebacker as well. Either way, Kirby Smart and Dan Lanning would love to have Sorey join this class. At this point in time, I'd say Georgia is the favorite here over the Gators.
TERRION ARNOLD (SAFETY, JOHN PAUL II CATHOLIC (FL), 4-STAR)
Terrion Arnold and Xavian Sorey have been linked for a long time. Both standouts from the Sunshine State, the two have said for a while that they are very serious about playing together at the next level. Just recently information that I've gathered suggests that the dynamic of being a package deal at the next level may be fading for these two. Arnold is a dynamic and physical safety that Georgia would love to have and to pair with fellow 4-Star David Daniel, but at the moment I believe Florida is in the lead for him. If Georgia is able to defeat the Gators for a 4th straight year, especially with a dominating defensive performance, it could have an impact on the recruitment of Arnold. However, the outcome may already be baked in with Georgia now trending for 3-Star safety from Biloxi, Mississippi, Elijah Sabbatini.
SMAEL MONDON (LINEBACKER, PAULDING COUNTY(GA), 5-STAR)
Both Florida and Georgia are in the top 5 for 5-Star linebacker and Peach State prospect Smael Mondon. Georgia appears to be in the drivers seat for Mondon. The inside linebacker from Paulding County (GA) is hands down one of, if not the, most freakish athletes in the entire 2021 class. Not only is he a 5-Star athlete and recruit, but Mondon has achieved this elite status without going to one prospect camp or combine. His only football activities have been with his high school program. Plain and simple, Mondon is a natural football player. He's not a downhill run stopping thumper of the days of old, but he's definitely a sideline to sideline tackler with the ability to cover receivers, backs, and tight ends. With his final decision being announced on November 18th, a victory over the Gators could be icing on the cake to help keep Mondon in-state.