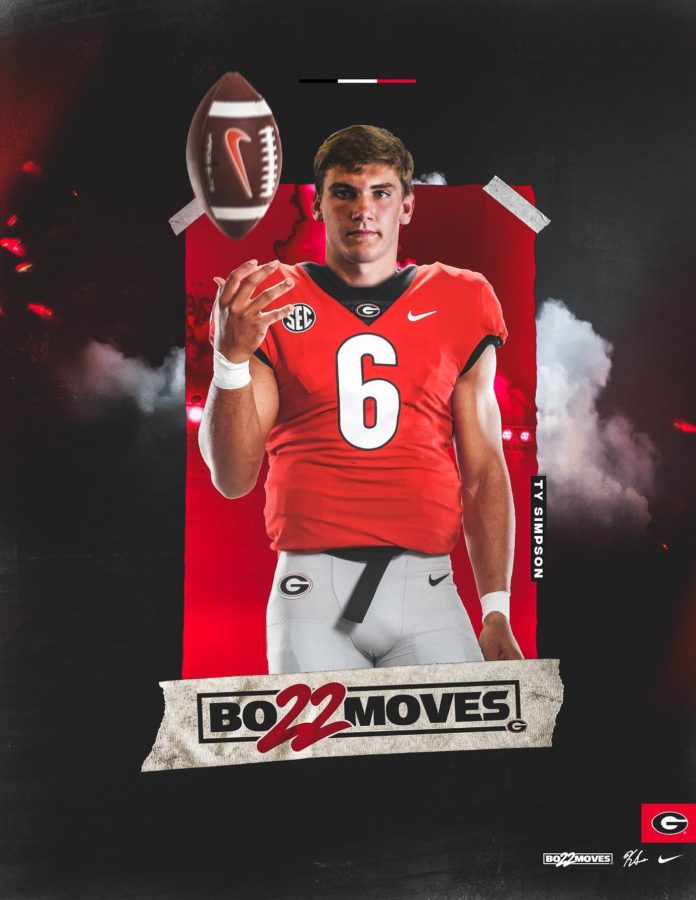 Georgia is still in search of a quarterback in the class of 2022. In terms of talent, there search may take them no further that up to Martin, Tennessee. Ty Simpson is the quarterback for the Westview Chargers and is also the son of UT-Martin Head Football Coach Jason Simpson. Ty is a 4-Star that has obviously grown up around the game and now how his high school team off to a 5 – 2 start. Recently, I was fortunate to catch up with both Ty Simpson and his Head Coach at Westview Jarod Neal to talk about Simpson's game, his recruitment, and the relationship with UGA.
Westview Head Coach Jarod Neal on the team's success so far and Ty Simpson as a coaches son and quarterback.

"Our success has come from the guys coming in and knowing exactly what we want to get done and what we want to accomplish. And really, uh, having a good idea of what my vision is, Uh, when we when going into a game, as as a play caller and, uh and then ties, taking on a leader a great leadership role and making sure everybody's doing what they need to do to make sure that we come out on top"

"Ty, he understands football a lot better than most high schoolers. Especially being a coach's son, his football IQ is very high, which allows us to be able to do some different things and move people around and different spots. And he understands exactly what's going on. And when he sees what the defense is doing, he can dissect what's happening pretty quick because he has that background knowledge. If he didn't have that, it'd be it'd be tough to do some of the things that we do."
Ty Simpson on being a dual-threat QB and having the ability to create with his legs.
"Being able to run, it give the defense another thing to look for. You know when defenses, have a scouting report of me and my team you know, they they they want to play the pass. But also, they have to play the one run at the same time because I have the ability to extend the play and, you know, hopefully get a few yards off that. At the same time, I know that I have a great support system around me with the office line, my running backs and wide receivers. So, you know, as many times I can get the ball in their hands are good things happen."
Simpson on having knowledge of the recruiting process and talking at a higher football IQ level with college coaches because of his background.
"I understand the way the recruiting world works. I've been through it for, however long my dad's been coaching, it's been so long, but, you know, it's a good It's a great experience. But now that I'm being recruited it's just real, you know, humbling and surreal. But, I enjoy being able to talk ball and, talk to the coaches. Just, get to know, about their personnel they have, uh, on the field, and you know how they their lives going at the same time. You know the saying, that it's not a four years decision, it's a 40 year decision."
Simpson on the Georgia coaching staff, his relationship with them and his recruitment by them.
"It's been awesome! I love that Georgia staff. I've actually grown very fond of them and the way that that their offense has been running is great. Coach smart and I talk on the phone weekly. And he's just a funny guy and down to Earth guy, you know, he loves football. I think we have a lot in common with, you know, being coaches, sons and wanting to coach at our alma mater. You know, wherever I go, I want to be a coach also.
Coach Monken has been a great addition to the Georgia staff and for his offensive mind and having been in the NFL and coaching some of the best quarterbacks in NFL right now. Coach Luke coming from Ole Miss. He recruited me at Ole Miss and I was very high on him there. It makes it even better that he's in Athens now."
Simpson on a visit to Athens when the recruiting moratorium is lifted.
"For sure. You know, I've only been there once, and it was actually because my dad and the Tray Scott, the D-Line Coach are really, really good friends. Funny story, Tray Scott, his first full time job was at the University of Tennessee-Martin, so it's a small coaching world that now he's at the University of Georgia with the best defense in the country. So it's cool to have an opportunity to go there now and be able to be coached by him when he was here when I was just a little boy."
Simpson on rumors that Tennessee is a front runner for him in his recruitment.
"I have heard a lot of that, too, you know, uh, but I'm wide open. There's not really a front runner right now for me. I'm gonna wait, and explore my options. I kinda, you know, not necessarily have narrowed it down, but in the back of my mind I know who's been constantly talking to me and what places that I can see myself playing for, and I can definitely see myself playing for Georgia."
Simpson on the main factors in helping him decide going forward.
"One would be the personality of the college campus and the football facility. You know, I don't want to go somewhere where everybody is miserable to be there and not having fun. Football is a fun game and now it's something I want to play for a long time. So I want to have fun have playing it.
For my family, I want it to be a family friendly, place. I want my family to come to every game and be able to talk to me and have a fun time there. But, you know, at the same time, you know a relationship. You know, I don't want to go anywhere where I can't talk to my coach about anything or joke with him about anything. I want to have that great relationship where I know when his wife's birthday is so I can tell her happy birthday or his kids birthday so I can tell them happy birthday. That's how I was raised growing up in a football program and how Coach Neal being there when I was, younger, like seven years old, doing quarterback drills when he was a freshman in college, you know? And now him being my head high school coach and helping me through the recruiting process, I want to go to a place like that. It's just like home with me here."
Simpson hopes to his the ground running once the on-campus recruiting restrictions are lifted and Georgia will certainly be one of his visits. Ultimately Simpson would like to have everything said and done and his decision made by this upcoming April, but with COVID, that may be a stretch. Simpson definitely plans of having the decision made and announced before starting his senior season next fall and wherever he goes, Simpson intends to early enroll in January of 2022.
Make sure to follow Ty on Twitter via @tysimpson510151 for personal message he puts out. Also, stay tuned here for updates on his recruitment and other major UGA targets.
Sophomore year