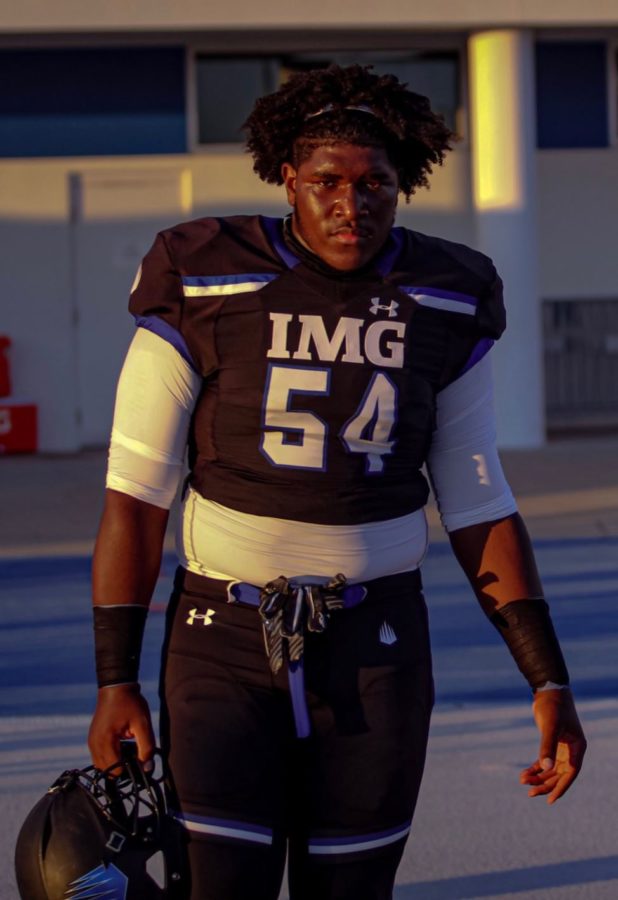 Tyler Booker came to IMG Academy in the 4th quarter of his freshman year as a defensive tackle. The University of Georgia and Coach Tray Scott even offered Booker and started recruiting him as a defensive tackle. However, circumstances have led to Booker becoming one of the top offensive tackles in the country, and the interest from Georgia never wavered. Eddie Gordan and Matt Luke are just more prevalent in the picture of Booker's high-profile recruitment. Dozens of major FBS programs have offered Booker and would love to have the 6'4″ 315-pound tackle anchoring either side of their front 5 in the future. Still, there is one that stands out above all the rest in terms of communication and messaging consistency. That would be the Georgia Bulldogs, according to Booker. The 4-Star from the defending National Champion IMG Academy spoke to Bulldawg Illustrated on his recruitment, relationship with Matt Luke, and even a potential game-changing duo that he would like to make up half of at the next level.
"100% Georgia has been the most consistent. I feel like since I've been getting recruited, they've been here the whole time. They always wondered and asked me about me and my family and they've really taken the time to get to know me and build a relationship with my family. That was I really appreciate about their recruitment of me," said Booker on the Dawgs. Booker, a native of Connecticut with his family still there, also shared on the importance of the family feel that Georgia creates. "It really means a lot to me. Family is a big part of what we do here at IMG. You have to build that family in order to be successful. So to know that is a part of Georgia's program and their values, it's really reassuring to me," Booker explained. Part of that comes from the closeness that Matt Luke and Eddie Gordon have created in their conversations with Booker. Also, Booker has a main takeaway from his interactions with Matt Luke. "He's a coach that's going to get me ready to play on Sundays. Honestly. I feel like that's the best way to describe him. He's going to get me ready to play on Sundays. He's a coach that would help me get better and get that out of me. He would push me in the way I need to pushed," Booker said of Georgia's Offensive Line Coach.
Of course, the head of the Georgia family, culture, and the program are Head Coach Kirby Smart. When asked about his relationship with Smart, Booker shared, "We talk a good amount. About every other week. All good things. We talk about his plans to take this already stacked (2022) class and continue to build it and how I would play a big role in it." Booker certainly would be a large piece to the 2022 puzzle for the Dawgs both literally and in terms of need. Kirby Smart has made it standard practice to bring in 4 to 5 stud offensive linemen year in and year out during his time at Georgia and a commitment from Booker would make for the first of the 2022 class.
Having spent time vacillating from defensive to offense during his high school career, it's impressive to see how dominant Booker has been while really still learning the tricks of the trade, so to speak, at offensive tackle. Booker is looking forward to the improvement he'll make this offseason by solely focusing on his technique as a blocker and expressed, "I'm looking to become more consistent. I had a good year and did a lot of good things, but there were times when my intensity didn't match my technique and vice versa." However, one consistent thing is how badly Power 5 perennial contenders want to add Tyler Booker to their rosters. Georgia will be competing with many programs, but Alabama, LSU, Florida, and Penn State are some of the more prominent. Booker is looking to narrow the list down as much as possible and as fast as possible in the next couple of months. The IMG standout said that Georgia is penciled in as one of his official visits and that he'll be in Athens the 3rd week in June if all goes as planned.
Booker wants to be committed before his senior season begins. One reason is that he wants to enjoy his senior year and be done managing the never-ceasing stream of Zooms, phone calls, and text messages that have intensified in his and all of the class of 2022's recruitments due to COVID. Another major reason is to recruit others to his school of choice to help build a class that will win multiple national championships. Booker named several IMG teammates, but the one foremost on his mind was Kaytron Allen, a fellow 4-Star and one of the top running back targets for UGA as well. Allen and Booker are very close and arrived at IMG around the same time. Booker made it clear that he would love to continue to block for Allen at the next level, wherever that destination might be. If Booker and Allen chose Georgia and continue the impressive Bradenton to Athens pipeline, Kirby Smart has established, well, a number 1 recruiting class would be that much closer to a reality, along with a doubly strong addition to the foundation of future success at RBU.