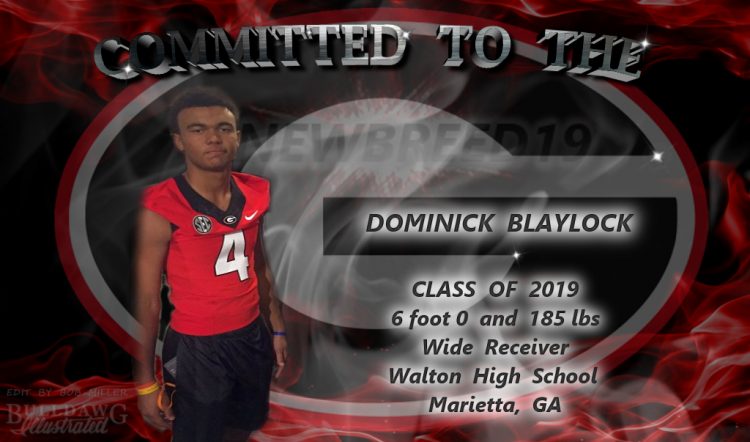 One of the top wide receivers for 2019, Dominick Blaylock, has announced his decision to commit to the University of Georgia.




Blaylock is a 6 foot 0 and 185 lbs wide receiver prospect out of Walton High School from Marietta, GA. He has over 24 scholarship offers and chose the Bulldogs over Auburn and Clemson. He makes the sixth commitment for Georgia's 2019 recruiting class, and his commitment comes just a day after Blessed Trinity linebacker J.D. Bertrand announced his decision to "Commit to the G."


The U.S. Army All-American is rated a four-star and the No. 2 WR prospect for 2019 by 247Sports. Blaylock is also rated as a four-star prospect by Rivals and Scout. And Dominick has earned that No. 2 ranking and rating. When the lights come on and dons the pads, Blaylock lets his play do the talking. As a freshman in 2015, he hauled in 41 catches for 795 yards and eight touchdowns. That performance earned him Freshman All-American honors from MaxPreps. When you watch Blaylock play, two words that best describe him are "smooth" and "effortless." Dominick looks like he just glides across the field and when you watch him catch the ball, he makes it look effortless. Blaylock is a very natural receiver and has the potential to be a number one, game changing threat at the collegiate level.


Dominick Blaylock joins Jadon Haselwood as the other wide receiver committed to the Dogs for 2019 so far. Together Blaylock and Haselwood could be one of the top wide receiving tandems not only from the state of the Georgia but the country as well.


Here are some highlights of Blaylock making defensive backs look silly.





---
Recent Articles by Bob Miller


[pt_view id="83405b425p"]