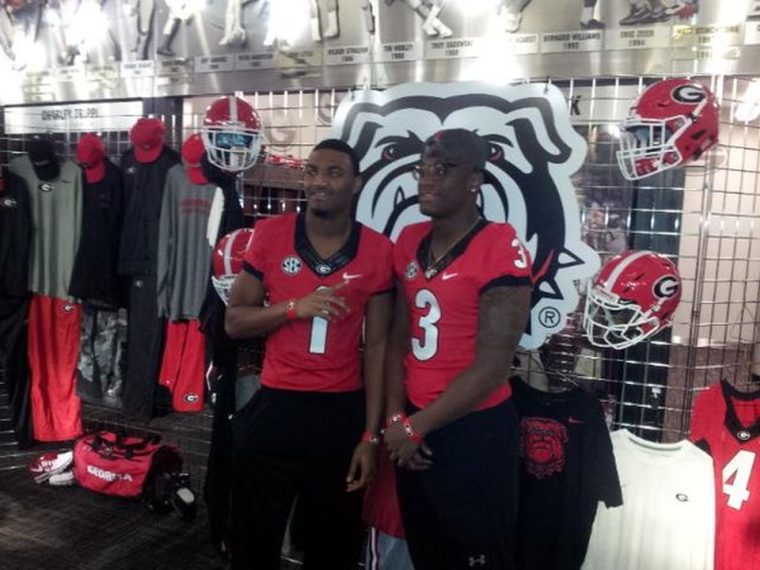 Over the weekend, a number of class of 2016 high school football seniors visited the University of Georgia on one of their five allotted official visits; so, who visited and how did those visits go?


---
UGA OFFICIAL VISITORS LIST
January 15th
---

Brian Burns – C/O 2016 WDE/OLB – (undeclared)
Elijah Holyfield – C/O 2016 RB – (UGA commit)
Tre Nixon – C/O 2016 WR – (undeclared)
Tyler Simmons – C/O 2016 WR (Alabama commit)
Jeawon Taylor – C/O 2016 Safety (Florida commit)
Lyndell "Mack" Wilson – C/O 2016 OLB (undeclared)
Charlie Woerner – C/O 2015 WR (UGA commit)

---

Running back Elijah Holyfield, currently committed to UGA and expected to sign his NLI on February 3rd, seemed to enjoy his weekend as he hung out with 2016 commits and early enrollees, quarterback Jacob Eason and tight end Isaac Nauta.

---

Highly sought after wide receiver Tre Nixon is currently a big target for the new coaching staff as they try to add to their receiver corps for 2016 to go along with current commits Randrecous Davis, Cavin Riley Ridley and Charlie Woerner. Georgia seemed to have hit a home run on Nixon's visit, which is a good sign if they hope to sway him from Penn State.

---

Of the talented prospects on campus, at least one had not been to UGA before. This was Lyndell "Mack" Wilson's first visit to Athens, GA and the University of Georgia, and from all accounts, it was a great visit for one of the top linebacker prospects for 2016

---

Wilson spent the weekend visiting Athens with another 2016 prospect, safety Jeawon Taylor, who is currently committed to Florida but is definitely listening to what Georgia is saying.


So how did Jeawon Taylor's visit go?

---

And just how comfortable was Kirby Smart recruiting as a Head Coach for the Georgia Bulldogs compared to doing so as an assistant for Nick Saban at Alabama?


Coach Smart continues to show his energy and ability to multi-task by not only making time for the prospects visiting on campus at UGA, but he also took time to make some visits off campus. One of those was to 2016 corner back Tyrique McGhee who is currently committed to UGA.

---

Of course, this past weekend was just the first round of a number of visits lined up and set to go before National Signing Day on Wednesday, February 3rd. Next weekend on the 22nd, the number one player in the state of Georgia, Derrick Brown, according to 247Sports.com, ESPN and Scout.com will be checking out the Classic City along with another defensive lineman, David Marshall.

On the weekend before National Signing Day on January 29th, Georgia will also get visits from defensive lineman Michail Carter and JUCO WR Javon Wims. Getting both those prospects to visit on the last weekend before NSD is big, but especially so for Javon Wims as he is recruiting has taking off like a rocket for the moon since he committed to the Dawgs back on November 6th. The University of Miami has been in Wims' ear; so, for UGA to get his last official visit should help shore up this receiver for the class of 2016.

Update 01-18-2016 16:30: Also confirmed visiting for the 29th are offensive tackle E.J. Price and current Georgia commit, 2016 linebacker Jaleel Laguins.

---

You can follow the latest college football recruiting for Georgia in Bulldawg Illustrated's Recruiting Bites which shows the commitments, decommitments, offers and visit activity for at least the last 90 days.

CLICK HERE FOR BULLDAWG RECRUITING BITES
---
---