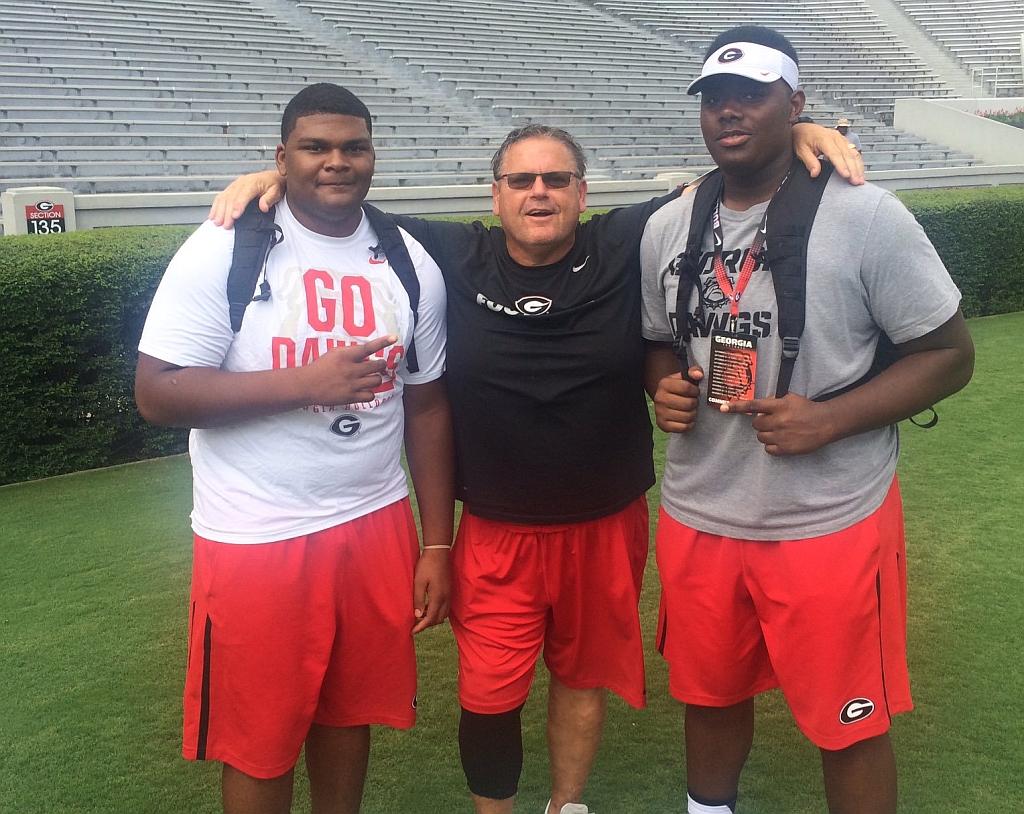 On March 28, 2017, when the Dawgs were sitting with only two commits and ranked with the 40th ranked the nation (10th in the SEC) I wrote an article saying there was no reason to panic.  The main reason I gave was that the slow start was because the Dawgs loaded up on talent in the Class of 2017 and if they showed progress on the field things would take care of themselves.  With the Dawgs off to a fantastic start in 2017, I began re-evaluating the Dawgs recruiting and have put together my annual Way-Too-Early projection for the Dawgs recruiting class.  ENJOY!!


PART 2:  TIGHT END AND OFFENSIVE LINE
TIGHT END:

Luke Ford
6'6 248 – 4 Star – Carterville HS – Carterville, IL
&
John Fitzpatrick
6'6 235 – 3 Star – Marist School – Atlanta, GA

I'm lumping the two TE's together because what each will bring to Athens is very similar.  Both Ford and Fitzpatrick are complete tight ends that are effective as receivers and run blockers which is exactly what Coach Smart is looking for in a tight end.  When asked what the "Justin Fields effect" is – Luke Ford is part of the answer.  If Justin Fields Commits to the G it is likely Ford will follow.  With Nauta, Harris, and Woerner returning next season redshirt seasons are possible but the depth chart is wide from the 2019 season forward.

OFFENSIVE TACKLE:

Owen Condon
6'7 300 – 3 Star – Bishop McGuinness HS – Oklahoma City, OK

Owen Condon saw his senior season end early with a meniscus issue but he arrives into an excellent situation in Athens.  There will be zero expectations for him to come in and start.  Instead, he will likely get the benefit of a redshirt year to get in the weight room and adjust to life in the SEC.  Condon has the ideal size and length UGA is looking for in their tackles and his future position will most likely come at right tackle.

OFFENSIVE GUARD:

Jamaree Salyer
6'4 342 – 5 Star – Pace Academy – Atlanta, GA

In my humble opinion, Jamaree Salyer is the best high school offensive line in the country.  He is big, physical, athletic and plays with a nasty attitude.  Much like Condon, he will arrive in Athens without any pressure to be an immediate contributor due to the return of Baker, Kindley, Schaffer, and Johnson but he may be too talented to keep off the field.  With Andrew Thomas' likely moving to LT in 2018 if you add Salyer at LG the Dawgs may immediately have the best LT/LG combination in the SEC.

CENTER:

Warren Ericson
6'4 290 – 4 Star – North Gwinnett HS – Suwanee, GA

Ericson is the most versatile lineman in this class and has the ability to play all five positions along the offensive line.  As we have seen with Dyshon Sims that type of versatility is invaluable.  However, as of today, I believe Ericson's home in the future will be at center.  He is another one of those players that brings a nasty attitude and leadership in this offensive line class.




---
Recent Articles by I'mYourHuckleberry

[pt_view id="d18572ftik"]