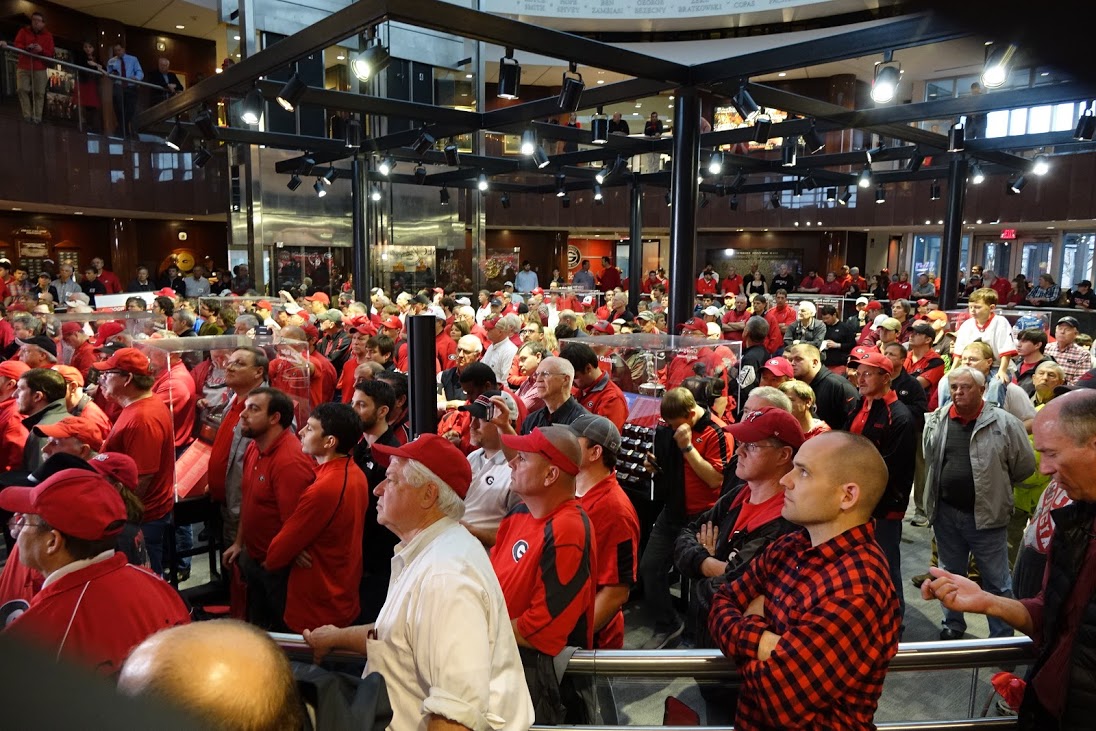 It seems like forever ago when Signing Day in February was a day when everyone was tempted to call in sick or develop an innovative way to stream live announcements without your boss catching you. With early Signing Day in December, the February version is largely anti-anti-climactic for the Dawgs. With 22 players having previously signed their Letter of Intent the Dawgs are looking to add only 2, possibly 3 additional signees for the Class of 2019. Below are my undoubtedly unpopular picks for Signing Day:
George Pickens – WR – 5-Star
Initially, Pickens was not a major target for the Dawgs when they had Jadon Haselwood committed and they expected either Mecole Hardman or Riley Ridley to stay. However, once all three decided not to play for the Dawgs in 2019, the coaching staff has turned up the heat on Pickens. It was an admirable effort but I fully expect Pickens to sign with Auburn. The Hoover, AL native has remained committed to the Tigers and it appears that is where his heart is.
Kair Elam – CB – 4-Star
Elam has been a major target for the Dawgs with Mel Tucker initially leading the charge and Charlton Warren taking over after his hire. With the hire of Warren, the former Gators defensive backs coach, it was all but certain that Elam would sign with the Dawgs but then the Gators brought in Torrian Gray. Gray is a well-respected, well-liked and and has a tremendous reputation for developing defensive backs. Combine that with the Elam family history at Florida and it makes it a very tough pull for the Dawgs. I believe it is truly 50/50 and could go either way but the pull to Florida is just too much for the Dawgs to overcome. Elam will sign with the Gators.
Nick Cross – S – 4-Star
A priority for Kirby Smart in Athens is to improve size, speed and talent at the safety position. The Dawgs have done a nice job with Otis Reese in 2018 and Lewis Cine in 2019 but they still need to add more depth. Cross is a current Florida State commit but is still being pursued by a number of schools. It is very difficult to predict where he will end up but I am leaning toward him becoming a Penn State Nittany Lion.
Mark-Antony Richards – ATH – 4-Star
A name that popped up late in the process, Richards is a big time athlete that the Dawgs are pitching an "Alvin Kamara" role to. He is very similar to a Kamara/James Cook in the fact that he is a dynamic athlete able to play multiple positions. James Coley has recruited him to play slot receiver and running back. It would not be a shock to see him chose the Dawgs but I believe he will sign with Auburn.
Brett Seither – TE – 3-Star
No prospect in America has seen their recruitment heat up more than Brett Seither. The 3-Star tight end was living in relative anonymity and then his recruiting exploded. He received offers from UGA, Alabama, TCU and Penn State within 72 hours of each other. At 6'5 230 pounds he has the ideal frame to easily carry an additional 15-20 pounds on the collegiate level. His head has certainly been spinning but the Dawgs are the ideal landing spot. The Dawgs have a desperate need for tight ends and he fits the mold perfectly. Seither chooses to ink with the Dawgs.
Sound like a disaster? Don't worry it's not. The Dawgs already have a great class and look to be in prime position to land instant impact graduate transfer Lawrence Cager. The 6'5 220 pound receiver from Miami would give the Dawgs another player that Jake Fromm can consistently throw the back shoulder fade to on the outside. Cager has been a solid, but not spectacular player during his career at Miami and has been a victim of poor quarterback play. His addition would prove to be a major piece to the puzzle for the Dawgs offense in 2019.
What are your predictions for Signing Day 2019?