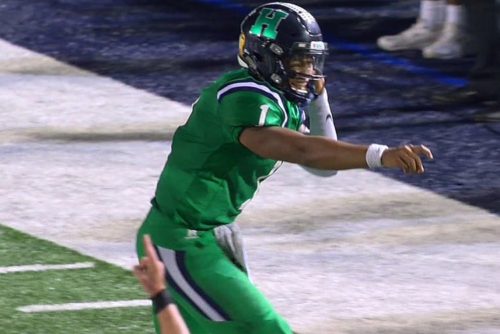 Class of 2018 Georgia commit Justin Fields suffered an injury to his right hand in Harrison High School's 28-26 win over Dalton on Thursday night.


Fields, who committed to the Bulldogs just a few weeks ago on October 6th, suffered an injury to a finger on his right, throwing hand during the third quarter with the Hoya's leading by five, 28-23. The injury occurred on a play where Fields recovered his own fumble and then ran around the right sight. He did not return to action and was on the sideline with his fingers taped and his hand being iced for the rest of the game.


Dalton had had trouble containing Fields, as the senior had thrown for 185 yards and a touchdown and also rushed for 207 yards and another touchdown before the injury. Both Georgia Head Coach Kirby Smart and Running Backs Coach Dell McGee flew in by helicopter from Athens, GA to attend the Harrison-Dalton game and were present when Fields was injured.




Harrison was able to hang on in the fourth quarter and won the game 28-26. The victory moves the Hoyas to 6-2 on the year and Harrison sits atop the Region 6, Class 6A standings at 5-0 with two games left to play on their regular season schedule. Up next is a road game versus (5-2) Sequoyah just up the I-575 in Canton, and the Hoyas will close out their regular season with a homestand versus Creekview.


It is not known at this time the nature of the injury to Justin Fields' finger, whether it is broken or dislocated, but it is likely that he will miss those final two regular-season games for Harrison.




---
Recent Articles by Bob Miller


[pt_view id="83405b425p"]