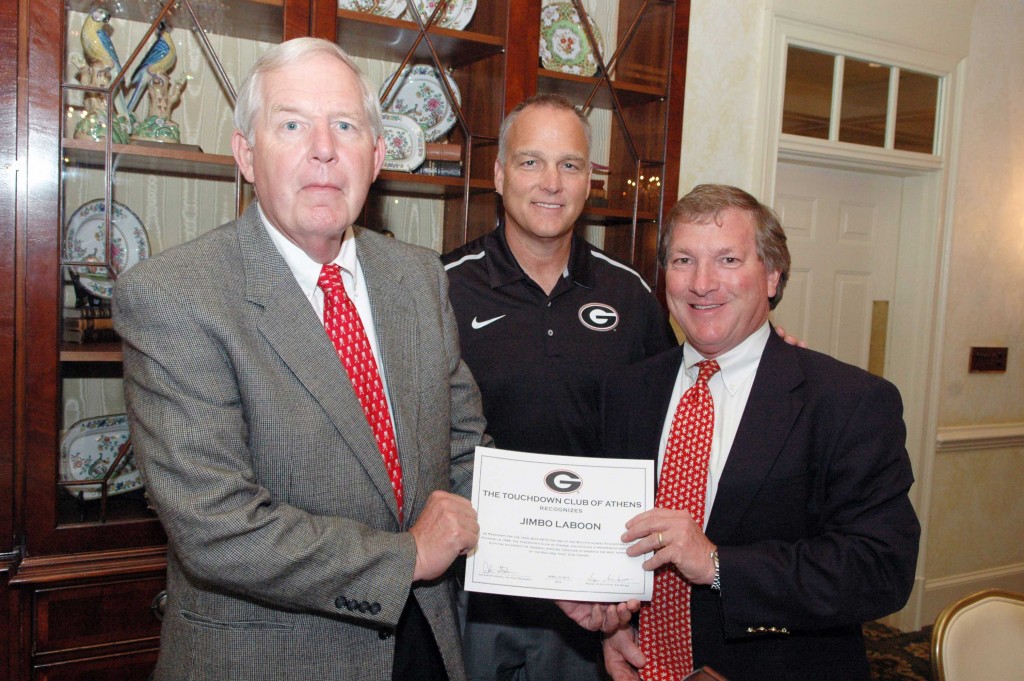 [su_spacer size="20″] Coach Richt spoke to the Touchdown Club of Athens last week at the Athens Country Club. The highlights of  his speech included:
– Richt leading the audience singing "My Country 'Tis of Thee".
– Richt thanking the club for their help with putting on the annual Senior Gala, which he described as a huge asset on the recruiting trail.
– Richt praised Marshall Morgan, who also spoke at the event, for his leadership and even admitted that the UGA placekicker beat him in pingpong when he was recruiting him. Richt had the crowd rolling, when joking that he might've let Morgan win to help land him.
– Richt said Fauta Bauta had a good scrimmage and good G-Day, showing great leadership.  And said Bauta has learned that checking down to the back isn't a bad thing, saying "anytime you can dump the ball to Nick Chubb is a good decision." Richt did say it might be Fall Camp before the starting question is decided.
– Richt said the center position is still up for grabs … "not a polished spot yet".
– Richt said the receiver spot is very thin, but thinks they should be okay when all the players report this summer.
– Richt thinks the team is in better shape at inside linebacker than they expected with Jake Ganus and Natrez Patrick performing well throughout spring drills.
– Richt said they are still learning what everyone can do in the backend (corners and safeties) of the defense.
– Richt alluded that there would be competition at the punter position as they try to get Collin Barber on track.
– Richt referred to Brian Schottenheimer's offense and his as a "melding of ideas". He said the most important thing is for the OC to be comfortable when calling plays.
– Thomas Brown got a laugh out of the crowd, when he told them that Nick Chubb had some punishment after a fumble "that wasn't self-imposed".
– Richt said "he wasn't excited" about the current path that Cost of Attendance appears to be heading.
– Richt said he was confidant that Todd Gurley would be a first-round pick … "somebody's going to get him pretty quick."
Enjoy these photos taken at the Touchdown Club of Athens event and go to www.touchdownclubofathens.com to join the club.
[foogallery id="55488″]