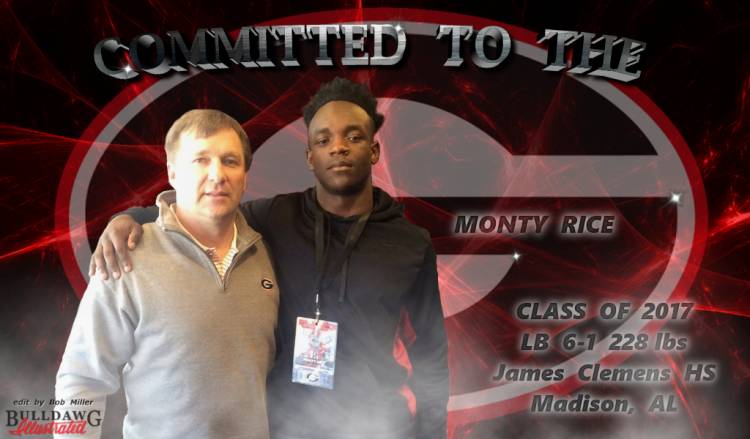 Monty Rice has decided to de-commit from LSU and flip his commitment to UGA.

It was just a few weeks ago back on December 12th that Monty Rice surprised many analysts, fans, and media by choosing to commit to LSU over Auburn and Georgia. That didn't stop the Kirby Smart and Glenn Schumann from letting the talented inside linebacker from James Clemens High School know that he had a place with the rest of the "Sic'em17" bunch in Athens if he should change his mind. And the Bulldogs must have given him plenty to think about. Rice has over 19 scholarship offers from FBS programs including Auburn, Arkansas, Florida State, LSU, Michigan, South Carolina, and Tennesse to name just a few.
The a 6 foot 1 and 228 lbs linebacker out of Madison, AL is ranked as a 3-star prospect by 247Sports.com's composite ranking system, and a 3-star as well by Rivals for the 2017 class. Both ESPN and Scout have Rice rated as a 4-star prospect. He is considered a top ESPN300 and Rivals100 player.
What kind of player is Rice? He is a very aggressive and physical player who plays the linebacker position almost with abandon for his well-being; an enforcer in the middle of the field and has very good speed and closes on the ball carrier in a hurry. Rice is well suited for the WILL position at inside linebacker. This biggest key for Rice to make the jump from high school to college to become an effective linebacker in the SEC is to learn to channel that aggressiveness with discipline.
Monty Rice makes commitment number 23 for the Bulldogs and is an early enrollee. He will join 5 other early enrollees which include Jake Fromm, DeAngelo Gibbs, D'Marcus Hayes, Jeremiah Holloman, and Richard LeCounte III in the Classic City of Athens, GA in just a few days and will be able to compete in spring football.
Monty Rice's Highlights:

Highlight Video – CLICK HERE