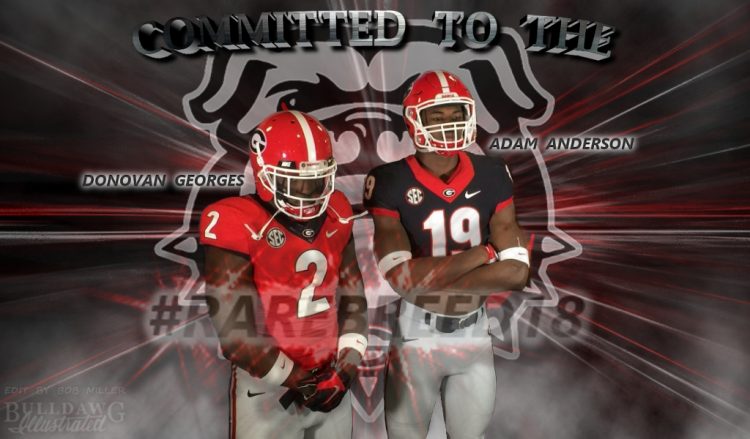 Six weeks and change after National Signing Day 2017, how is the 2018 college football recruiting class coming along for UGA? We discussed this and gave updates on 2018 running back Zamir White, as well as Georgia's 2018 quarterback recruiting and more in Bulldawg Illustrated's Thursday night, live recruiting chat.

Will Georgia be taking two QBs now in the 2018 class with the announcement that Brice Ramsey will be transferring? If so, who are the most likely candidates? (from NCDawg on FaceBook)
Lucas: "I have thought they should take two for awhile. I think one dual-threat and one pocket passer would be a good idea. I also think it will be hard to get a really good QB to join in behind (Jake) Fromm and (Jacob) Eason. There are a few guys, though. It could be Tanner Mckee, and then (Dakereon) Joyner or Dorian Thompson-Robinson."
Rick: "Yes. I feel like Georgia will take two; both likely being dual-threat. I feel one of those will be Dakereon Joyner."
Savannah: "I think it's possible that UGA takes two QBs. As for names, I agree with Rick; (Dakereon) Joyner is high on the list."
What about that QB we offered in California named Adrian? (from member RobDawg)
Savannah: "Adrian Martinez is currently committed to Cal and it seems pretty solid from what I'm getting at. Hes a west coast kid, fits better with a west coast offense."
Bulldawg Bob: "ANDRIAN MARTINEZ
CLASS: 2018
POSITION: QB – No.12 Dual-threat
HT, WT: 6 foot 2, and 200 lbs
SCHOOL: Clovis West High School
CITY, STATE: Fresno, CA
STATUS: Currently committed to California
NEWS: UGA offered on 03/14/2017
I think he is a long shot, but I like what Georgia is doing by offering not just prospects in the southeast, but they have offered quarterbacks from the East Coast to the West Coast."
How bad does Max Wray's de-commitment hurt Georgia overall for their 2018 recruiting and specifically their o-line recruiting? (from member Russell Miler)
Lucas: "(Max) Wray is a good player, but I don't think it will hurt that much. Georgia should be able to grab some really good OL regardless."
Savannah: "Not at all. I think that Georgia is just as fine with or without him. In my opinion, I did not think he fit the mold for UGA's line. I also didn't like his footwork. If anything, it opens Georgia up for another big name."
Rick: "Couldn't agree more Savannah. Also agree Lucas. Look for Georgia to nab (Christian) Armstrong, (Trey) Hill, and (Jamaree) Salyer."
Bulldawg Bob: "It's never good to lose the commitment of a top 10 to top 5 offensive lineman, especially an OT, but it is still early in the recruiting process. From the comments I've seen from his dad and others, they may have moved on, but we shall see. However, that being said, I think UGA will OK, especially with Kirby Smart and Sam Pittman being focused on the trenches and the o-line. Bulldogs could end up with Christian Armstrong, Trey Hill, and Jameree Salyer plus one more. That would be another solid o-line class."
Will uga go after a nose this year? (from member RumRunnerDoogie)
Lucas: "I think right now the best bet on DL will be Darnell Jefferies."
Rick: "I like Darnell (Jefferies)."
Savannah: "I was looking at who UGA's offered so far and they've offered, a total of 44 DL type players, including defensive ends. Impressive numbers in my opinion. Xavier Thomas is a huge guy at that position I feel like UGA is pushing for."
Bulldawg Bob: "Yes, and they could go after a JUCO defensive tackle and nose guard. A 2018 JUCO prospect to keep your eye on is Tayland Humphrey. I would love for Georgia to flip Robert Cooper from FSU, but I don't see that happening at this point and time."
What about Zamir White aka Zeus? (from member Russell Miler)
Lucas: "Dawg unless something crazy happens."
Rick: "All Dawg."
Savannah: "Trending UGA right now, and I really like his chances to come to Georgia. He is just too big-time of a recruit to not constantly be recruiting. He will be in the classic City."
Bulldawg Bob: "I think Georgia is the favorite right now and has been for a while. It is why I wasn't worried in January and February when a lot of other sites had him pegged for Clemson. He took two visits to UGA in about a two week period from the last weekend in January and on Georgia's Junior Day on February 18th. He announces in June on his mom's birthday, and although there will be a Clemson hat on the table, I expect him to wear the G."
Is Georgia interested in another running back besides Zeus (Zamir White) for 2018? (from member RobDawg)
Lucas: "I think it'll be interesting to see who they really go after other than (Zamir) White. Hopefully another all-purpose type running back."
Bulldawg Bob: "Fabian Frankin, a 5-11 and 200'ish lb RB out of Hattiesburg, MS.
T.J. Pledger out of IMG Academy. A 5-8, and 200 lbs scat back type.
Out of the Peach State keep your eye on Rico Frye, Zion Custis, and Nuru Tinch. I would like Georgia to offer Jalynn Sykes out of Rome. I also really like the 5 foot 7 and 175 lbs Taurean Taylor out of Tucker High School. He's not very big but makes plays. Scores a TD about every 7 to 8 times he touches the ball and runs a 4.36 forty."
What about the Dixon kid from Taylor Co., Georgia? (from member Russell Miler)
Bulldawg Bob: "C/O 2018 RB Lyn-J Dixon out of Taylor Co. HS in Butler, GA.
At one time, Georgia was one of his top schools, but Lucas Rogers has mentioned that the UGA coaching staff haven't really talked or visited with him much lately back on the last recruiting chat. I talked with him very briefly when I was compiling my Top 10 Peach State RBs for 2018 list, and he confirmed what Lucas was saying.
I think the staff is focused in on getting Zamir White, and then afterward, they will look at possibly taking another RB. As it is with recruiting and that it is still early in the 2018 cycle, Georgia could be back on him later on in the year."
Since Georgia loaded up on DBs in the 2017 class, how many and who do they take in 2018? (from member Russell Miler)
Lucas: "I'd say probably three – Chris Smith, Myles sims, and Tyreke Johnson."
Savannah: "Maybe one or two, but not near as many as 2017. Not the focus of this class like I think d-line, o-line, running back, and quarterback are for UGA. I think DB is the last or least area of focus for this 2018 recruiting calss."
Bulldawg Bob: "I don't think the Bulldogs will take 7 again for 2018. Look for them to focus on picking up 3 to 4 really quality DBs. Again, they are going for size here. Keep your eye on a couple of prospects from Florida in Houston Griffith and Tyson Campbell. And from the Peach State, safety Trey Dean out of Hampton, GA."
Any idea who could be the cornerstone for this (2018) class to recruit other guys to UGA? (from member RumRunnerDoogie)
Lucas: "Don't think there will really be a cornerstone. Most of the guys will recruit others but nothing like (Richard) Lecounte. (Jamaree) Salyer could recruit well, just because of the state reputation he has."
Rick: "I think (Jamaree) Salyer recruits for Georgia but behind the scenes."
Savannah: "I don't think there will be one for this (2018) class, but for 2019, without a doubt, someone is going to emerge."
Bulldawg Bob: "That is a good question Rummy. I don't see a guy like Richard LeCounte as of yet or a tag team duo like (Jake) Fromm and LeCounte. It may happen when the first QB commits. LeCounte is pretty special as well as Fromm when we look back on what they meant to the 2017 class and Georgia recruiting. Still are really. It may be a while before we see anything like those two again; although, the 2019 guys seem to be very close and active recruiting other players to Georgia."
So is the thing with the 2018 numbers just that they are playing close to vest and not announcing? (from member RobDawg)
Lucas: "It seems that way, but I think some will pop on G-Day. It will also be a smaller class this year."
Savannah: "Its still really early. Like Bob said on the board the other day, UGA got a majority of their commitments from May-Signing day for the 2017 class. I think that there are some guys that are silent and just aren't announcing yet, but then again, I like to think they are making the right decision. Also recruiting other guys."
Bulldawg Bob: "22 of the 26 signees for Georgia's 2017 class committed between May of 2016 and NSD last recruiting cycle. With Kirby Smart as head coach of the program and this coaching staff, one thing I am just not worried about is recruiting."
When will Georgia get their next commitment and who is it most likely to be?
Lucas: "Hoping there is one before G-Day, but it could go that far before another one. I've had a feeling Brenton cox has been close for awhile."
Rick: "I also think (Brenton) Cox will be next to commit, and I think it will be soon. I feel we may get a silent this weekend or next."
Savannah: "I think Georgia could get a commitment any time now… for either 2018 and 2019. As for names, maybe Justin Mascoll or Tyreke Johnson; just throwing some names out there that seem to be warming up on the Georgia Trail."
BULLDAWG RECRUITING BYTES
Bulldawg Bob on 2018 dual-threat quarterback Dakereon Joyner:
"Speaking of Dakereon Joyner, one the C/O 2018 dual-threat QBs that Georgia has an offer to. Both I and Rick along with Savannah Leigh and Michael have been saying to keep an eye on this prospect. He is emerging as the potential top guy at the moment for the Bulldogs in their search for a dual-threat type QB for 2018. UGA assistant coach Shane Beamer has been heavily recruiting him, and he likes what Offensive Coordinator Jim Chaney and Head Coach Kirby Smart are wanting to do on offense. Not only that, he sees the offensive linemen who have been recruited to Georgia and the wide receivers coming in and that is a big time selling point. He is not afraid to compete with Jacob Eason and Jake Fromm either.
If Trevor Lawrence de-commits from Clemson at any point, then they would likely become Joyner's top school again, but at the moment Georgia is in his top five along with Alabama, Oregon, South Carolina, and UNC.
I'm working on nailing down an interview with him after school gets out for the summer."
Savannah on tight end recruiting:
"Now to my favorite position: Tight Ends! UGA recently offered Judge Culpepper, and I will say he looks like a strong blocking TE. His film is good from what little I've seen so far. Another Name I am liking is George Takacs, a 6-6 230 TE prospect for 2018. I like his blocking and his ability to get big when he needs to. I think UGA has a nice shot to get him, and he would fit in great with the tight ends UGA currently has the roster."
Lucas on 2019 offensive lineman Pierce Quick:
"Pierce Quick is a 2019 o-lineman from Alabama who received an offer from UGA the other day, and he told me it was a big-time offer. He mentioned that Georgia had a great football program and coaches. He said location will not be an issue with him, and he is fine with going out of state as long as the school is a good fit. The main thing he is looking for in a school is just a great atmosphere and somewhere that feels like home. I asked what coaches he had the best relationship with and he told me quite a few including Coach Smart, but then said Coach Key from Bama and Coach Hand from Auburn have talked to them the most so he knows them the best. He's going to LSU this weekend, Georgia on Thursday, and then Vanderbilt next weekend."
Bulldawg Bob on 2018 wide receiver recruiting:
"Georgia is looking for a couple of guys in the mold of I-Mac for 2018, maybe a little bigger, but with that playmaking ability that they can move around the field and utilize. Terrell Perriman is a 2018 WR to keep your eye on in that mold. A 5-10 and 183 lbs playmaker out of Miami Central.
Anthony Schwartz is a 6-0 and 175 lbs receiver out of American Heritage HS, Plantation, FL also in that mold, and of course, Tucker High Schools Josh Vann is a 5 foot 11 and 180 lbs playmaker."
Lucas on 2019 linebacker JD Bertrand:
"I also talked to JD Bertrand, the 2019 LB who was offered recently (by UGA). I'm sure you know this, but he is actually on campus today. He mentioned how Georgia is really on the rise right now. I had talked to him yesterday and he said he was hoping to be able to sit in a linebackers' meeting and to be able to talk to (Georgia) coaches and strength & conditioning staff. There's been some talk around him as a guy that will commit soon, and I asked if he had an idea of when he'd like to decide. He told me he isn't sure yet but probably not until his junior year. He is mainly looking for a strong academic school and somewhere that he can compete for a national championship."
If you would like to read through all of the chat from Thursday night in all it's unedited, raw glory, CLICK HERE. Our next recruiting chat should be in a couple of weeks at the first of March or first part of April.