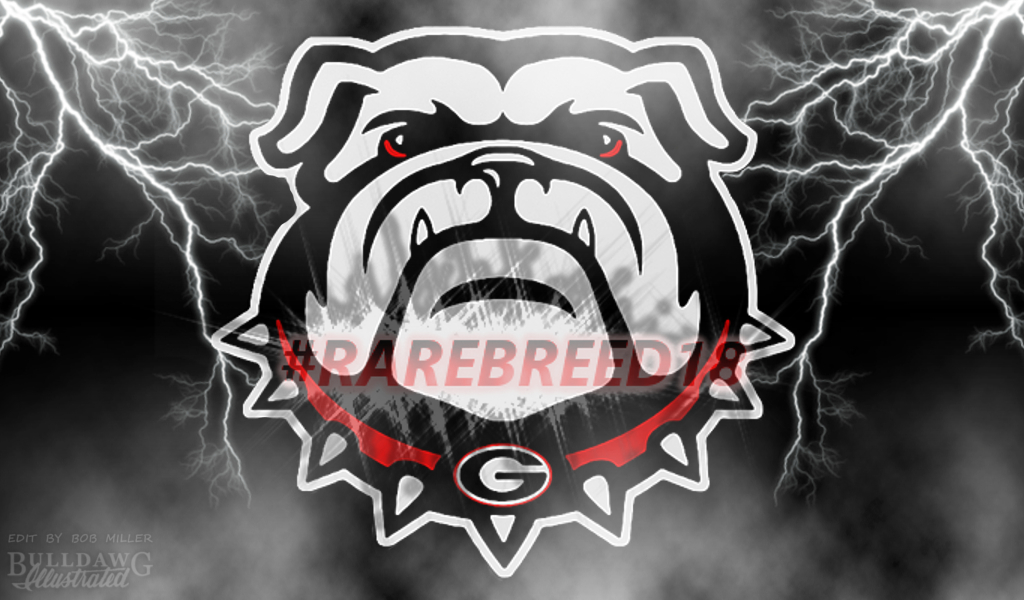 Miss our Thursday night recruiting chat? No worries. We have the recruiting nuggets and highlights right here. Lucas Rogers, Savannah Richardson, and the Bulldawg Illustrated NightCrew discussed Georgia's quarterback recruiting for 2018, and they dropped some truth bombs when it came to whether or not there should be concern over 2018 OL Jamaree Salyer's recruitment. Not only that but is Georgia still favored to land the number one running back in the land for 2018, Zamir 'Zeus' White and will the Bulldogs take more than one running back in this class? All this and more; so, dive on in.


What is the percentage chance that Georgia lands (Jamaree) Salyer? (from Ttowndawg)
Lucas: "If he holds out until All-American Game or National Signing Day, then 65 %. He loves Pittman, but right now, if he committed today, I'd give Clemson the edge. However, if he waits it out it will be Georgia."
Savannah: "I say 50/50 right now. It will depend on how hard we push for him (Jamaree Salyer) in the coming months and if (Zamir) White decides to come to Georgia."
Bulldawg Bob: "As confident as I was when a number of analysts were picking Zamir White to go to Clemson over Georgia a few months back and I said Zamir was all Dawg back then, I am going to say the same thing about Salyer now. Unless Pittman leaves Georgia between now and NSD, he'll be in red and black this time next year."
What will Georgia's o-line recruiting look like on NSD? Got to keep signing the big bad linemen. (from DawgDaddy)
Lucas: "Trey Hill, Jamaree Sayler, Owen Condon."
Savannah: "Christian Armstrong, Qadir White from NY, James Ohonba, and Rafiti Ghirmai. All are warm on UGA's radar and out of those I, like Armstrong the most."
Bulldawg Bob: "I think the Bulldogs will take around 20 for 2018 and look for them to possibly take 4 o-lineman this class since Demery was released from his LOI."
Where does Georgia stand with Zamir White? Will Zeus commit to the Bulldogs?
Lucas: "Right now, Zamir White is a Georgia lean and I am not expecting that to change; although, this is recruiting, so who knows. I believe Ohio State could become a player in his recruitment, but in the end, I don't think he goes anywhere but Georgia."
Savannah: "I'm still highly confident on Zamir White coming to UGA. I think it is a perfect scenario for him and believe that Georgia is going to do anything and everything in its power to get him to Athens. (Jamaree) Salyer included. I think Georgia is kicking it into overdrive and will be catching up shortly. Just good feelings all around."
Bulldawg Bob: "While Zeus is going to be recruited by all the top programs because of the caliber of student-athlete he is and the fact he is the number 1 running back in the 2018 class, Georgia is in the driver's seat here. I expect him to commit to the Bulldogs in June and join the rich tradition of tailbacks between the hedges in the Classic City."
Who is the best bet to come (to Georgia) besides (Zamir) White at RB? (from DawgDaddy)
Savannah: " … if you really want to add another (RB), Tavion Thomas from Dayton, Ohio. He's 6-2, 225 lbs, has great speed and agility, and could be a great asset."
Bulldawg Bob: "Keep your eye on Harold Joiner or Tavion Thomas. Also a possibility of the Dawgs flipping Dameon Pierce."
Lucas: "I agree with taking 2 RBs, which is another stacked position at Georgia so it will be hard to get a great player to come with Zeus. Also, watch out for Master Teague."
Looking over some of the measurables of the RBs listed, and I am wondering how tall is too tall for an RB? (from DawgLink)
Savannah: "I would think anything over 6-2 depending on the style of running the team wants to be done."
Lucas: "I believe Jalen Hurd was too tall IMO, and I think he was 6'4″. It really depends on how the running back runs too. Have to have a good center of gravity."
Bulldawg Bob: "It all depends on if the RB has the balance to run with his pads low and is good at picking up his legs. But guys like Chubb, Sony, and Swift are like bowling balls shot out of hell. I wouldn't want to tackle them."
With (Zamir) White and (Jamaree) Salyer being (UGA's) best 2 shots at landing a 5-star, are there any others we have a real shot at signing? (from DawgDaddy)
Lucas: "I believe Trey Hill will end up a 5-star and that's one I think Georgia signs."
Savannah: "Trey Hill for sure. He's on the cusp of a 5-star, and I think it's only a matter of time. Also,I think (Zamir) White is all UGA."
Bulldawg Bob: "Trey Hill could very well pick up a 5th star, and I like Georgia for Hill right now."
So what's going on with Georgia and QBs for 2018? Are the Dawgs going to take 1? Will they take 2? (from Russell Miler)
Lucas: "(Bulldogs) will try to take 2, IMO.
Not going to lie. QB recruiting is a mess right now, and it's hard to get an idea of what Georgia will do or what will happen. Out of the 3 big QB's in Georgia, the Bulldogs have the best chance to flip (Justin) Fields, but I feel as if his #2 school is Florida. They offered James Graham the other day, and he will be a project but would be a solid addition."
Savannah: "I think if Georgia can go 10-2 this fall, (Trevor) Lawerence is back on the table."
Bulldawg Bob: "Although Georgia offered Jarren Williams late, I think he is one to keep an eye on, especially if the Dawgs do get him to Athens to visit. He would be a good pick up as far as a Dual-Threat QB.
Another recent offer to a Dual-Threat guy, Tanner Mordecai, out of Midway High School, Waco, TX is also another guy to keep an eye on.
All signs are pointing to Georgia's primary QB target for 2018 being a Dual-Threat style gunslinger. The best shot at a second QB and would most likely be a Pro-Style and will be someone like Cammon Cooper. I posted about Jim Chaney visiting him at Lehi High School, UT today. That or Georgia might go the PWO route for a 2nd QB like they did with Stetson Bennett for 2017."
Is Georgia still targeting hybrid type (WDE/OLB) linebackers? (from DawgLink)
Lucas: "Yes. Adam Anderson and Brenton Cox would have been perfect in that role. Don't think they are out of the picture either."
Bulldawg Bob: "Yes. Adam Anderson and Brenton Cox are very much hybrid WDE/OLB linebackers, and the Bulldogs are still recruiting them even though Anderson flipped to LSU and Cox committed to Ohio State. Some more hybrid WDE/OLBs that Georgia is recruiting:
6 foot 4 and 225 lbs King Mwikuta out of Troup County High School, LaGrange, GA , and just last week, Georgia offered Jalen Redmond out of Midwest City High School, Midwest City, OK. He is a 6 foot 4 and 233 lbs WDE/OLB.
Dogs offered 6 foot 4 and 224 WDE/OLB Azeez Ojulari out of Marietta High School on April 26th, and they also offered Dorian Gerald, a 2018 JUCO SDE/OLB, on Wednesday.
There is also Mobile Christian High School's Andres Fox, West Forsyth High School KJ Henry (out of Clemmons, NC), and Caleb Tannor out of Miller Grove High School. There are more, but that is just off the top of my head."
Kirby needs to lock down the big 4 at Marietta (High School) soon. How does UGA stand with the 2018 OLB (Azeez) Ojulari and his younger brother? (from Jesus Quintana)
Lucas: "I believe Azeez is just letting everything soak in right now. A lot of his offers came at once it seems; so, I don't expect any news out of him right now. Georgia is in a fine position right now, though."
Savannah: "I have to agree with Lucas."
How many defensive backs will Georgia sign for 2018?
Lucas: "Georgia has been offering a lot of DB's lately, but I still only expect them to take 3 this class. Trey Dean, Chris Smith, and one other."
Savannah: "I have to agree with Lucas. The Bulldogs take 3, maybe 4 tops."
Bulldawg Bob: "They've got over 47 offers out and counting for 2018. I thought 3 to begin with, but it is possible they could take 4 or even 5 if the numbers work out right."
Who does UGA end up with at WR? I love the in-state big 3, but (James Coley) has put out over 40 offers. I have no clue who is at top of the board? (from Jesus Quintana)
Lucas: "Marquez Ezzard, Josh Vann, and Kearis Jackson … IMO."
Savannah: "Im glad you asked. The WR's are some of my favorite athletes to watch. Brennan Eagles is growing closer to UGA daily IMO. Jalen Jordan needs a good visit. He's from IMG and not ranked, but I like what I see when I watch his film. (Marquez) Ezzard for sure. Josh Vann is another good one to keep an eye on and that seems to like UGA."
Bulldawg Bob: "Marquez Ezzard, Kearis Jackson, and Josh Vann … maybe one more."
Tracy Rocker's replacement at defensive line coach, Tray Scott, can he recruit? (from DawgLink)
Lucas: "He's a young and energetic guy. Should be able to relate to the recruits well. From the guys I have talked to, they liked him. They mentioned that he was a very positive guy while coaching"
Savannah: "Coach (Tray) Scott is young, aggressive and full of spunk … Nice choice for CKS."
Bulldawg Bob: "Tray Scott is a good up and coming d-line coach. There is always a little hiccup after a coaching change with that position group in recruiting. He is part of the reason 2019 DL Rashad Chaney committed to Georgia, but we will see what he is made of over the next several months."
How many will Georgia sign for 2018? (from Russell Miler)
Savannah: "20, maybe 22."
Lucas: "I'd agree with that."
Bulldawg Bob: "Target number is around 20 I believe."
Bulldawg Bob on 2019 WR Dominick Blaylock:

"Spoke with 2019 WR Dominick Blaylock, and he said UGA running backs Coach Dell McGee was in Marietta, GA at Walton High School visiting him yesterday (Wednesday). He really enjoyed the visit with Coach McGee and is hoping to get back to Athens soon."
Bulldawg Bob on 2018 Pro-Style QB Cammon Cooper:

"UGA Offensive Coordinator Jim Chaney was out west today visiting Lehi High School in Utah looking in on 2018 Pro-Style QB Cammon Cooper.
Cooper visited Georgia back on April 20th and was offered by Georgia that very same day."
Bulldawg Bob on 2018 Dual-Threat QB Jarren Williams:

"I spoke with C/O 2018 Dual-Threat QB Jarren Williams on Wednesday. Georgia offered him a week ago on Thursday, May 4th. He said that he had talked with Head Coach Kirby Smart and they are trying to work out a visit by the end of May. This is a good sign because the Bulldogs were later in the recruiting process on offering Williams, he had received 22 offers before Georgia's; so, they have some ground to make up here. The offer got the Dogs' foot in the door, but now, the key will be building the relationships with visits."
Bulldawg Bob on 2018 linebacker J.J. Peterson:

"I spoke with Grayson High School C/O 2019 kicker/punter Ryan Fitzgerald last week after Georgia OLB Coach Kevin Sherrer and ILB Coach Glenn Schumann came down and visited Colquitt County High School. He said that both Coach Sherrer and Schumann talked with him and 2018 linebacker J.J. Peterson, and it he thought it was a very good visit. Alabama still leads for Peterson, but he is listening to what the Georgia staff is saying and will look to try to get up and visit; although, there was no timetable given on when that might be."
Lucas Rogers on 2019 WR Marquez Beason:

"I caught up with Marquez Beason who is a 2019 WR out of Texas currently committed to Nebraska. He said the Georgia offer was a great one that people dream to have. He said he is still committed to Nebraska but his options are still open. He said he will be visiting Georgia, Illinois, Ohio State, and BYU this summer. He said distance will not factor into his decision and he is looking for a good education in psychology and a good coaching staff. Will have to see how interested in Georgia he really is after the visits this summer."
Lucas Rogers on 2018 OT Owen Condon:

"Owen Condon is a 2018 OT from Oklahoma who visited UGA back in March. He said it was the best visit he had ever been on, but now, Oklahoma State, Arkansas, and TCU are right there with Georgia. He will be visiting Georgia again on June 10th and will probably visit Arkansas too. He is looking for a place where he can be comfortable and excel on the field and off the field. I asked what the message to him from the coaching staff was and he said they mention his style of play would fit in perfect with their coaching/culture. Also, they tell him how Coach Pittman is the best in the business when it comes to getting a lineman in the league. He plans to make to a decision this summer and Georgia is currently in a great position with him."
Lucas Rogers on 2018 DB Jemaurain Jones:

"Jemaurain Jones received an offer from UGA recently. In the past week, he has received offers from UGA, Tennessee, and Florida State. He was committed to Miss State but de-committed in April. He plans to take some visits this summer, but he isn't sure yet where he will be visiting. He said he most likely will wait it out to decide on a school this time since he already de-committed once. He is looking for a school with the best opportunity to excel on and off the field. He wants to go to the school that will help him accomplish his dreams. Outside of that, he wasn't wanting to give too much info out and it was hard to get a real clue on his interest until he visits."
Savannah Richardson on 2018 d-line recruiting:

"I think the main concern is going to be the defensive line for Georgia. Bob mentioned that UGA recently offered JUCO DL Dorian Gerald, and I believe if UGA gives a good push, he will be in the mix of things. Stephon Wynn from IMG Is warming up with UGA, and if the Dawgs can get him on campus, I think he could be persuaded to come to Georgia. Another name I am liking is TK Chimedza from IMG (Academy) … IMG loves recruiting with UGA, and I can see a lot of the IMG boys coming to Athens."
Savannah Richardson on 2018 TE/WR recruiting:

"Another area UGA should be considering/looking at is the TE/WR position.
I think I mention his name every time, but Brennan Eagles is a huge target and would be great for Eason to throw too. Not to mention Tommy Bush from the state of Texas as well.
As for as the TE position, Tommy Tremble, Bralen Taylor, John Fitzpatrick – I like all three of these prospects. If Georgia can get them on campus for a camp, or a visit, and really swoon them it could get interesting."
If you would like to read through all of the chat from Thursday night in all it's unedited, raw glory, CLICK HERE. Our next recruiting chat should be June. Looking forward to it! Go Dawgs!
---
Recent Articles by Bob Miller


[pt_view id="83405b425p"]