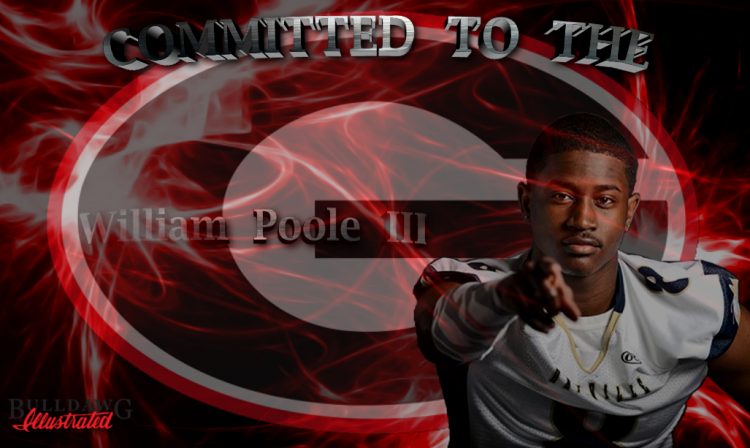 It's homecoming week and an even bigger recruiting weekend for the Dawgs, and this could be a key weekend for them to close on or switch some major recruits for the 2017 class aka Sic'em 17. There are a number of recruits that will be visiting Athens for the Vanderbilt-Georgia game from the 2017, 2018, 2019, and 2020 classes.
Three of those visiting this weekend are huge recruits and two of those three are current commits at other schools. However, they are visiting Athens in hopes that the Dawgs can offer them something more.

Sic'Em17 Recruits:
William Poole III:
To start things off, defensive back commit William Poole III will be one of the three to look out for. He has been a commit since April and will more than likely be the tour guide for the guys showing interest in Georgia.
He's one of two defensive backs currently for the 2017 class and is according to Rivals a 4-star. Poole III is just what Georgia needs in the secondary. He has a really big wingspan similar to a Tyrann Mathieu player. This mentality is what helps him really attack the ball.
Poole III is one of the 10 current commits from Georgia. He plays football at Hapeville Charter High School in Atlanta and is a top five cornerback according to Rivals, number 33 overall in the nation.
He's a really big recruit for Kirby Smart to nab. Poole III is really popular with the other recruits and will definitely help recruit more players to come to Georgia.
Alex Leatherwood:
Another 2017 prospect coming to Athens is Alex Leatherwood. He is currently an Alabama commit. Leatherwood, according to Rivals, is a 5-Star offensive lineman who weighs in at 6'6 and 325 pounds. Rivals has him as the number five offensive lineman in the country and number two in both the position and state rankings.
The Florida native definitely is a "big dude" to keep an eye on as it gets closer to National Signing Day. This might be a long shot for the Dawgs; however, this is a position Georgia desperately needs to fill.
The fact that Georgia has him coming for a visit is already a step in the right direction. A key factor for Georgia to keep Leatherwood's interest is offering early playing time. Hopefully, Georgia will hit it out of the park with him this weekend and possibly get the flip.
Something to keep an eye out for is Poole III and Leatherwood together. Poole III will definitely be pushing hard to recruit him and convince him that Georgia is the better fit. He would fit in great with Coach Pittman's scheme of blocking and would be a great asset to the team.
Tray Bishop:
This will be the second week in-a-row that Tray Bishop has visited Georgia. He's currently a commit for the Auburn Tigers. He is out of Terrell High School in Dawson, GA. Bishop is an in-state kid that the coaching staff hasn't given up on yet.
He is similar to a Julian Edelman type player, that is extremely versatile on the field.  A reason Georgia could be getting some interest is that, they will allow him to play other areas. The Dawgs could definitely use him as a wide receiver, and he could be utilized all over the field.
This is another long shot for Georgia, but that isn't stopping them from pursuing him. He's under the impression that he would be up for quarterback position at Auburn. However, Georgia may be offering something more.
Maybe the Dawgs are helping him realize that making it to the NFL is going to take more than wanting to be a quarterback. That utilizing different positions on the field might be the better option and helping to showcase his versatility. That his ability to play different positions could give him an edge. He isn't on the commit flip watch yet, but he's a player that doesn't need to be overlooked.
Other 2017 Recruits Visiting this Weekend:
Markaviest "Big Cat" Bryant- LB-  Crisp County, GA
The following 2018 commits will be in attendance:
Coby Germany- LB- Evans County High School,GA
Bernard Porter- WR- Ridge View High School, SC.
Tre' Douglas- CB-Eagles Landing Christian Academy, GA.
Brock Mattison- OLB- Buford High School, GA.
Quay Walker- LB- Crisp County High School, GA.
The following 2019 commits will be in attendance:
Nicolas Rowan- OG-Madison-Ridgeland Academy, MS.
Jeremy James- OG- North Forsyth High School, GA.
The following 2020 Commits will be in Attendance:
Rashad Torrence II- ATH- Carrolton High School, GA.