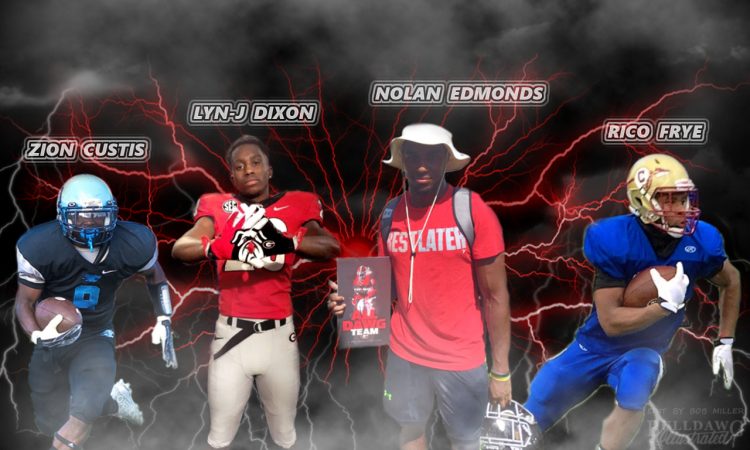 While the state of North Carolina may sport what many consider one of the top running backs in the class of 2018 in Zamir White out of Scotland County High School, don't overlook a number of fleet-footed backs from the state of Georgia. Here are my top-10 Peach State Class of 2018 running backs.



In alphabetical order by last name.


DJ Atkins – Callaway High School, Hogansville, GA – 5 foot 8 and 160 lbs
Atkins is another one of those smaller all-purpose backs with wheels and wiggle. If he had about 30 more lbs on his frame, he would probably have offers coming out his ears. But don't let his slight stature fool you. Atkins touched the ball 313 times for 2,347 yards and 15 TDs as a junior for the Cavaliers. He'll look to be a key offensive cog in there 2017 GHSA football season.


Zion Custis – Lovejoy High School, Lovejoy, GA – 5 foot 7 and 178 lbs
Custis' size can be deceiving as he runs the ball like he is a 5-11, 205 tailback. For Lovejoy last season, he toted the rock 187 times for 1,487 yards and 12 touchdowns, averaging 8.1 yards per carry. He also had 15 receptions for 182 yards. The rising senior is rated a 3-star prospect for 2018 by 247 Sports, Rivals and Scout.


Lyn-J Dixon – Taylor County High School, Butler, GA – 5 foot 10 and 185 lbs
Dixon does a little bit of everything as a high school football player, but he is really special when the ball is in his hands and is likely the most dynamic rising senior all-purpose running back in the state of Georgia. He has rushed for 4,526 and 62 TDs in his high school football career thus far on 556 carries. That is an average of 8.1 yards per carry. And he catches the ball well out of the backfield too. Dixon has 984 receiving yards and 9 TDs on 66 catches.
He has over 14 offers including an offer from the Bulldogs along with Alabama, Florida, LSU, Mississippi, Oklahoma, South Carolina, and Tennessee. Dixon is rated a 3-star prospect by 247 Sports, Rivals, and Scout, and a 4-star prospect by ESPN. He is considered a top-25 all-purpose RB for 2018.


Nolan Edmonds – Alpharetta High School, Alpharetta, GA – 5 foot 11 and 200 lbs
Edmonds is perhaps one of the more underrated running back by the major recruiting services in the state of Georgia for 2018. 247 Sports, Rivals and Scout have Edmonds as a 3-star prospect at RB.
He has rushed for a combined 1,621 yards and 18 TDs as a sophomore and junior for the Raiders on 287 carries. He also has caught the ball 32 times for 411 yards and 3 more TDs. Edmonds holds 12 offers currently including Boston College, California, Colorado State and Purdue. He has camped and visited at UGA and there is interest here.


Rico Frye – Creekside High School, Fairburn, GA – 5 foot 10 and 205 lbs
Frye rushed for 1,025 yards and 8 TDs in only six games as a junior coming off a stellar sophomore campaign where he rushed for 1,796 yards and 27 TDs on 181 carries. Frye only has a couple of offers, but if he can stay healthy, I expect his recruiting to really pick up over his senior year. He is interested in UGA and has visited Athens, GA several times.


Anthony Grant, Jr. – Buford High School, Buford, GA – 5 foot 11 and 190 lbs
Through the first 13 games for Buford, Anthony Grant carried the ball 189 times for 1,447 yards and 24 touchdowns. Plus, he also caught 20 passes for 222 yards and another 3 touchdowns. He is rated a 3-star prospect for 2018 by 247, ESPN and Rivals, and a 4-star prospect by Scout. He has over 12 scholarship offers currently including Peach State schools GA state and Georgia Tech and SEC programs Missouri and Tennessee. His most recent offer is from West Virginia. In the GHSA State title game for Class AAAAA, Rome's defense held Grant and Buford's other talented RB, Christian Turner to just 36 yards rushing.


Emeka Nwanze – Northview High School, Duluth, GA – 5 foot 11 and 196 lbs
Nwanze rushed for 1,472 yards and 14 TDs on 230 carries for an average of 6.4 yards per carry for 2016. The Northview High School running back is rated a 3-star prospect by 247, Rivals and Scout. He has 8 offers so far including Boston College, North Carolina, and Vanderbilt. Keep your eyes on Nwanze for 2017. Nwanze is just fun to watch play. Plus, you got to love being able to shout "Run Nwanze. Run!"


Dameon Pierce – Bainbridge High School, Bainbridge, GA- 5 foot 11 and 210 lbs
In three seasons, Dameon Pierce has carried the ball 715 times for 4,656 yards and 60 touchdowns, and he also has caught the ball 41 times for 447 receiving yards and a touchdown. Pierce is considered one of the top running backs in the Peach State for 2018, and he has over 18 scholarship offers and counting. He has been committed to the University of Alabama since July 1st, 2016. Pierce is rated a 4-star and top-10 prospect at RB by ESPN, Rivals, and Scout and a 3-star prospect by 247 Sports, who has him as the No. 17 RB.


Jalynn Sykes – Rome High School, Rome, GA – 5 foot 11 and 195 lbs
Sykes rushed for 1,092 yards and 16 TDs on 110 carries for an average of 9.9 yards per carry for 2016. He would have had more barring an injury he suffered at the beginning of the 2016 GHSA football playoffs. I was looking forward to seeing what Sykes would do in the playoffs along with his teammate and sophomore RB Jamious Griffin. He has 12 offers so far including Arkansas, Boston College, Colorado State, Georgia Tech, Tennessee, and Virginia Tech.


Taurean Taylor – Tucker High School, Tucker, GA – 5 foot 7 and 175 lbs
Like Atkins and Dixon, Taylor may not be the biggest running back, but he has some wheels and wiggle. As a junior, Taylor rushed for 1,315 yards and 16 TDs on 122 carries and added another 223 yards and 2 TDs receiving on 11 catches. He averaged over 11 yards and scored every 7 to 8 times he touched the ball, which could have something to do with his unverified 40-time of 4.36. In that respect, he reminds me of Isaiah Mckenzie as he is a threat to take it to the house every time he touches the ball. He impressed region coaches and those that got to see him tote the rock enough that Taylor was named to the AJC's First Team All-Metro list, and he was also voted Region Player of the Year. Not too shabby for Region 4 in GHSA Class AAAAAA. Taylor doesn't have any major offers as of yet, but if he continues to put up those kinds of numbers, his recruiting will pick up.


Picking 10 out of the talented group of running backs from the excellent high school football programs from across the state of Georgia after slaving over hour after hour of game film and stats plus the few I got to see in person over the last couple of seasons was not an easy task. There were a number of very good backs that could be listed, and I hope each and every one of them has a great senior season, realizing their full potential and taking advantage of all the opportunities that present themselves to them.




Recent Articles by Bob Miller


[pt_view id="83405b425p"]