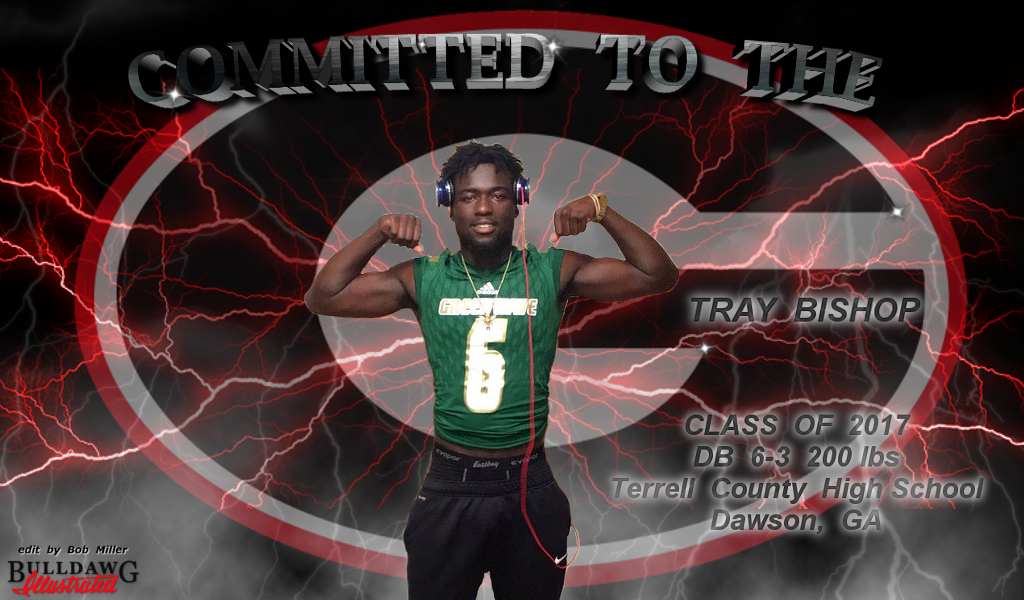 Georgia's Kirby Smart has already gotten a couple of players to flip from Alabama to Georgia, 2017 offensive guard Netori Johnson and quarterback Jake Fromm, and now, he went after the other FBS program in the state of Alabama. Tray Bishop de-committed from Auburn on Tuesday, December 13th and just a few short weeks later has announced his decision to commit to the University of Georgia from the U.S. Army All-American Bowl surrounded by other 2017 Bulldog commits.

Bishop had over 19 scholarship offers from FBS programs including Alabama, Auburn, Clemson, Florida, Miami, Ole Miss, and Penn state, choosing the Bulldogs over those programs. With his announcement, Georgia now has 22 commitments for the 2017 recruiting class.
Bishop is a 6 foot 3 and 200 lbs prospect out of Dawson, GA and is ranked as a 4-star and one of the top 5 athletes by 247Sports.com's composite ranking system for the class of 2017. ESPN along with Scout also have Bishop rated as a 4-star prospect while Rivals has him rated as a 3-star prospect. He is considered a top ESPN300 and Rivals100 player.
As an athlete, Tray Bishop has played mainly at quarterback for Terrell County High School, but he has also played at wide receiver and on defense in the secondary. The question is what position will play in college at Georgia? Most likely, it will be at defensive back at safety, but he could also see a look at receiver. At either position, he will add a lot of speed to the table as he can flat out fly. At safety, he would need to work on his technique, but has the athleticism and certainly the size to excel in the secondary. His speed enables him to recover quickly and to also break on the ball in a flash. As a receiver, that same speed would make him a vertical threat, but to be an impact at receiver at the collegiate level, he'll need to get his route running down. Either way, Bishop is a football player with a lot of upside for the Bulldogs.
Tray Bishop's Highlights:

Defense only highlights – CLICK HERE

Highlights – CLICK HERE