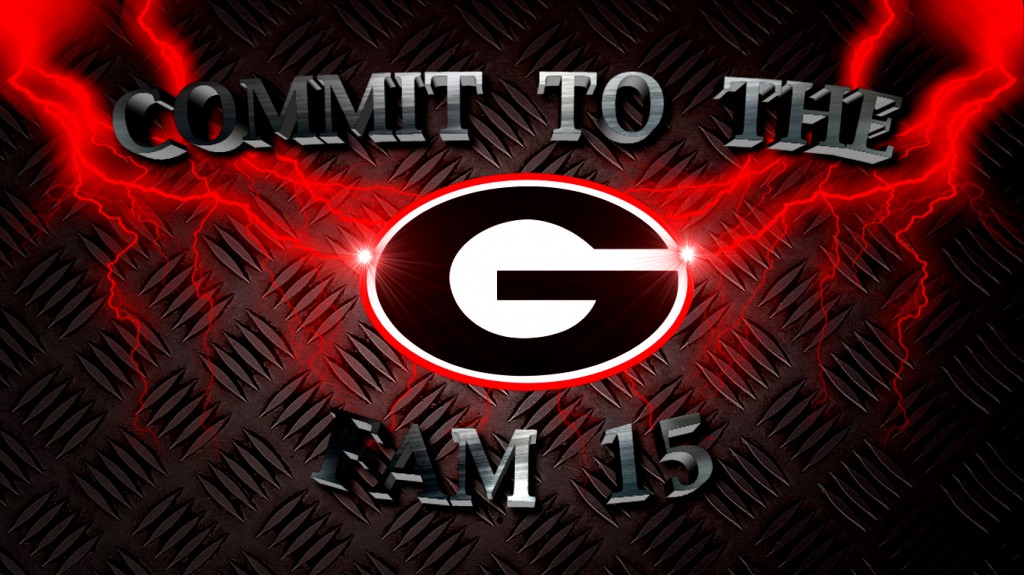 [break]
With less than a week to go till college football's National Signing Day, how is Georgia's 2015 class shaping up? UGA CFB Recruiting Update – 30-Jan-2015.
[break]
What has changed in the last week

?
[break]
After Van Jefferson de-committed from Georgia last Tuesday, he took less than a week to make his decision, committing to Ole Miss this past Sunday.
The Dawgs also lost Shaquery Wilson who announced that he was switching his commitment to West Virginia.
Chidi Valentien-Okeke committed to LSU on Thursday.
It was not all bad news though, Georgia got a huge commitment, both literally and figuratively, from 6-7, 345 lbs, Sam Madden this past Sunday.
[break]
 Targets – Defensive Backs
[break]

[break]
Chris Williamson put out his top 4 schools that he will be making a final decision between, and despite the Dawg's best efforts, they did not make his list. He will make his announcement on Monday night on Fox Sports South's "The NEW College Football Show: Next Class 2015" between Cal, Florida, Michigan, and UNC.
Rico McGraw, who flipped from the Dawgs to Bama back July, de-committed from the Tide yesterday, which bodes well for UGA. With Donte Jackson holding firm to his commitment to LSU, Kareem Orr deciding between Arizona State and Ohio State,  and Chris Williamson not looking the Dawgs way, it looks like Georgia will be pushing hard to secure Kibry Choates and Rico McGraw.
[break]
 Targets – Defensive Line & Linebackers
[break]

[break]
Roquan Smith is the priority target remaining on the board at LB for the Dawgs.  He will take his OV to UCLA this weekend. Fans have been very nervous that he could leave the state for either Michigan or UCLA, but the Dawgs remain the favorite to sign Smith. Georgia coaches have been visiting him this week.  He is set to announce his decision on NSD between 10-11 AM.
[break]
 Targets – Offensive Line
[break]

[break]
With Sam Madden committing to UGA this past Sunday, how many more offensive linemen will the Dawgs take in this class? Depending on how the numbers work out, I think Georgia could try to take up to 1 to 2 more o-linemen for a total of 4 to 5 in this class. With Chidi Valentine-Okeke's commitment to LSU, the 2 remaining primary OL targets are Patrick Allen and Nick Buchanan.
[break]
Targets – Running Backs & Wide Receivers
[break]

[break]
Two to three weeks ago, I did not think that Georgia would take another receiver or RB … unless Tennessee verbal commit, WR Preston Williams, wanted to flip the Dawgs way, but now, it is possible that Georgia could take one more offensive skill player. I think Mark Walton sticks with Miami, but UGA did give him some things to think about. Miami verbal commit,WR Terrell Chatman, could be in play.
[break] [break]
How many commitments does Georgia currently have for 2015?
Answer: 25
[break]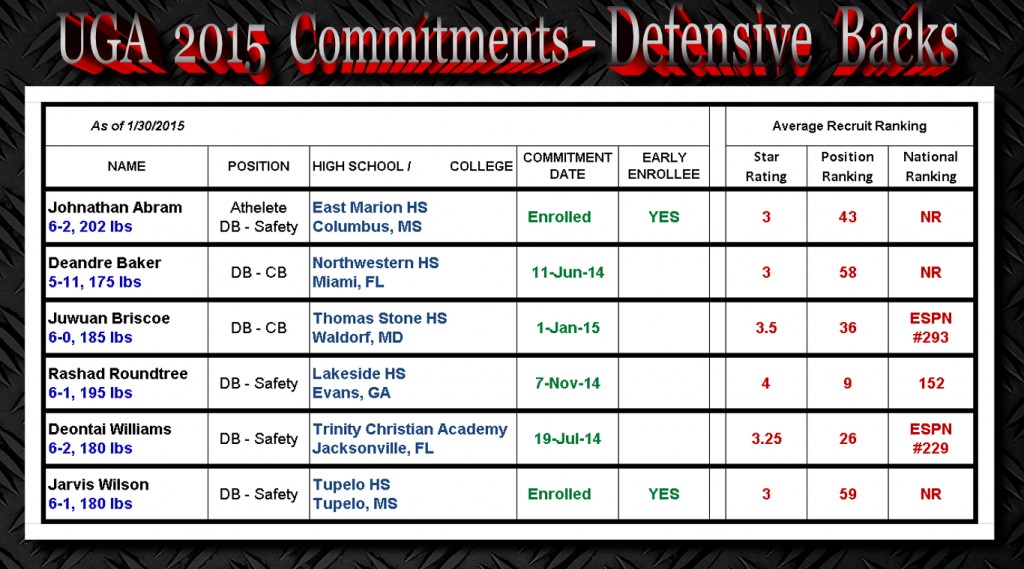 [break]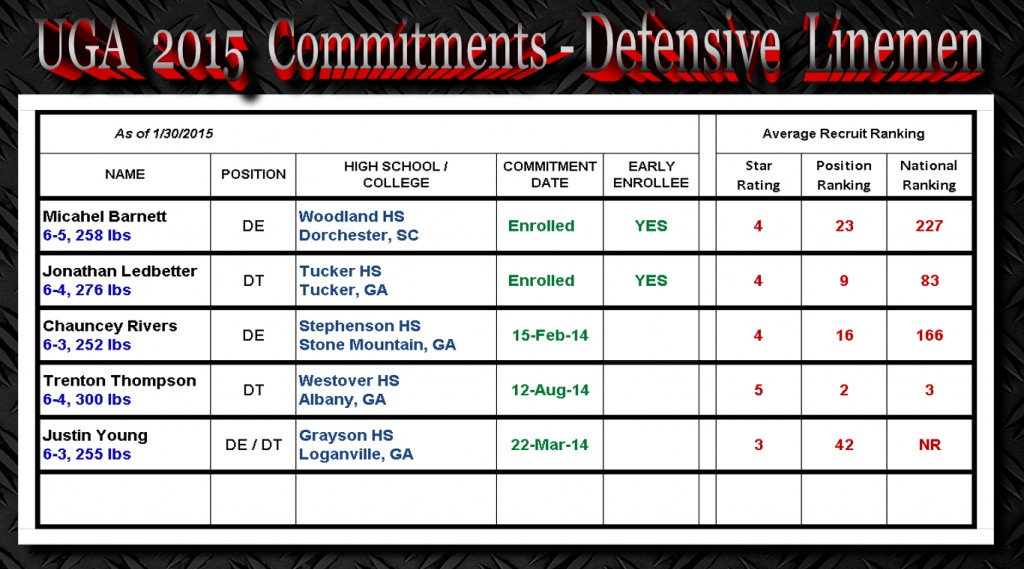 [break]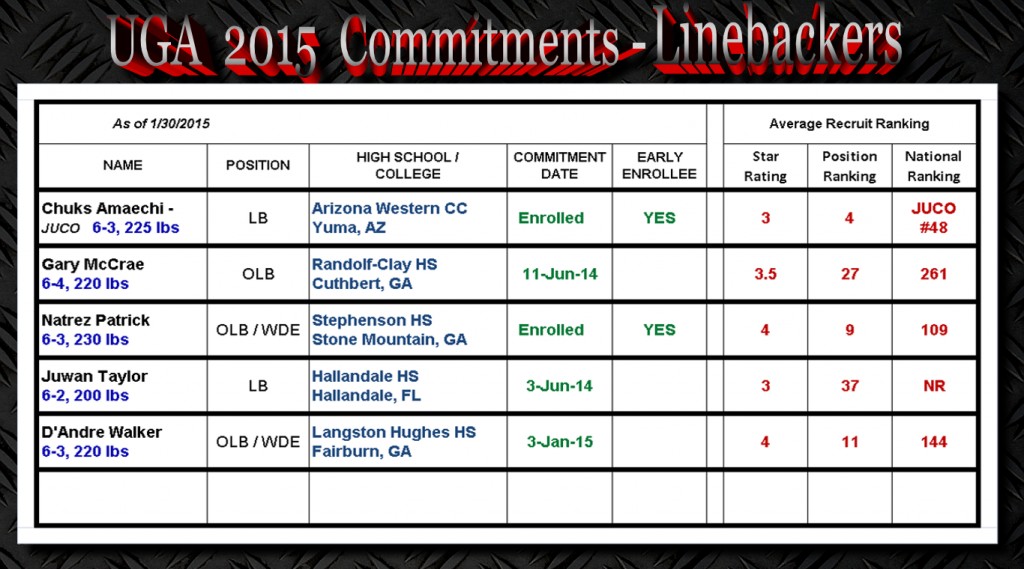 [break]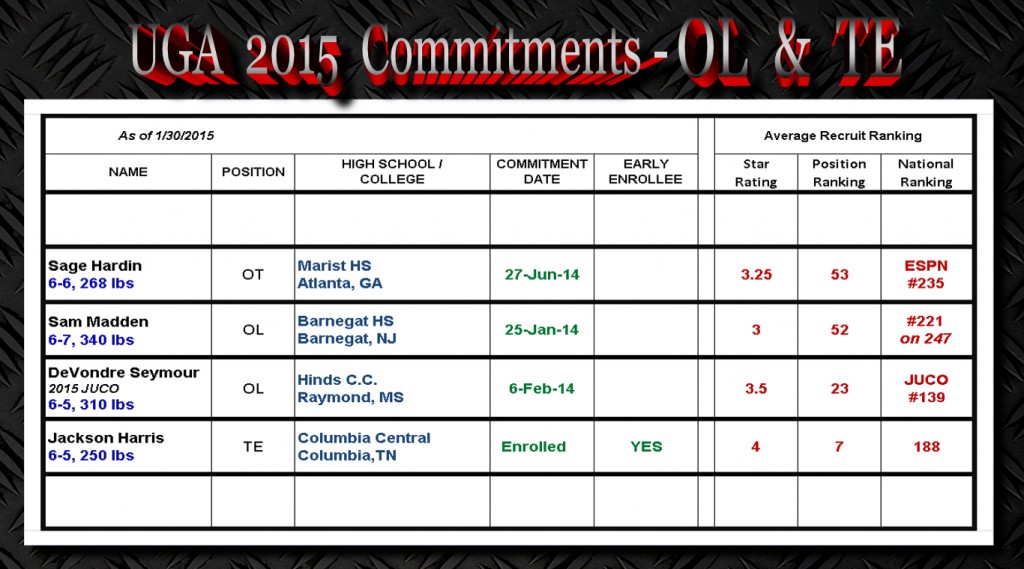 [break]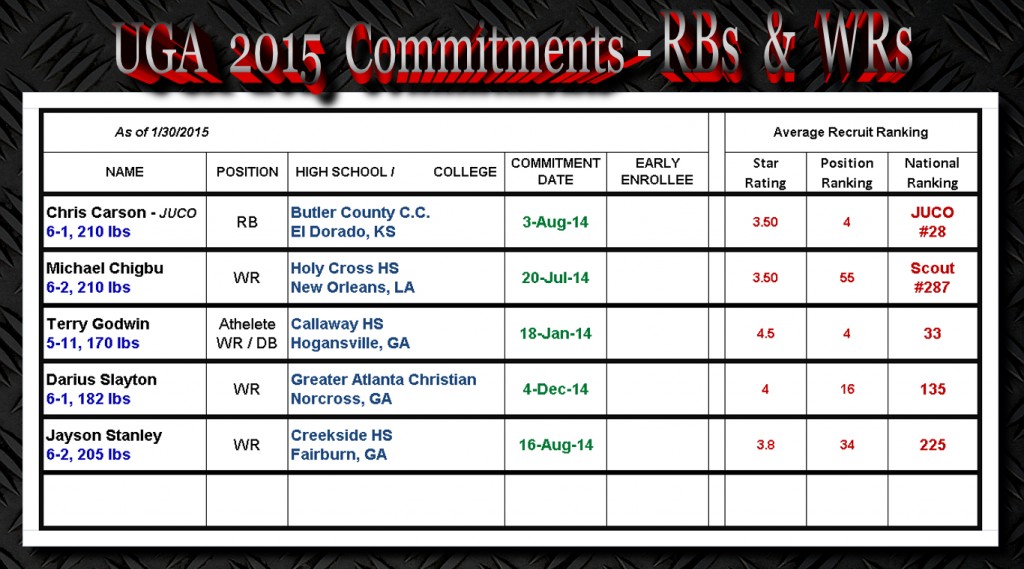 [break] [break]
How many scholarship spots  do the Dawgs have available for 2015?
Answer: Estimated – 27
[break] [break]
How many players will Georgia likely sign for 2015?
Answer: 30 to 31
[break] [break]
[su_box title="Recruits Visiting UGA This Weekend" box_color="#3c3939″ title_color="#ffffff"]
Kirby Choates – (OV)
Gary McCrae – (OV)
Rico McGraw – (OV)
Chauncey Rivers – (OV)
Austin Roberts – (OV)
Trent Thompson – (OV)
D'Andre Walker – (UOV)
Terry Godwin might take an unofficial visit to UGA this weekend, but he also has some basketball games. Darius Slayton and Jayson Stanley are two other recruits who could be on unofficial visits is another recruit that will be on a visit this weekend.
edit – 1:55 PM EST – It is being reported that Darius Slayton will not be visiting UGA this weekend now.
[/su_box] [break] [su_box title="Announcement Times" box_color="#3c3939″ title_color="#ffffff"]
Patrick Allen – between 8:00 – 8:30 AM EST on NSD
Roquan Smith – between 10:00 – 11:00 AM EST on NSD
Terry Godwin – at 6 PM EST NSD
[/su_box] [break] [break] [su_box title="UGA Football & Recruiting Calendar (Click Bold Dates for Info)" box_color="#3c3939″ title_color="#ffffff"][gcal id="49472″][/su_box] [break] [break] [adrotate banner="4″] [break] [ts_fab]