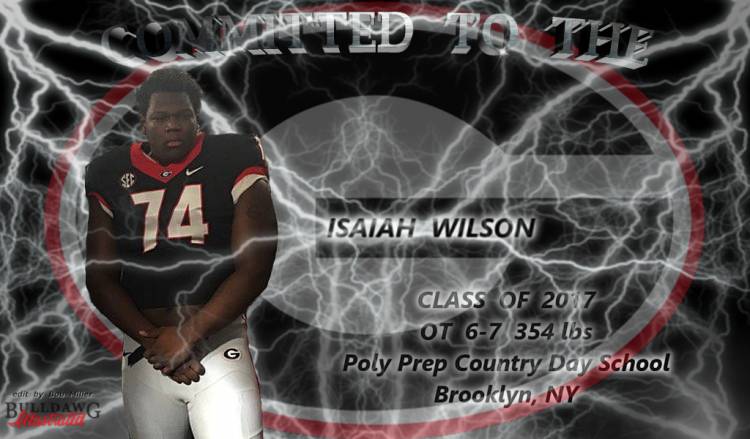 Many view UGA commit Isaiah Wilson as the most important player in the class and he should have a day one impact.



Wilson is an absolute mountain of a man as he stands around 6'8″ and 340lbs. He was a huge get for this staff as he is regarded as being one of the best offensive tackles in the country for the 2017 class. Wilson's great size gives him the ability to push players around with no problem, but his mobility is what makes him elite.


He is much like D'Marcus Hayes in that he should be a day one starter for the Bulldogs, and I believe he will play at the other tackle position opposite of Hayes. Wilson should be able to grow and develop as a right tackle for the Bulldogs and after Hayes' departure, he can move over to left tackle.


Wilson should be a cornerstone in this program for the next few years, and if he is able to perform to his ranking, then he should give the Bulldogs stability at whatever tackle position he plays. As for right now, he will be a player that many of the Bulldog faithful will keep their eyes on because his performance will have a big say on how the season turns out for the Bulldogs.

Wilson marks one of Smart's greatest recruiting victories as he beat out the Alabama Crimson Tide and Michigan Wolverines for one of the nation's best players. What makes this such a great victory for Smart is the fact that Wilson is an out-of-state player. The recruiting culture for the Bulldogs is definitely changing and Wilson is the type of player people will look back on as when things changed if the Bulldogs begin to have on the field success.