[break]
UGA Football Recruiting Daily Thread
[break]

[su_box title="Today's Featured Recruits" box_color="#050505″ title_color="#ffffff"] [break] [su_accordion] [su_spoiler title="Trenton Thompson" style="fancy"]Trenton Thompson Highlights
[/su_spoiler] [su_spoiler title="Tae Crowder" style="fancy"]Region Champs
[/su_spoiler] [su_spoiler title="Stanford Samuels III (2017)" style="fancy"]Stanford Samuels' Highlights
[/su_spoiler] [su_spoiler title="Kemore Gamble (2017)" style="fancy"]Sophmore Highlights
[/su_spoiler] [break] [/su_accordion] [/su_box] [su_divider] [break] [su_box title="UGA's 2015 Recruiting Class Breakdown" box_color="#3c3939″ title_color="#ffffff"] [su_spoiler title="BB2's Class Chart" style="fancy"]
Number of current verbal commits = 25
ATH's = 2
DB's = 5
DL = 5
LB's = 5
OL = 3
RB's = 1
TE's = 1
WR's = 3
Estimated Scholarship Spots = 27
Number of transfers = 1 (Senior ILB Jake Ganus)
Number of preferred walk-ons = 2 (K-Rodrigo Blakenship and QB-Nick Robinson)
[/su_spoiler] [/su_box] [break] [break] [su_box title="Georgia Bulldawgs' Remaining 2015 Targets" box_color="#3c3939″ title_color="#ffffff"] [su_spoiler title="Click for Remaining Targets" style="fancy"] [break]
Click on image to enlarge.
[break]

[break]

[break]

[break]


[/su_spoiler] [/su_box] [break] [break] [su_box title="NSD – ANNOUNCEMENT & SIGNING  TIMES  SCHEDULE" box_color="#3c3939″ title_color="#ffffff"] [su_spoiler title="Click to Open Schedule" style="fancy"]
8:45 AM – Patrick Allen announcement between UGA, TENN, OKLAHOMA
10:15 AM – Rico McGraw will make his commitment announcement.
10:45 AM – Roquan Smith announcement between MICH, UCLA, UGA – on ESPNU
1:30 PM – Terrell Chatman announcing between ASU, MIAMI, UGA, TCU
2:30 PM – CeCe Jeffereson announcement between AUB, LSU, OLE MISS, UF – on ESPNU
3:00 PM – Rashad Roundtree signing with UGA.
6:00 PM – Terry Godwin announcement between AUB, BAMA, UGA – on Fox Sports South
[/su_spoiler] [/su_box] [break] [break] [su_box title="Recruiting Quick Hits" box_color="#3c3939″ title_color="#ffffff"] [su_spoiler title="Click to Open Quick Hits" style="fancy"][display-frm-data id=47642 filter=1][/su_spoiler] [/su_box] [break] [break]

[su_box title="UGA Sports and Football Recruiting Calendar (Hover Bold Dates for Info)" box_color="#3c3939″ title_color="#ffffff"][su_spoiler title="Click to Open Calendar" style="fancy"][gcal id="49472″][/su_spoiler][/su_box] [break] [break]

[su_box title="News" box_color="#050505″ title_color="#ffffff"]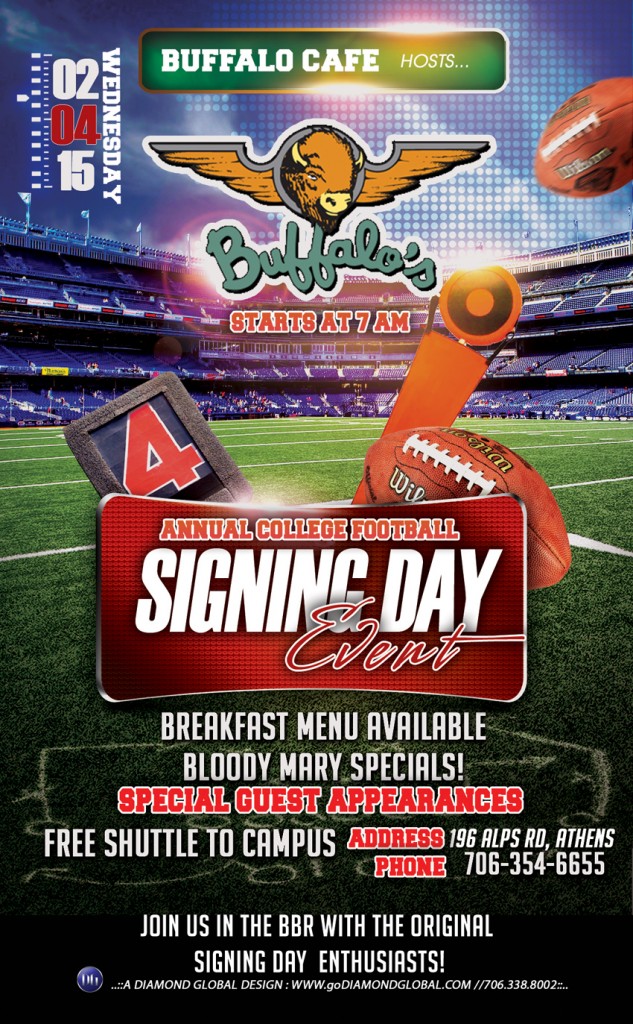 [break] [break]

[adrotate banner="4″] [/su_box] [break] [break]