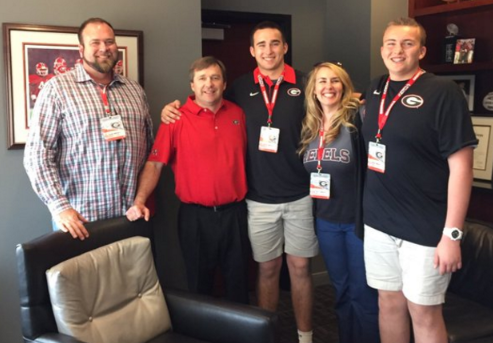 The Georgia recruiting train continues to build momentum with yesterday's commitment from 2018 offensive tackle prospect Max Wray of Franklin, TN. Wray told 247Sports' Barton Simmons:

"I just committed to Georgia," Wray said. "A big part of it is I wanted to be first in my class. They don't have any commits right now. The stars lined up for me. They've got the major I want to major in (sports medicine). They play the offense I want to play and the coaches are great and I feel like I can win a national championship there soon."



Sophomore Year


Kirby Smart's Twitter account continues to make the oblique references allowed by NCAA when a recruiting triumph becomes public. Wray is the first commitment of the 2018 class, but he certainly gets the class off to a good start.:

The first big piece to #Elite18! #CommitToTheG

— Coach Kirby Smart (@KirbySmartUGA) April 1, 2016



Max Wray brings the height and athleticism that offensive line coach Sam Pittman prefers. He will have to add weight to his 6-6 frame, but he has time to work on his body before enrolling at UGA with the 2018 recruiting class.