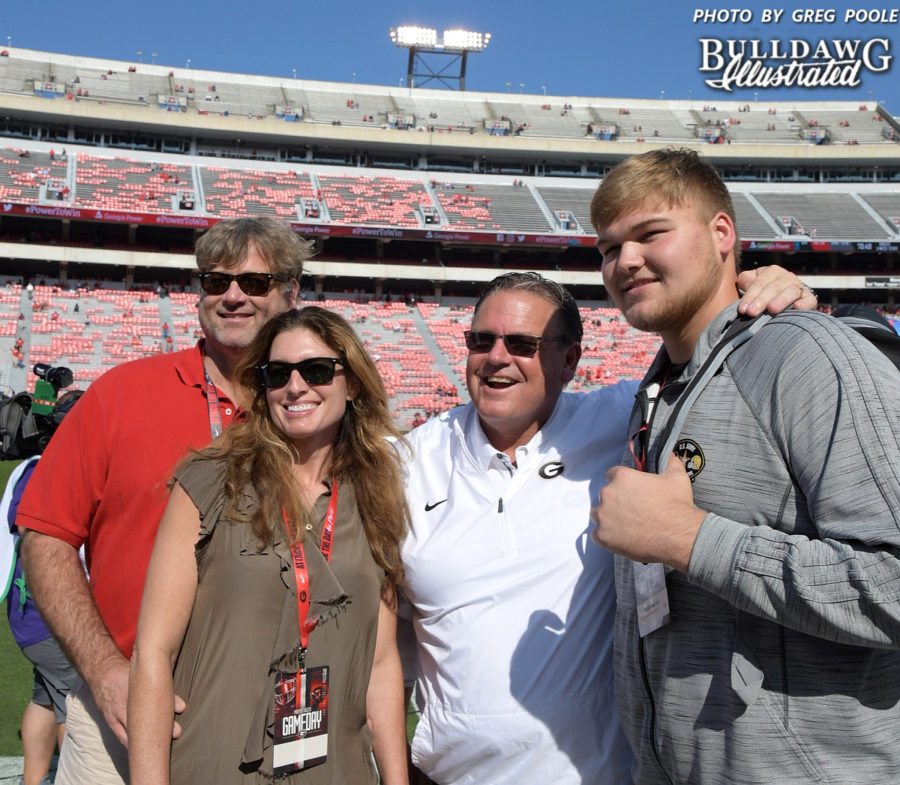 Today on Bulldawg Illustrated's UGA Recruiting Daily we look at Georgia's offensive line recruiting and these four potential prospects in Daniel Faalele, Trey Hill, Cade Mays, and Jamaree Salyer who could join center commit Warren Ericson and offensive tackle Owen Condon in the Bulldogs' 2018 recruiting class.


Speaking of Condon and Ericson, I have been asked the last few weeks on whether or not I think both Owen and Warren will stay committed to and sign with UGA? The answer to that question is, yes. Both offensive linemen are planning to go ahead and sign during the early signing period from Dec. 20-22, and Ericson is planning on enrolling early.
There have also been a lot of concerns regarding Condon's knee injury. It was NOT a torn ACL. I am not sure why that has been reported by some but Condon and his head coach at Bishop McGuinness Catholic High School, Justin Jones, have stated that the injury was a tear to his right lateral meniscus in the season opener versus Del City. He did have surgery to repair the damage on back on Sept. 25th, 2017. Condon should be ready to go by April at the latest and his recovery may be sooner than. He should fine to workout with the rest of the incoming freshman next summer and to compete in Fall Camp.
Click HERE – Go Directly To Comments
TODAY'S FEATURED PROSPECTS
If position ranking is noted, unless otherwise stated, it is 247 Sports latest composite ranking of the player.


DANIEL FAALELE
CLASS: 2018
POSITION: OL – No. 30 OT
HT, WT: 6 foot 8.5, and 396 lbs
SCHOOL: IMG Academy, Bradenton, FL
CITY, STATE: From Melbourne, Australia
STATUS: Undeclared
UGA OFFER: Yes, offered on 01/24/2017.
# OFFERS: 21
NEWS & NOTES: UGA offered Daniel Faalele back in January, one of the first several programs to do so. He took an official visit to UGA for the Bulldogs' homecoming game versus Missouri on Oct. 14th. He also took an official visit to Alabamam on Nov. 17th. From his tape, you can see his potential because of his size and natural strength, but he is still very raw, even more so than Ben Cleveland was coming out of high school. So where will the big Aussie land?

In my opinion, it is down to Alabama, Michigan, and Georgia and perhaps Tennesse, depending on who they bring in as a coaching staff… although, I think the Volunteers are a long shot here.

UTR DANIEL FAALELE HIGHLIGHTS – CLICK HERE

2017 NIKE THE OPENING HIGHLIGHTS- CLICK HERE

2017 SPRING GAME HIGHLIGHTS- CLICK HERE


TREY HILL
CLASS: 2018
POSITION: OL – No. 2 OG
HT, WT: 6 foot 3.25, and 346 lbs
SCHOOL: Houston County High School
CITY, STATE: Warner Robins, GA
STATUS: Undeclared
UGA OFFER: Yes, offered on 06/03/2016.
# OFFERS: 33
NEWS & NOTES: Trey Hill has held an offer from the Bulldogs for over a year, and like fellow Peach State big man, Jamaree Salyer, is one of the top OGs in the 2018 recruiting class as well as one of the top 50 players in the country. Who has the Houston County prospect's attention?

Hill visited Auburn twice over the summer and FSU has also made a big push for Hill before the Seminoles' season went into the tank. Hill was at Kearis Jackson's family BBQ in Fort Valley, GA at Jackson's commitment announcement on August 19th. Since football season started, he has been back to visit Auburn on an unofficial on Sept. 2nd and then Florida on Sep. 16th.

Hill has also been to visit UGA about as much as Auburn. He visited Athens on Sept. 23rd for the Mississippi State game and again on Oct. 14th for Georgia's homecoming game versus Missouri. He most recently visited the Bulldogs on Nov. 4th for their 24-10 over South Carolina on Nov. 4th. He took a visit to Auburn on Nov. 11th for the Tigers' big upset win over Georgia, and he was back at the Barn for an official visit for the Tigers' big win over Alabama in the Iron Bowl on Nov. 25th.

It looks like this is coming down to a big recruiting battle for Hill between Auburn and UGA. I still think the Bulldogs are not out of it here. Georgia a lot of recruiting momentum despite the loss to Auburn with wins over Kentucky and GT to close out the regular season and his last several visits to Athens have all been as good as the Auburn visits, making positive impressions on the Houston County talent. I usually don't put as much stock in winning games when it comes to recruiting, but it definitely can make an impact when the recruiting battle is so close between schools like Auburn and Georgia; so the Bulldogs winning the SEC Championship game could be big in more ways than one.

It also cannot hurt that his former high school teammate, quarterback Jake Fromm, is starting for Georgia right now. We will know very soon who Hill will go with as he plans on signing during the early signing period from Dec. 20-22, and he is also planning on enrolling early.

2016 JUNIOR SEASON HIGHLIGHTS – CLICK HERE

2015 SOPHOMORE SEASON HIGHLIGHTS – CLICK HERE


CADE MAYS
CLASS: 2018
POSITION: OL – No. 2 OT
HT, WT: 6 foot 6, and 327 lbs
SCHOOL: Knoxville Catholic High School
CITY, STATE: Knoxville, TN
STATUS: Undeclared
UGA OFFER: Yes.
# OFFERS: 14
NEWS & NOTES: Cade Mays had been committed to Tennessee since July of 2015 but started looking around at other programs just before Volunteer Head Coach Butch Jones was let go. Then on Nov. 7th, he decided to officially de-commit from Tennessee. He does hold an offer from Georgia and took an unofficial visit to UGA on Nov. 4th for the South Carolina game, just three days before he de-committed.

Cade still plans to be back to UGA for an official visit on Dec. 15th, which is likely his last OV. He took officials to Ohio State on Nov. 11th, Clemson on Nov. 18th, but ended up cancelling his official to Tennessee on Nov. 25th. Mays plans to take an official visit to Notre Dame on Dec. 8th before his visit to Georgia.

So will Georgia land Mays? The ye 'ole magic 8-ball says chances are looking for good. Mays released a final top three from which he is making his decision that included UGA as well as Clemson and Ohio State. The No. 16 player in the country plans to sign during the early signing period from Dec. 20-22, and he also is planning to enroll early.

2016 JUNIOR SEASON HIGHLIGHTS – CLICK HERE

2015 SOPHOMORE SEASON HIGHLIGHTS – CLICK HERE

2014 FRESHMAN SEASON HIGHLIGHTS – CLICK HERE


JAMAREE SALYER
CLASS: 2018
POSITION: OL – No. 1 OG
HT, WT: 6 foot 4, and 342 lbs
SCHOOL: Pace Academy
CITY, STATE: Atlanta, GA
STATUS: Undeclared
UGA OFFER: Yes, offered on 05/07/2015
# OFFERS: 29
NEWS & NOTES: Salyer is another talented Peach State offensive lineman in the 2018 class. He is the No. 1 OG overall and the No. 3 player from the state of Georgia, No. 9 overall nationally. Many analysts consider him a generational type talent on the O-line. He has held an offer from Georgia for over 2 years.

Since September, I have mentioned that it looked like it was a Georgia vs. Clemson battle for Salyer, and in a number of interviews, he has confirmed that his top two schools are indeed the Bulldogs and the Tigers. So how much of a battle is it for Salyer between the Tigers an the Bulldogs?

As of right now, I think Georgia is a heavy favorite to land Salyer. He has visited UGA at least three times this fall which included the Bulldogs' season opener versus Appalachian State on Sept. 2nd and again on Sept. 23rd for the Mississippi State game. He was also back in Athens for the Bulldogs' Nov. 4th game versus South Carolina on an unofficial visit. Salyer plans to announce his decision after the high school football season and before Christmas during the early signing period on December 20th. He also plans on going ahead and signing during the early signing period, but he is not an early enrollee.

2016 JUNIOR SEASON HIGHLIGHTS – CLICK HERE

2015 SOPHOMORE SEASON HIGHLIGHTS – CLICK HERE


---
---
---
---