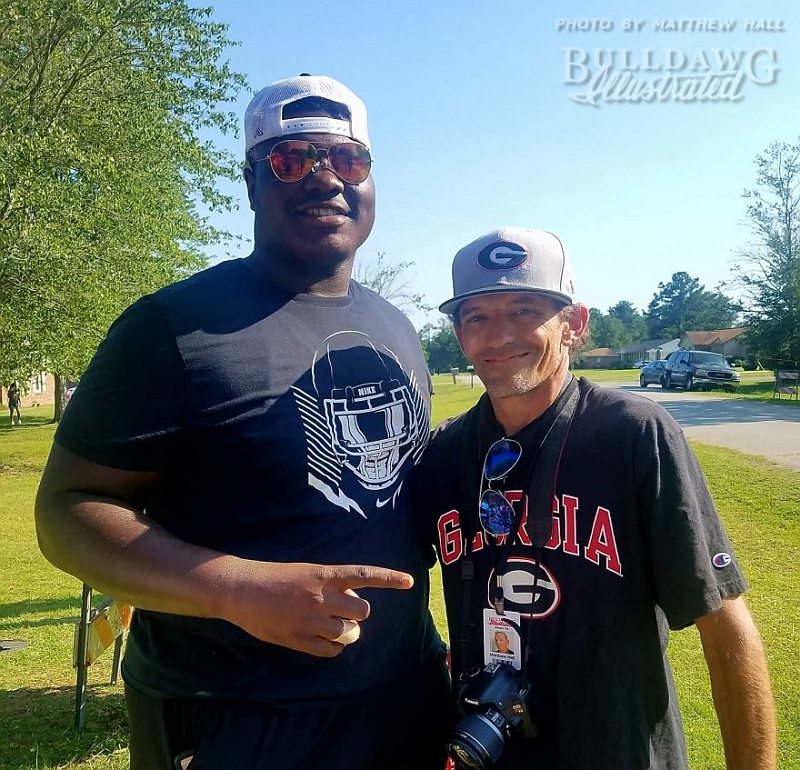 UGA Recruiting Daily Thread
Click HERE – Go Directly To Comments
TODAY'S FEATURED PROSPECTS
If position ranking is noted, it is 247 Sports latest composite ranking of the player.

TREY HILL
CLASS: 2018
POSITION: OL – No. 2 OG
HT, WT: 6 foot 3.25, and 346 lbs
SCHOOL: Houston County High School
CITY, STATE: Warner Robins, GA
STATUS: Undeclared
UGA OFFER: Yes, offered on 06/03/2016.
# OFFERS: 33
NEWS & NOTES: Hill has held an offer from the Bulldogs for over a year. Of note, UGA is also recruiting Hill as a potential center. He visited Georgia on Junior Day back on 02/18/2017 and on G-Day 04/22/2017. Who else has the Houston Co. big man's attention? Hill also visited Auburn twice over the summer and FSU has also made a big push for Hill recently. Hill was at Kearis Jackson's family BBQ in Fort Valley, GA at Jackson's commitment announcement on August 19th. Since football season started, he has been back to visit Auburn on an unofficial on September 2nd and then Florida on September 16th. He most recently visited Athens a couple of weeks ago on Sept. 23rd for the Mississippi State game. While other teams are definitely pushing hard for Trey, I believe that Georgia still is the team to beat here.

2016 JUNIOR SEASON HIGHLIGHTS – CLICK HERE

2015 SOPHOMORE SEASON HIGHLIGHTS – CLICK HERE


TANK JENKINS
CLASS: 2018
POSITION: OL – No. 11 OG
HT, WT: 6 foot 3, and 320 lbs
SCHOOL: Park Crossing High School
CITY, STATE: Montgomery, AL
STATUS: Undeclared
UGA OFFER: Yes, offered on 10/20/2015
# OFFERS: 25
NEWS & NOTES: Jenkins has held an offer from UGA for almost 2 years, but the big OG out of Montgomery, AL did not include the Bulldogs in his top-8 schools he released back on July 21st. He is considered a big Louisville lean at the moment and just took a visit to the Cardinals back in July and again on Sept. 16th.

HIGHLIGHTS – CLICK HERE

2015 SOPHOMORE SEASON HIGHLIGHTS – CLICK HERE


LOGAN KESLER
CLASS: 2018
POSITION: OL – Center, OG
HT, WT: 6 foot 3, and 315 lbs
SCHOOL: Buford High School
CITY, STATE: Buford, GA
STATUS: Undeclared
UGA OFFER: No. UGA target
# OFFERS: 3
NEWS & NOTES: Kesler is another talented O-lineman from Buford high school football program. He has visited a number of programss in the last several months including a visit UGA back on G-Day, 04/22/2017. He doesn't have an offer from the Bulldogs and only holds a few offers as of right now, I expect that to change as more teams get to evaluate Kesler.

2017 SENIOR SEASON HIGHLIGHTS SO FAR – CLICK HERE

2016 JUNIOR SEASON HIGHLIGHTS – CLICK HERE


JAMAREE SALYER
CLASS: 2018
POSITION: OL – No. 1 OG
HT, WT: 6 foot 4, and 342 lbs
SCHOOL: Pace Academy
CITY, STATE: Atlanta, GA
STATUS: Undeclared
UGA OFFER: Yes, offered on 05/07/2015
# OFFERS: 29
NEWS & NOTES: Salyer is another talented Peach State offensive lineman in the 2018 class. He has held an offer from Georgia for over 2 years. Salyer visited UGA back on G-Day on 04/22/2017. A few weeks ago, I mentioned that it looked like it was a Georgia vs. Clemson battle for Salyer, and in an interview with Rivals that has been picked up by other media outlets like Fanbuzz.com, Salyer confirmed that his top two schools are UGA and Clemson. Salyer visited UGA for their season opener versus Appalachian State on September 2nd and again on September 23rd for the Mississippi State game. Hill plans to take an official visit to Ohio State on October 28th. He plans to announce his decision after the high school football seson and before Christmas on December 20th.

2016 JUNIOR SEASON HIGHLIGHTS – CLICK HERE

2015 SOPHOMORE SEASON HIGHLIGHTS – CLICK HERE


---
---
---
---