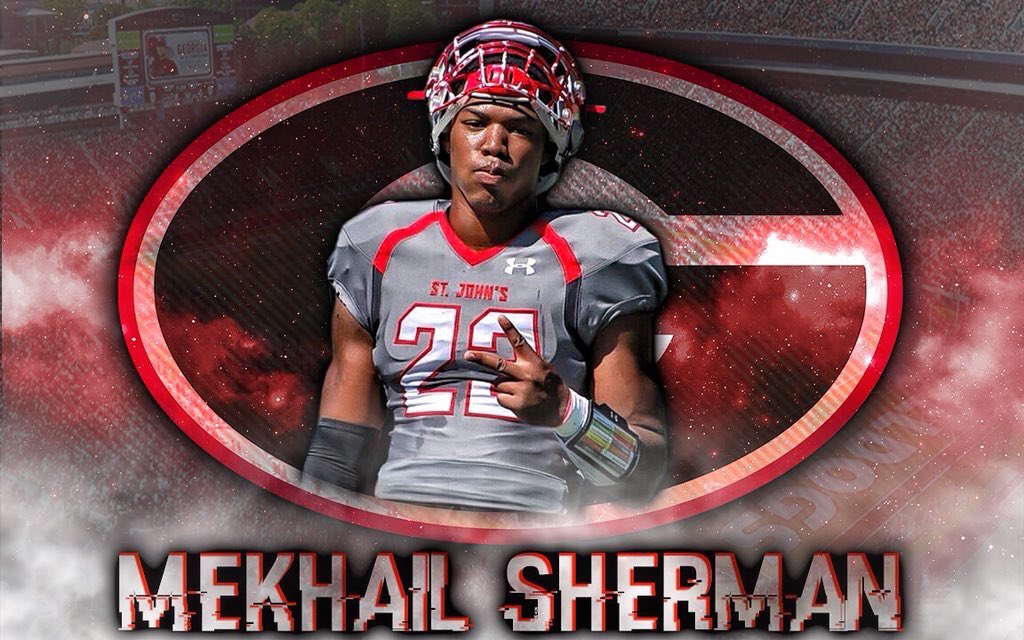 UGA Recruiting Daily Thread
TODAY'S FEATURED PROSPECT: Mekhail Sherman
Mekhail Sherman is a five-star OLB/WDE from Washington, DC. He stands at 6-3 234-pounds and ranks as the No. 25 overall player, the No. 3 OLB and the No. 1 2020 DC prospect. Sherman holds 13 offers with the latest coming from Georgia on February 26, which happens to be his birthday. He hasn't taken any visits recently but plans to visit Penn State on May 5th and UGA on May 11-12. Sherman's recruitment appears wide open for now. Before long I expect those 13 offers to double.
I spoke with Sherman about Georgia and what that offer meant to him along with his overall recruitment.
Sherman Interview:
Q: How's the recruiting process going for you so far?
A: "It has been good. I've been talking to coaches here and there."
Q: Who is recruiting you the hardest right now?
A: "I don't think I'll be able to answer that as of right now due to the rules of the NCAA. All of the colleges try to get ahold of me and recruit but there are limitations in what they're doing right now. Although I keep a constant relationship with UGA, PSU, UMD, Syracuse, South Carolina, Tennessee, OSU and so forth."
Q: Have you decided on any official visits yet? 
A: "No officials yet, but I do got some unofficials, with PSU on May 5th and UGA on May 11th-12th. May plan some more going along."
Q: I saw where Georgia offered you on your birthday, tell me what that meant to you? 
A: "It meant a lot, actually.  A prestigious school with spectacular front 7 defense. Even though they fell short this year to Bama I can see them doing a lot of damage."
Q: Tell me what else you like about UGA? What makes them so appealing?
A: "The fan base, die-hard fans really. Which means it's a lovely atmosphere. Also the coaching staff. I've been close with Dan Lanning, legally and we've been conversing every now and then about my recruitment with them."
Q: What do you think of him? Tell me about your relationship. What do you like about him?
A: "He seems like a laidback when I call him and talk very energetic and who always delivers the fact that there are no days off. I like that he's not really one of the coaches that bluffs a lot. Everything we talk about is straightforward, no cut arounds just building a relationship and business really."
Q: What does he think of you?
A: "Well based off what he said, he says I am a baller with great potential. He likes what he sees and how I move around in space and etc.."
Q: What about Kirby Smart? What do you think of him?

A: "I have yet to reach contact with him, but I would like to in the future. However, based on what I see on TV and hear, he has a lot of similarities to the Eagles head coach. Both of them building great culture right now."
Q: So what are some of the key elements that'll go into your final decision?
A: "The atmosphere, the coaching staff, the defensive scheme and the education as well."
Q: Have you decided what you want to major in yet?
A: "Not yet, however, I did do some digging and it'll most likely be going to be on the science side."
Q: Georgia's quite the drive from you, does that affect your final decision at all?
A: "No not really. I have family down in Atlanta which is my aunt."
Q: Have you decided when you'll narrow things down and choose a school? Are the schools you mentioned above the ones you'll focus on or is your recruitment wide open?
A: "Wide open for now, I'll start narrowing down throughout my junior season."
Q: Would you like to say anything to the Bulldog Nation?
A: "Tell them UGA fans that I'll love a big welcome when I come down there in May."
Mekhail Sherman Film:
---