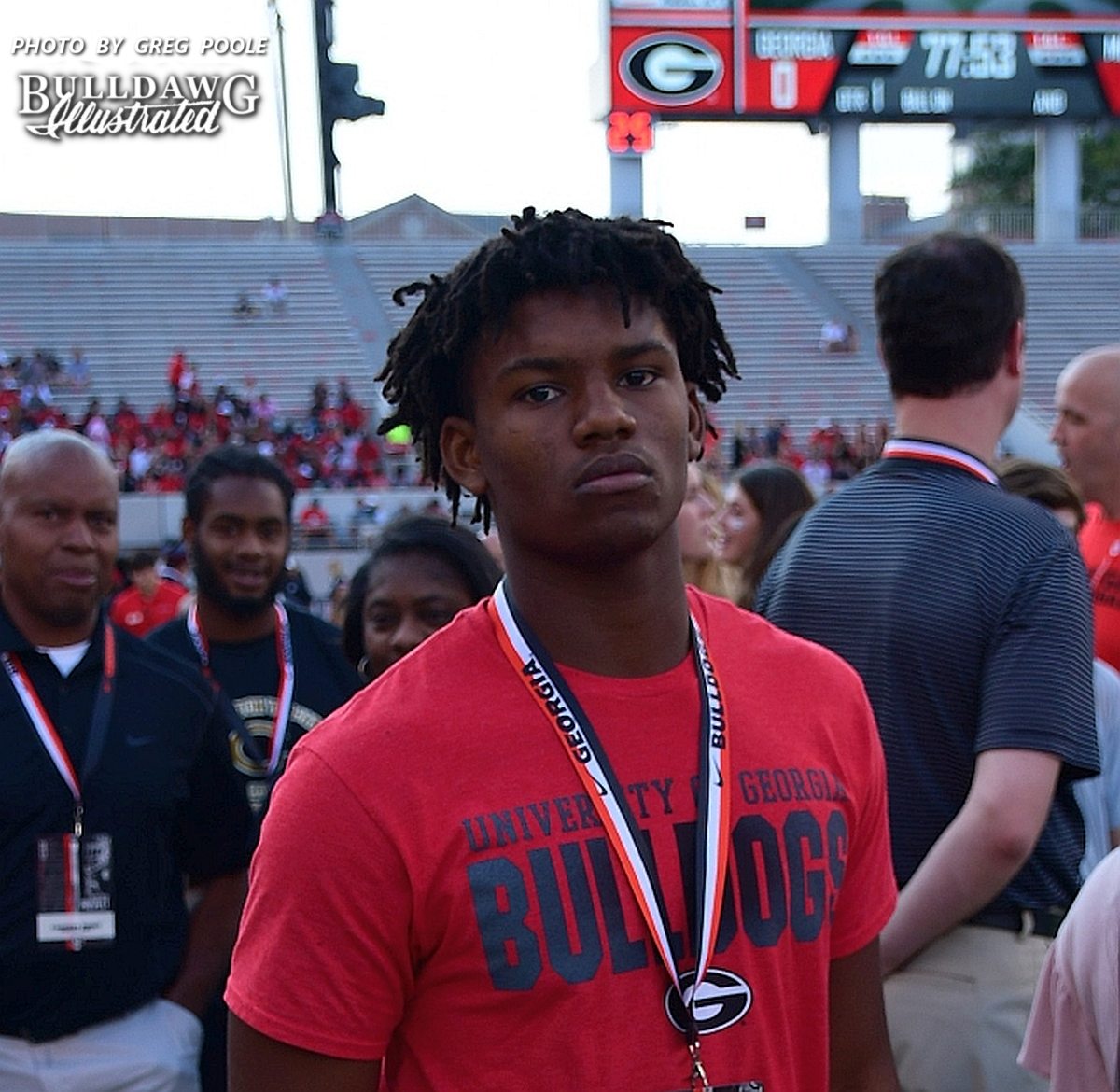 ;
UGA Recruiting Daily Thread
TODAY'S FEATURED PROSPECTS
Kevin Swint
CLASS: 2020
POSITION: OLB
HT, WT: 6-3, 220
SCHOOL: Carrollton High School
CITY, STATE: Carrollton, Georgia 
STATUS: Undeclared
# OF OFFERS: 15 Offers 
UGA OFFER: Yes, March 25, 2017
NEWS:

Kevin Swint is a four-star outside linebacker from Carrollton, Georgia. He stands at 6-3 220 pounds and ranks as the No. 11 OLB and the No. 19 2020 Georgia prospect. Swint currently holds 15 offers with the latest coming from Tennessee on February 2.  He visited Michigan on March 29 and Clemson on March 4. The last time he was on campus at Georgia was November 26, for the Georgia Georgia Tech game. I expect him to make another visit to the Classic City sooner than later. As for his overall recruitment, it appears to be all Georgia, for now at least.
Swint is a big-bodied linebacker, that can line up with his hand on the ground too. He's a headhunter and very instinctive. Swint's got long arms and with those, he's able to make plays happen. He's strong off the edge and can make a lineman second guess where he wants to go. Swint appears to be able to drop back into coverage if need be too. He could make another strong option for the star spot at Georgia. One thing I'll note about him, he needs some technical work. Sometimes his feet aren't in the right places and getting around a lineman can be a challenge if he faces a decent one. However, he's quite talented and could make a great addition wherever he chooses to play at the next level.
Highlights –
Sav'ell Smalls
CLASS: 2020
POSITION: OLB
HT, WT: 6-4, 235
SCHOOL: Garfield High School
CITY, STATE: Seattle, Washington
STATUS: Undeclared
# OF OFFERS: 17 Offers
UGA OFFER: Yes, March 27, 2018
NEWS:
Sav'ell Smalls is a five-star outside linebacker from Seattle, Washington. He stands at 6-4, 235 pounds and ranks as the No. 3 overall player, the No. 1 OLB and the No. 1 2020 Washington prospect. Smalls currently holds 17 offers with the latest coming from Georgia on March 27. He's a west coast kid and it appears it's between Stanford and Washington. However as big of a prospect, as he is, the SEC should make him a priority. I expect Smalls to visit all over the country before making a final decision.
The first thing I notice about Smalls is that he's instinctive. Football comes naturally to him. He's got long arms, which give him a great reach to grab the quick guys. To be a bigger linebacker, he's got speed to him. One of the clips in his film, he catches a pass over the middle and out runs the linebackers and secondary guys. He's got good moves to get around offensive lineman. Smalls causes havoc on the field and hits so hard. I know I say that a lot of kids, but he looks so strong. Some of his hits in his tape, look like they hurt. It's obvious he's one of the biggest guys on the field and uses it to his advantage. With a name like Sav'ell Smalls, I had to look at his film and predict he will be an All-American at the next level.
Highlights – 
---