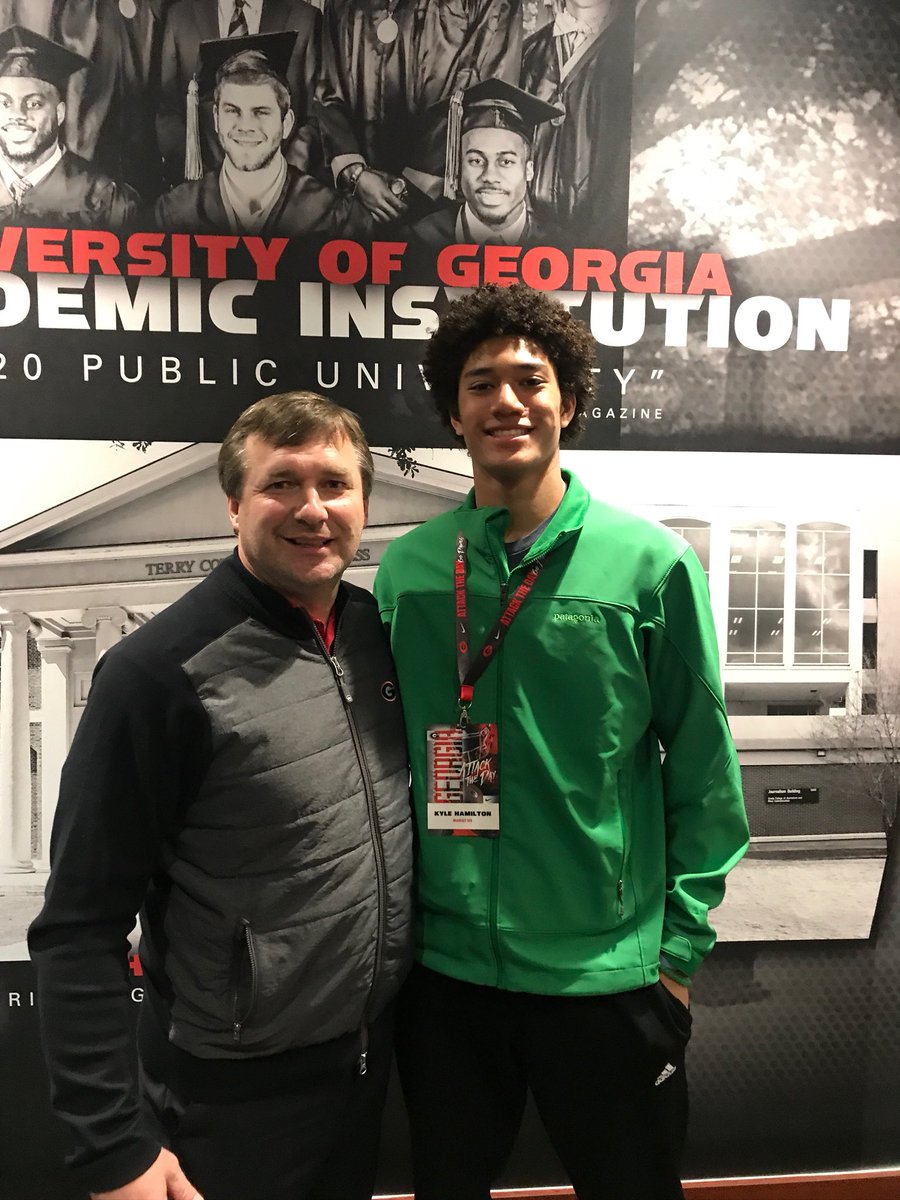 UGA Recruiting Daily Thread
*Any rankings below are from the 247Sports Composite rankings*
Three Potential Pickups
Georgia currently has seven commits for the 2019 recruiting class. The Bulldogs recently lost three-star OT Luke Griffin on April 8, pushing Georgia back from the No.1 recruiting class to the No. 3. It's still fairly early in the 2019 recruiting cycle, however, this type of post will be a monthly occurrence to keep the readers informed as to who I believe commits to Georgia. It doesn't necessarily mean they'll be next, but I expect at least one of these three to verbally commit to Georgia by the end of May or at least before football season.
Again I don't know exactly when these guys plan to commit to schools, but these are three guys who I believe will pull the trigger sooner than later. Like I do with my class predictions, I'll rank on a scale of three the confidence of them picking Georgia.
Warren McClendon
CLASS: 2019 
POSITION: OL 
HT, WT: 6-5, 290
SCHOOL: Brunswick High School
CITY, STATE: Brunswick, Georgia 
STATUS: Undeclared 
CONFIDENCE TO COMMIT: 2/3
NEWS:
Warren McClendon appears high on Georgia's list for the offensive lineman in the 2019 class. McClendon's recruitment seems to be between Georgia, South Carolina, and Alabama. He told me in an interview that South Carolina and Georgia are two of his official visits.  McClendon hasn't released any top schools yet, but the three above seem to be it. He currently holds 22 offers and ranks as the No. 24 OT and the No. 27 prospect in Georgia.
McClendon received an invitation to the Opening finals in Texas after the recent Atlanta regional. The offensive tackle's been all over the SEC the last few weeks. He recently visited Florida on April 6. Prior to that, he went to South Carolina on March 30. I expect him to visit Georgia soon if not in the next few weeks.  McClendon received a 2/3 on my scale because he hasn't been back on Georgia's campus since Feb. 2. However, he does have ties to both Georgia and Sout Carolina. HIs uncle is former UGA running back Willie McClendon and his cousin Bryan McClendon is a former UGA wideout and now South Carolina assistant coach.  So this decision could go either way only time will tell if he stays home or goes outside the state.
Highlights –

Lloyd Summerall
CLASS: 2019
POSITION: DE/OLB
HT, WT:  6-5 218
SCHOOL: Auburndale Senior
CITY, STATE: Auburndale, Florida 
STATUS: Undeclared 
CONFIDENCE TO COMMIT: 3/3
NEWS:
Lloyd Summerall is a diamond in the rough. He's raw but crazy talented.  With a close connection to new linebacker coach Dan Lanning, it appears Georgia is in the running for his pledge. Georgia offered Summerall on January 22, and since then he's visited on Feb. 5 and March 2. However, since then he's visited Miami quite a few times including its Junior Day on March 24. Summerall holds 30 offers and ranks as the No.10 WDE and No. 26 FL prospect. However, I expect him to play at OLB rather defensive end. He hasn't released any top schools yet, but I expect that to happen before the end of the summer.
Summerall's already got the connection with Georgia and Lanning. Since I know that, I give him a 3/3 confidence ranking. I expect him to be back at Georgia sooner than later. It's hard to tell if any schools lead, but if I had to predict who it's between I would say FSU, Miami, and Georgia. He's got the build to be the next Leonard Floyd, Lorenzo Carter type linebacker and Georgia's always hunting one of those.
Highlights –

Kyle Hamilton
CLASS: 2019 
POSITION: S
HT, WT: 6-3 188
SCHOOL: Marist School
CITY, STATE: Atlanta, Georgia 
STATUS: Undeclared 
CONFIDENCE TO COMMIT: 3/3 
NEWS:
Kyle Hamilton is one of the most underrated safeties in the 2019 class. He stands at 6-3 188-pounds and ranks as a three-star. Hamilton ranks as the No.77 S and the No. 95 prospect in Georgia. Last season he recorded 60 tackles, six interceptions, and eight pass breakups. Not to mention he caught the ball 28 times for 507 yards and 7 touchdowns, and a kickoff return for a touchdown. Hamilton went to the Opening Atlanta regional and stood out as one of the stronger secondary players. In fact, he posted the second-best testing marks among the defensive backs and ninth overall in the camp.
Hamilton may hold 36 offers, but his rankings don't match the amount of attention he's receiving from teams. He has a top seven at this time which include, Clemson, Duke, Georgia, Michigan, Northwestern, Notre Dame and Ohio State. Georgia offered on February 22.  It appears to be between Georgia and Notre Dame right now.  He's visited Athens on March 6 and then came back on March 31.
According to a Notre Dame website he plans on visiting Michigan on April 14 before heading back to Athens for G-day. It wouldn't surprise me if he doesn't visit the Irish again before making his final decision. I rank him a 3/3 on the confidence scale because of a few reasons. The first, he's been on campus twice since his offer and decided to come back for G-day. It appears he likes what he sees and connected with the staff.  Out of the three guys I chose to list today, I'm the most confident about Hamilton. In my opinion, this pledge should happen soon.
Highlights – 


---